Economy of Bihar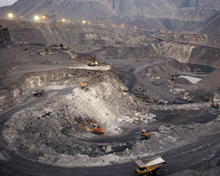 Now the entire country is looking at Bihar with due respect and a degree of acceptability in the competitiveness race that is on among states vying for foreign capital for investment in growth sectors.
The economic story is there for all to see: the state grew at 9.92% in 2013-14 with its per capita GSDP (gross state domestic product) rising to Rs 17,294 from Rs 15,931 in 2012-13. As per the economic survey of 2014-15, the GSDP was estimated at Rs 3.43 lakh crore in 2013-14, a jump of 9.92% from Rs 2.96 lakh crore in the previous year. The survey points out the share of primary (farm sector), secondary (core manufacturing) and tertiary sectors (services like IT, banking) has been pegged at 22%, 19.2% and 58.8% respectively of the total GSDP in 2013-14.
But it is to be said the GSDP growth saw a decline of 0.82% in 2013-14 in comparison to 10.74% growth in 2012-13 and also lesser than 10.29% registered during 2011-12. According to government sources, the slight fall in annual growth was due to decline in construction activity, drought conditions and high prices of diesel.
Ten years ago per capita income was one-fourth of the national per capita income, but now it is Rs 17,294 (latest figure: 2013-14), that is, around 40 per cent of the national average which is at Rs 39,904. Despite Bihar lagging far behind in per capita income, the gap is closing in with economy showing resurgence.
But to be realistic, it will take around 15-20 years for Bihar to catch up with the national average on per capita income at the current economic growth rate of 9.92%.
Bihar Economy after Indian Independence
The successive Congress governments in Bihar till 1990s had vastly played a subordinate role to the interests of Central regimes in Delhi without any concrete steps to woo investment to spur economic growth.
Bihar has the lowest GDP per capita in India but the southern half of the state and Patna have per capita incomes that are higher than that of Bangalore or Hyderabad.
During the Congress regimes of the 1970s and 80s, Bihar suffered due to a series of factors like the freight equalisation policy of the Union government which neglected the state and a lack of towering personalities (from Bihar) who could take up the issues of growth and empowerment of the lower classes with the powers-that-be.
Even during the colonial era, the East India Company followed the Permanent Settlement policy (1793) that led to migration of skilled labour to all over the world like Fiji islands, West Indies and Africa.
Fall of Economy in Bihar (RJD period 1990-2005)
During the regime of Lalu Prasad Yadav, the RJD president who ruled the state for nearly 15 years, Bihar witnessed a steep decline in major economic indicators like agriculture, manufacturing and services, while crime and unemployment touched new heights creating social divisions based on caste and backwardness.
Rise of Economy in Bihar after 2005
As Bihar CM for two consecutive terms (2005-10 and 2010-15), Nitish Kumar has promised "Social and Economic development with justice to all". His government rolled out a series of new legislations offering fiscal reliefs and tax concessions to attract big corporate with a view to turn the industrial landscape of Bihar into a progressive one.
Bihar Assembly Election
|
Bihar Assembly Election Schedule
|
Bihar Assembly Election News
|
Bihar Election Results
Bihar History
|
Bihar Geography
|
Bihar Culture
|
Bihari Wedding Culture
|
Current Scenario of Bihar
|
Bihar Economy
|
Temples in Bihar
|
Bihar Tourism
|
Bihar Education
|
Bihar Business
|
Bihar Employment
|
Bihar Industrial Scenario
|
Bihar Infrastructure
|
Bihar Lifestyle
|
Bihar Traffic
|
NGO in Bihar
|
Tourist Places in Patna
|
Assembly Results in Bihar
|
Bihar Flood Pictures
|
Bihar Map
Bodh Gaya