Assam-The Gateway to North East of India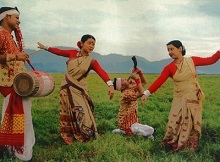 Termed as the land of "Blue Hills and Red River" Assam is the largest among the northeastern states of India. Its capital is Dispur (Guwahati). This central state in the North-East Region serves as the gateway to the rest of the Seven Sister States (Arunachal Pradesh, Nagaland, Manipur, Meghalaya, Tripura and Mizoram).
With an area of 78,440 sq. km, the state shares its border with all North Eastern states except Sikkim. Two countries Bangladesh and Bhutan surround Assam which is also close to India's international borders with China and Myanmar. Its contiguous regions are connected to mainland India through a strip of land in West Bengal called the Siliguri Corridor or "Chicken's Neck".
In fact, the Indian Army guards this Chicken's Neck with regular troops patrol as it is vulnerable to pincer-type attack from the People's Liberation Army of China.
Nestled in the colossal mountains and deep valley of Himalaya, the Assamese have cultural and ethnic affinities with people from the South-East Asia, a region of geostrategic importance to Indian government which has initiated a number of projects as part of 'Act East' policy.
This colourful and rich state bubbling with diversity became part of colonial India after the British occupied the fertile region after the First Anglo-Burmese War (1824-26).
Origin of Assam Name
Assam has a diversified background. The state owes its name to the Ahom Dynasty which is the longest ruling single dynasty in Indian history. However, there are many theories as to the origin of the name of Assam.
During the classical period and up to the 12th century the region east of the Karatoya river, largely matching the present-day Assam, was called Kamarupa and Pragjyotisha.
It was one among the very few dynasties that could not be conquered by the Mughals. The Mughals used the terms "Asham" (eastern Assam) and "Kamrup" (western Assam) which during the British colonial era morphed into "Assam".
While a section of historians and litterateurs had associated the state name with 13th century Shan invaders, the exact origin of Assam is still not clear.
But Sanskrit pundits say the word "Asama" (unequalled or peerless) was the root word for "Assam", this suggestion was rejected by renowned scholar Banikanta Kakati.
The recent authors have agreed that Assam is a possible Sanskritisation of a native name that have come from Tai ("A-Cham") and Bodo ("Ha-Sam") ethnic groups.
Assam prides itself of plenty of fascinating secrets from soothing beauty, offbeat tourists' attractions, spiritual ambiance, the sacred river, humble people, and zealous culture.
It is surrounded by hills, major rivers such as Brahmaputra and Barak and its tributaries.
The mighty Brahmaputra River with its tributaries and the oxbow lakes provide this region with a hydro- geomorphic land pattern which has a district charm that is quite unique to Assam. It is the only male river in India.
Assam is most improved state. Its rank GDP wise is 19, area wise it is 17 and population wise is it holds 15 rank.
Assam Flora and Fauna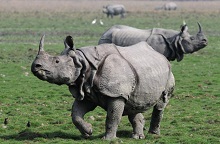 Assam is one of the most forested states of India and is rich in bio-diversity with a number of wildlife preserves in the state. It is home to Five National Parks and 18 Wildlife sanctuaries. Both Kaziranga and Manas National Parks are designated as World Heritage Sites for its rich flora and fauna and the success they have achieved in preserving these ancient habitats for wildlife.
It is the home to the one-horned rhino, one of Assam's tourism best-known mascots, Eastern Swamp Deer and Wild Asiatic Water Buffalo, wild elephants as well as Migratory birds. A wide variety of flora and fauna, many of which are on the endangered list, are found here. Sal tree forests are found in abundance which as a result of rainfall looks green throughout the year.
Due to year-long tourism at wildlife sanctuaries and national parks, the state gets much revenue from this sector which also provides employment to thousands of local youths as the community is involved in the protection of forests and the large eco-system.
Ethnic Diversity of Assam
The ethnic diversity of Assam is unique with a large number of tribes such as the Bodo, Miri, Mishimi, Kachari, Karbi, Rabha, etc. that co-exist here. Each has its own cultural heritage and unique features in its socio-cultural life including language, culture, customs, religious belief, way-of-life, food, songs, festivals including Bihu, Baishagu, Rongker & Chomangkan Festival, Bishu, Baikho, Ali-Aye-Ligang, Me- Dum-Me-Phi, Ambubachi Mela, etc.
There are also tribal people of central India who were brought here by the British for Tea cultivation. The state is endowed with more than 600 tea gardens from which 20 tea gardens have developed and maintained golf courses within the garden area and a few have polo fields. The Jorhat Gymkhana Club is the oldest golf course in Asia and the third oldest in the World.
Pilgrimages of Assam
Kamakhya Temple, located in the Nilachal hills in the western part of Guwahati, is the oldest temple dedicated to the goddess Kamakhya. The temple attracts Tantric worshippers, especially during the annual Ambubachi Mela Festival. Kedareswara Temple, Dol Govinda Temple, Asvakranta Temple, Ugra Tara Temple, Maha Bhairav Temple, Tamresveri Temple, and others are among the other temples in Assam. The Satara's are an integral part of the Assam's pilgrimage tour. It was set up by the followers of Sankardeva, the proponent of Eksarana Dharma. Hajo is another spiritual centre of three different religious beliefs. Pilgrims from three religions, Buddhists, Hindus, and Muslims, converge here.
Assam Industrialization
Assam's history of industrialization begins in 1833 with the start of commercial tea production for export. It is India's largest tea producer, accounting for more than half of the country's total tea production. It also has a wealth of natural resources, such as petroleum, coal, limestone, and water.
The Digboi Refinery in Assam is Asia's oldest refinery. It began its operations in 1901. The four oil refineries in eastern Assam account for 15% of the country's total production. Currently, the state is the greatest on-shore producer of petroleum and natural gas.
Geographically, the state is located closer to the growing ASEAN economies. Assam's existing and ongoing infrastructural initiatives makes it the ideal staging ground for businesses aiming to cater to the BBIN and ASEAN markets.
Occupation of Assam People
The art of silk weaving has been a traditional vocation for Assamese for centuries and the resultant fabric is put to everyday use in each household. Muga - the golden silk is produced exclusively in Assam. Pat silk, Eri silk, and Endi fabric are some of Assam's other well-known silks.
Apart from silk, the world famous Assam tea is a major source of gainful employment to thousands of people as the commodity is exported all over the world and earning the precious foreign exchange.
Public Health Care of Assam
Assam has been a pioneer in undertaking several revolutionary initiatives in public health and healthcare.
Boat clinics, formulated by Sanjoy Hazarika, managing trustee of the New Delhi-based Centre for Northeastern Studies and Policy Research and adopted by the Assam government provide health services such as immunisation, vaccination, prenatal and postnatal care for pregnant women, malaria intervention and Japanese Encephalitis intervention, apart from general health checkups in the remote riverine areas of the state, accessible only by boat.
Janani Surakasha Yojana which is a cash transfer programme launched by the Union Ministry of Health and Family Welfare to reduce maternal deaths in 2005. Besides cash transfer, it makes provisions to reduce out-of-pocket expenditure.
In 2010, Assam started an emergency helpline. It is the second Indian state after Andhra Pradesh to have this "call-a-doctor" facility.
Also in 2010, Assam enacted the Assam Public Health Act that seeks to guarantee people's right to appropriate and efficacious health care, especially towards effective measures of prevention, treatment, and control of epidemic and endemic diseases. The Act came into effect from January, 2011.