Current scenario of Assam
Since the mid-1970s Assam was much troubled by the hordes of illegal immigrants from Bangladesh which had put strain on the local economy and depriving local youths of jobs and other privileges.
The contentious issue of according permanent settlement status to Bangladeshi refugees has created a volatile situation in Assam politics and continues to be a highly sensitive and emotional issue among the public.
Illegal Bangladeshi Immigrants in Assam
In fact, the flow of migrants from united Bengal to Assam has been a continuous process since the colonial period and has led a sharp change in the demographic profile of the state in recent times.
The two major historical events which sparked off mass exodus to Assam were the partition of the subcontinent in 1947 on the basis of religion and the birth of Bangladesh through a 9-month-long liberation war in 1971.
According to estimates, nearly 10 million people, mostly Hindus took shelter in India during the war period as the Pakistan Army with their local collaborators had been targeting non-Muslims.
While many of them returned home after the end of civil war in Bangladesh, a sizeable number stayed back in Assam.
The migrants who had crossed over into India on or before March 25, 1971, were accorded "refugee" status and eventually granted citizenship by the Central government.
But those who crossed border after March 25, 1971 are treated as illegal migrants in Assam.
New cabinet decision raises eyebrow
In a significant decision, the Assam government on July 16, 2014 approved a proposal to grant citizenship to lakhs of refugees from Bangladesh taking shelter in the state for the last four decades.
The Gogoi cabinet observed that the refugees who had fled religious persecution and discrimination in Bangladesh and entered Assam after March 25, 1971, the cut-off date for determining an illegal migrant as per the provisions of Assam Accord of 1985, would not be treated as foreigners.
However, the government clarified that there would be no relaxation of the existing laws for detecting, trying and deporting illegal migrants, particularly those staying in detention camps after being declared as illegal Bangladeshi migrants by the Foreigners Tribunal since 2010.
Land boundary agreement between India and Bangladesh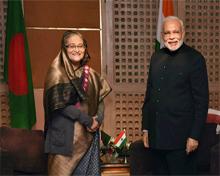 The Constitution 119th Amendment Bill has been passed in Parliament on 7 May 2015 to ratify the land-boundary agreement (LBA) between Indian and Bangladesh.
With this landmark LBA, India will gain 510 acres of land and 10,000 acres of land will notionally go to Bangladesh. However, these are remote enclaves which India cannot access.
This legislation will redraw India's boundary with Bangladesh by exchanging enclaves in Assam, West Bengal, Tripura and Meghayala.
Paving the way for cordial relations with Dhaka, the LBA will secure the long stranded boundary and curb the illegal migration, smuggling and criminal acts cross the border.
Moreover, the agreement will help stateless citizens by granting the citizenship from their respective countries.
Through access to under-developed parts of north-eastern states, a big push will be given to the economic progress of these regions.
As part of India's north-eastern policy, the land agreement will improve connectivity with larger South-East Asia linking remote states with Myanmar and Thailand.
All these developmental issues can be achieved with the cooperation of Bangladesh.
Gana Mukti Sangram in Assam
Akhil Gogoi is the new poster boy of Assam politics.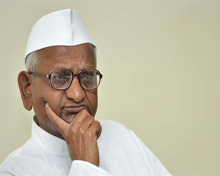 For years, his Krishak Mukti Sangram Samiti (KMSS) led a state-wide movement against corruption.
Now the KMSS has floated a new party called Gana Mukti Sangram Assam (GMSA) to usher in social change.
Gogoi's idealogue Anna Hazare advised him not to contest elections, but fight for the rights of the people.
Not ruling out contesting in elections as a strategy, Akhil said the new party would launch a movement against the centralised form of governance which had belied the hopes of Assamese for decades.
Current Economic Survey of Assam
Assam's economy is showing signs of improvement after falling behind national GDP growth till 2000. In 2001-02, the economy grew 1993-94 constant prices at 4.5%, falling to 3.4% in the next financial year.
During 2003-04 and the next year, in the same constant prices, the economy grew more satisfactorily at 5.5 and 5.3% respectively. While 2005-06, had seen better growth at just above 6%.
Assam Tea - best in the world
Agriculture accounts for more than a third of Assam's income and employs nearly 70% of total workforce.
However, the state's biggest contribution to the world is its tea as it produces some of the finest and most expensive teas.
Other than the Chinese tea variety Camellia Sinensis, Assam is the only region in the world that has its own variety of tea called Camellia Assamica.