Odisha Economy
Odisha is one of the poorest states in India. Odisha has fallen behind many other states in India in terms of their economic development as after India's independence, Odisha has not been a focus of investment by the central government, causing its infrastructure and educational standards to lag behind the rest of the nation.
For instance, only about 20% of the road network is paved. In rural areas over 65% of the population have no access to safe drinking water. This has led to a widespread misbelief among the local population that Odisha is a neglected state. But, currently the per capita investment in the state is the highest in the country and it is the focus of investment from a lot of foreign investors.
Odisha's main strength is its natural resources. Most of the chromite in India comes from Odisha. One fifth of the coal in India is found here. Odisha is largely agricultural and Rice is the main crop grown here. In fact, one tenth of India's rice comes from Odisha. Other crops grown here are oil seeds, coconut and sugar cane. There are also cash crops grown here such as rubber, tea and cotton.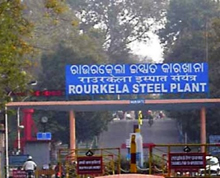 Odisha is the first state to privatize its electricity transmission and in terms of power generation it is ahead of a lot of other states.The state produces electricity through the use of both coal and river water.
Odisha only has one port, Pardip. Two more towns, Dhamra and Gopalpur are being developed into port cities. Pardip was recently selected to become a Special Economic Region by the Indian government. The government is planning to build a top of the line infrastructure designed to encourage private investments. It is estimated that the investments might reach over ninety million dollars.
Freshwater fishing is done on the coastal region of Odisha. The main seafood which comes from Odisha is prawns which brings in good profits. Odisha also has a great eco-tourism program including wildlife sanctuaries. The handloom and handicrafts industry also contributes to the state's economy.