Infrastructure Of Odisha
Road
Odisha has a total road length of around 253,050.8 km. There are 15 National Highways (NH) running through Odisha. While the total length of the National Highways is 4,644.52 km, state highways measures around 5,086.1 km.
Railways
Odisha is well connected through the railway network. The total length of railways in the state is 2,540 km. Khurda Road, Sambalpur and Waltair are the main railway divisions in Odisha.
Airports
Biju Patnaik Airport at the state capital Bhubaneswar is well connected with the major cities such as Delhi, Chennai, Kolkata, Mumbai, Nagpur and Hyderabad. Biju Patnaik Airport was declared an international airport in 2013. In 2015, Air India announced a new international flight to Abu Dhabi from Biju Patnaik.
Besides, there are 17 airstrips and 16 helipads at several places in Odisha.
Paradeep
A major sea port and the deepest in India, Paradeep is the main outlet and inlet of the sea borne trade of the eastern part of country. The port is well connected with the rail network and is also served by National Highway-5A. Paradeep is 124 km from Bhubaneswar.
Ports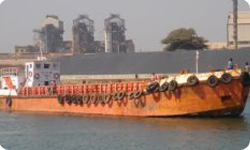 As of October 2015, the state had an overall tele-density of 66.85 per cent.