Education in Assam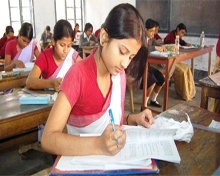 The capital city Guwahati offers the best in higher education among the north-eastern states in India.
In fact, the modern age of education began with the annexation of Assam by the British Empire after the Treaty of Yandabo in 1826 with the Burmese forces.
In 1840 W. Robinson was appointed as the first inspector of schools. But due to turbulent political and social scenarios of Assam which was unstable the, very little importance was given to improving the education sector.
But some British officials took initiatives with the help of local people to improve the education system.
As a result of these efforts by 1875, the number of institutions for general education increased to 1,293.
History of Education in Assam
Most of the changes and rapid growth had occurred since independence in 1947. The state governments had taken a number of path-breaking steps which had ensured a good academic life for Assamese students later on.
The construction of Guwahati University building was taken up during 1951-52 as part of the first five-year plan period and an amount of Rs 43 lakh was allocated as seed money for this purpose.
In terms of educational facilities, Assam has developed into a top destination at the national level and more importantly, a convergence point for students from rest of the north-eastern states.
Guwahati is a key centre for higher education for students of the whole of north-eastern region.
Primary Education Scenario in Assam
The schools and colleges in Assam are either run by the state government or private organisations.
Like in rest of the country, the schools in Assam are affiliated either to State Education Board, Assam (SEBA), Indian Certificate of Secondary Education (ICSE) or to the Central Board for Secondary Education (CBSE).
The state education department gives special focus to the primary sector in Assam as it is important to enrol more number of children and also prevent the number of dropouts for better strength at the middle, higher and secondary levels.
Free and compulsory education for students up to the age of 14 has become mandatory throughout Assam.
The syllabus at primary schools is set up the Directorate of Elementary Education.
The medium of instruction in Assam at the school level is usually Assamese or English. The CBSE affiliated schools use English as their medium of instruction and it is also the most used language at the higher educational institutions in Assam.
Assam Literacy Rate
The state literacy rate is 73.18% against the national average of 74% as per 2011 census.
Out of which male literacy is at 78.81% and female literacy at 67.27%.
While the urban and rural literacy rate is at 88.88% and 70.44% respectively.
A large portion of the population in the age group of 15-30 years living in major towns is computer literate, while most of the educated are able to read and write English.
Top Universities in Assam
Assam has 9 universities owned by the Centre and the private sector, one specialised agriculture university and an open varsity.
There are 590 colleges at graduate level for Arts, Science, Commerce, Law, Sanskrit and Arabic.
Besides, the state has 5 medical colleges, one Ayurvedic college, two veterinary colleges, one college of aquaculture, one regional dental college, three homeopathy colleges and one nursing college in the government sector.
An integrated Industrial Arts and Craft School and State College of Music offer professional skill sets to fine arts students at the undergraduate level.
With regard to technical education, the state has one Indian Institute of Technology (IIT), one Indian Institute of Information Technology (IIIT), 13 engineering colleges / universities (both government and private sector including NIT) offering 21 graduate courses with an intake capacity of 3,737 students per annum.
The state has 8 polytechnics and 23 industrial training institutes (ITI) which offer specialised courses with hands-on training to suit the needs of various industries.
In addition, Central Institute of Plastic Engineering & Technology (CIPET) and National Tool Room offers diploma and certificate courses that fetch ready jobs for students in the industrial sector.
All Assam Students Union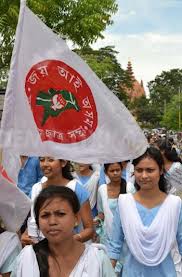 During the 1980-85, Assam was gripped by student agitation led by All Assam Students Union (AASU) led by Prafulla Kumar Mohanta who demanded autonomy to Assam, besides putting a full stop to the flow of illegal migrants from Bangladesh.
Later on after signing the Assam Accord in 1985 with the Centre, Mohanta floated his own party Asom Gana Parishad (AGP) and ruled the state as chief minister twice (1985-1990) and (1996-2001).
Even today, students play a vital role in the politics of Assam and hence, all political parties take care to keep this young brigade on their side in the course of electoral battles.