Tourism of Assam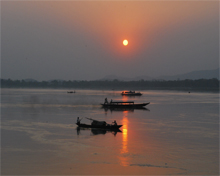 The mighty Brahmaputra River is the veritable lifeline for Assamese as their state, the gateway to northeastern India, depends much on tourism which relies on wildlife hotspots and water adventure.
While there are references to the state in the Hindu epic Mahabharata as Pragjyotisha and Kamarupa, this region got its present day name from the Ahom kingdom which reigned from 1228 to 1826 CE.
But only after the British took over in 1826, Assam was discovered by the outside world as a verdant bloom endowed with thick forests, wildlife, blue hills and perennial rivers.
Assam is most famous for its high quality tea, oil resources and wild animals, notably the one horned rhinoceros (found only in this state) and other rare species on the brink of extinction.
One of the last habitats of Asiatic elephants is found in Assam jungles.
Hill Stations in Assam
Enjoying a global reputation for its natural beauty, biodiversity and mighty rivers, Assamese people are known for their friendliness which attracts thousands of tourists from the mainland.
The Brahmaputra River floods the land with fertile silt every year to ensure a rich harvest of a variety of crops and plantations.
The marshy land on the banks of Brahmaputra River is covered with large, wild grass, rich fields and terraced tea gardens.
In the south of the Brahmaputra valley is the even horizon broken by the hills of Karbi Anglong and further south are the North Cachar Hills which has the state's only hill station Haflong.
Wildlife Sanctuaries and Monsoon in Assam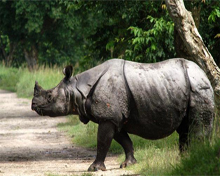 Barak Valley in the south is a land of natural beauty at its peak. Assam has a record 35% of forest cover and thousands of acres under tea cultivation, the high quality varieties are exported.
Assam boasts of five national parks including the World Heritage Sites -- Kaziranga and Manas -- and 20 wildlife and bird sanctuaries.
The great one-horned rhinoceros is one of Assam's most distinct animal attracting visitors from all over the world.
Rain bathed Assam during monsoons offers picturesque scenes through the state as it is replete with lush green vegetation and diverse wildlife. The monsoon period occurs from the late May to September, but there are occasional showers in the winters too.
Best Time to Visit Assam
Normally high temperatures make rivers swell carrying the melted snow from Himalayas.
The winter begins in late November and lasts till February. Cool, gentle breeze in January and February keeping the days clear and sunny. Winter mornings entail dense fog and mist throughout Assam.
Over the centuries, people of various ethnic, religious and linguistic backgrounds have settled near the river valleys of Assam and adopted them as their home.
The people are from a range of racial backgrounds derived from Austro-Asiatic, Indo-Aryan and Tibeto-Burman.
National Parks in Assam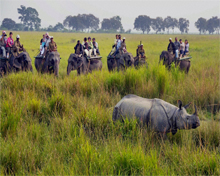 The world heritage sites -- Kaziranga and Manas National Parks -- are most visited hotspots in Assam as their wildlife and flora are quite unique to their topography. Some of the animals are on the verge of extinction and being protected by forest guards round the clock.
Besides, there are other places like Pobitora Wildlife Sanctuary, Nameri and Dibru-Saikhowa National Parks, among others, which offers nature hunting combined with pleasure trip to extremely scenic locations.
Having a rich cultural past dating back to the Ahom dynasty, Assamese are quite rooted to their soil which has been governing their lifestyle for centuries.
Tourist Destinations in Guwahati
The most urbanised city in the entire northeast, Guwahati is the gateway to the entire region and offers a number of tourist attractions, apart from serving the commercial purposes of the people living in the 8 NE states including Sikkim.
The major tourist spots of the capital city are Kamakhya temple, cruise on the river Brahmaputra, Shankardev Kalakshetra, Umananda temple, Assam state zoo and Shilpagram.
On the outskirts of the city are Chandubi Lake, Sonapur, Madan Kamdev, Chandrapur and Pobitora Wildlife Sanctuary. The Gopeswar Mandir in Deuduar village can be visited easily from the site of Madan Kamdev temple on the city periphery.
Majuli Tourist Places Assam
Visit the largest freshwater island in South Asia on the Brahmaputra river.
Majuli is also famous for its Vaishnavite monasteries such as Kamalabari, Dakhinpat, Garamurh, Auniati, Bengenaati and Samaguri Satras.
Kaziranga National Park Assam
This UNESCO protected world heritage site is the last habitat of the "Great Indian One-horned Rhinoceros". Also, Manas and Orang national parks are located in the contiguous areas.
Jatinga Bird Mystery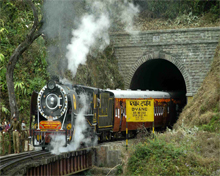 A little known village is known for the mysterious suicides of the birds which come from far away places including Siberia and is located in Dima Hasao district.
Sonitpur Tourist Places
Nameri National Park, Bura Chapori Wildlife Sanctuary, Sonai Rupai Wildlife Sanctuary and a part of Orang National Park are a must see places in this district.
Bhalukpong is an important tourist place, while Tezpur is known for its cultural heritage.
Some of the historical and heritage places are Agnigarh, Mahabhairav temple, Chitralekha Udyan, Bamuni Hills and Usha Pahar.
Biswanath Chariali town, around 75 km from Tezpur, is famous for the Biswanath Ghat also called as Gupta Kashi.
Jorhat Tourist Attractions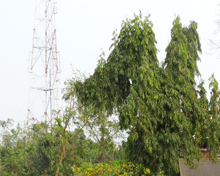 Located 318 km east from Guwahati, this is the tea capital of India and served as the last capital of Ahom dynasty. Some of the holidaying spots are Jorhat Planetarium, Tocklai Experimental Station, Dhekiakhowa Bornamghar, Gibbon Wildlife Sanctuary, Lachit Maidam, Molai forest and Kaziranga Golf Resort.
Best Places to Visit in Sivasagar
The ancient capital of Ahom kingdom, this district is known for a number of tourist places. And visitors have a wide range of choices and hence, they need to plan meticulously to go around these places of interests.
Some of the most visited places are Rang Ghar, Talatal Ghar, Sivadol, Kareng Ghar of Garhgaon, Joy Dol, Sivasagar Tank, Joysagar Tank, Joymati Maydam, Vishnu Dol, Devi Dol, Gourisagar Dol and Tank, Charaideo, Namdang stone bridge, Uttran Museum and Panidihing Bird Sanctuary.
Hajo Temples
An ancient pilgrimage centre for all three religions of Hinduism, Islam and Buddhism.
Haflong Hill Station of Assam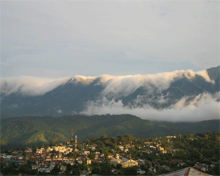 Haflong is the only hill station of Assam and is the headquarters of Dima Hasao district. The village of Jatinga is known for mysterious suicides of birds on the new moon night.
Tinsukia District Tourist Place
With glittering shopping malls and commercial outlets, Tinsukia gets people from other NE states for making purchases of all kinds.
Dibru-Saikhowa National Park is one of the biggest wildlife parks in India and also considered a biological hub of a rare kind.
The Tilinga Mandir (bell temple) is a famous temple on the outskirts of Tinsukia city.
The Asia's oldest refinery Digboi is situated in Tinsukia and a railway theme park has been added to the Dehing Patkai festival held annually at Lekhapani.
Dibrugarh Tea Estate
Dibrugarh is called the tea capital of the world and is situated on the edge of the Brahmaputra River.
With extensive tea estates all over the place, Dibrugarh opens up a new world for tourists where the lush green plantations extend a healthy backdrop in everyday living.
Tea tourism has become popular in Assam with travel agents and companies like Greener Pastures and Purvi Discovery offering packages consisting of tea circuits to visitors.
Recently, tea tourism has started becoming popular, with travel companies such as Greener Pastures and Purvi Discovery offering tea tours. Tipam is a famous tourist spot of Dibrugarh.
Tipam is an ethnic village known for its historical places. Dehing Patkai, a rain forest area is another major attraction here.
At present, Dibrugarh has the biggest railway station in Assam with 18 lines opened in 2009.
Rajdhani Express train (Vivek Express) originates from Dibrugarh and travels up to Kanyakumari in the southernmost tip of India, the longest rail journey covering a distance of 4,278 km in 82 hours cutting across states of Assam, West Bengal, Bihar, Orissa, Andhra Pradesh, Kerala and Tamil Nadu.
Survey on Tourism Statistics in Assam
Assam is targeting to double tourist arrivals from 46 lakh in 2014-15 to about 90 lakh tourists over the next two years.
The state, known for its tea gardens and Kaziranga rhinocero's sanctuary, has earmarked about Rs 15 crore for promotion of tourism in the state to attract more tourists.
The state gets maximum tourists from Gujarat and West Bengal. And hence, road shows were held in these two states to attract more tourists in the coming years.
About 12 per cent of the total tourists are from Gujarat and roughly 25,000 foreigners visited the state in 2014-15.
The state has 800 major tea gardens, while 60,000 small tea estates spread across 300,000 hectares in Assam.
Learning from the Gujarat model to market Assam as tourist destination, the government is hiring an advertising agency for a right branding exercise. The tourism sector has been growing at a rate of 15% per annum in Assam.
The state government has commissioned a study to understand the financial significance of tourism to the overall GSDP of Assam.
While the image of Assam as a violent prone state is still prevalent in rest of the country, there has been a perceptible change in the thinking with this biggest NE state being recognised for its natural beauty, cultural charm and wildlife parks.