Uttarakhand Economy
Uttaranchal's 90 Like other hill states in the country, Uttarakhand too depends primarily on agriculture and related businesses to drive its economic growth. Basmati rice, wheat, soybeans, groundnuts, coarse cereals, pulses, and oil seeds are the most widely grown crops in the state.
Fruits like apples, oranges, pears, peaches, litchis, and plums are cultivated in large scale, thus offering a steady supply to the food processing industry. Agricultural export zones have been set up in Uttarakhand for leechi, horticulture, herbs, medicinal plants, and basmati rice.
During 2010, wheat production was 8.31 lakh tonnes and rice production was 6.10 lakh tonnes, while the main cash crop of the state sugarcane had a production of 50.58 lakh tonnes. As 86% of the state consists of hills, the yield per hectare is not very high.
Moreover, 86% of all croplands are in the plains while the remaining is from the hills. Other key industries include tourism and hydropower sectors which have untapped potential to generate huge employment to the educated youth of Uttarakhand.
Uttarakhand has also unveiled policies with attractive offers for the development of IT, ITeS, biotech, pharma and automotive sectors. The service sector mainly includes tourism, IT sector, higher education and banking.
During 2005–06, the state has developed three Integrated Industrial Estates (IIEs) in Haridwar, Pantnagar, and Sitarganj; Pharma City at Selaqui; IT Park at Sahastradhara (Dehradun); and a growth centre at Siggadi (Kotdwar).
Also in 2006, 20 industrial sectors in public private partnership mode were developed in the state. The GSDP has increased at an annual growth rate of 15.32% from 2004-05 to 2014-15. At current prices, the GSDP of Uttarakhand was about $23 billion in 2014-15. In 2014-15, the state's per capita GSDP was estimated at around $2,233.
The per capita GSDP increased at an annual rate of 13.78% between 2004-05 and 2014-15. Uttarakhand is one of the fastest growing states in India with massive growth in capital investments arising from conducive industrial policy and generous tax benefits.
Economic distribution
The tertiary sector consisting of services contributes 50.10% to the GSDP of Uttarakhand in 2014-15.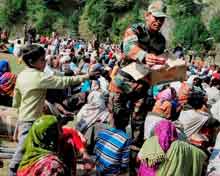 Trade, hotels and restaurants are the largest subgroups of the sector, catering mainly to the tourists and hospitality industry.
This hospitality subgroup registers a strong growth year-on-year with growing number of tourists visiting Uttarakhand. The secondary sector (manufacturing) had the fastest growth of 18.7% followed by the tertiary sector (15.5%) and primary sector (9.5%) between 2004-05 to 2014-15. The share of the secondary sector in GSDP was 35.97% in 2014-15; its growth was mainly driven by the manufacturing sector.
Exports from the state reached $1.41 billion in 2014-15, reflecting a growth of 8.1% in comparison to 2013-14.
Big push to agriculture
Sugarcane, wheat, rice and potato are the key agricultural products of Uttarakhand.
In 2014-15, the total food grain production of the state was around 2.07 million tonnes.Sugarcane is the major crop in the state with production of about 7 million tonnes in2014-15.
The production of oilseeds and pulses during 2014-15 was estimated to be 36,000tonnes and 62,000 tonnes respectively. The state government aims to set up cold chain storage warehouses in every district by 2022.
Key industrial clusters
The natural resources, policy incentives and infrastructure support investments in the drugs and pharma, biotech, IT/ITeS, mines and minerals, textiles, leather and tourism sectors. Uttarakhand has been successful in attracting long-term investments because of its key industrial and sector-specific policies.
Developing appropriate infrastructure has also been a key strategy of the state to attract investments in various industries. Directorate of Industries is the state-level office responsible for implementing the policies and programmes for industrial development in the state.
Agro and food processing
Uttarakhand has announced plans to establish a mega food park in Udham Singh Nagar which is expected to be operational by 2018. The state already has one food mega park based in Haridwar.
These two mega food parks are expected to contribute $995.35 million to the GSDP of the state. Moreover, the food parks will generate about 30,000 direct and 2.90,000 indirect employment opportunities in the state by 2018.
Many agri-export zones (AEZs) have already been declared under the AEZ scheme of the Centre for products such as litchi, floriculture, horticulture, herbs, medicinal plants and basmati rice.
A biotech park near Pant Nagar is coming up in the state. Uttarakhand is included in the difficult area category by the ministry of food processing industry (MoFPI). Hence units being set up are eligible for higher incentives under the MoFPI scheme.
Fruits such as apples, oranges, pear, grapes, peach, plum apricot, litchi, mangoes and guava are widely grown in the state. These diverse fruits have immense potential for development of horticulture industry like processing units. The state government renders assistance in setting up small and medium agro parks and food parks.
These food parks are expected to provide common infrastructure for storage, processing, grading and marketing.
FMCG industry
Proximity to key markets and supply centres of North India further adds to the attractiveness of the state as an investment destination. Pantnagar is a primary location for FMCG companies in Uttarakhand.
In 2014, the state had around 28 cold storage units with capacity of over 84 thousand metric tonnes. Some of the key places in the FMCG sector are ITC Ltd, Dabur India, CavinKare and Hindustan Unilever who have set up huge plants and employ thousands of people from the local community.
ICT industry
ICT sector has received special attention from the state government and ithas been accorded the status of an industry. Several initiatives have been taken to promote the ICT industry in Uttarakhand.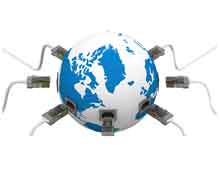 With the setting up of the Software Technology Parks of India (STPI) earth station in Dehradun, the hill state offers high-speed connectivity. There are more such earth stations planned at other locations.
The exports of IT products from the state grew at annual rate of 7.4% between 2009-10 and 2014-15 to reach $350 million in 2014-15. Some of the top companies in the ICT industry who have operations in Uttarakhand are Hiltron, HCL Infosystems, Wipro Infotech and Modi Infotech Service.
Engineering and allied sector
Many Indian and foreign companies have set up their manufacturing units in Uttarakhand. They were attracted to the state with the government's emphasis on industrial growth by providing incentives with easy availability of manpower.
Many automobile and auto component firms have set up their plants cum and R&D centres in Uttarakhand. BHEL is one of the oldest and most important companies in the engineering sector in the state.
Tata Motors, Ashok Leyland, Hero Honda, and Mahindra and Mahindra are some of the well-known automotive companies that have set up units in the state. In May 2015, TVS Tyres announced plans to invest $24.88 million to increase the production capacity of its tyre plants based in Uttarakhand and Tamil Nadu.
In August 2015, JK Tyres announced plans to purchase the tyre unit of Kesoram Industries which is based in Uttarakhand for over $0.33 billion.
Floriculture and horticulture
The floriculture industry is being developed aggressively to meet the demands of domestic as well as foreign markets. The climate of the state makes it ideal for growing flowers all-round the year.
Floriculture parks with infrastructure for sorting, pre-cooling, cold chain, processing, grading, packing and marketing facilities have been planned to offer incentives and facilities to the industry.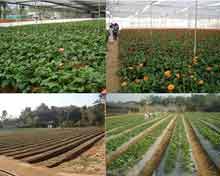 The production of loose flowers in the state has increased from 2,020 tonnes in 2013-14 to 2,760 tonnes in 2014-15. The state government has a horticulture marketing board to boost horticulture products in the state.
In September 2014, Uttarakhand was presented the Horticulture Leadership Award at the seventh Agriculture Leadership meet. Uttarakhand University of Horticulture and Forestry (set up in in 2011) is taking initiatives in the fields of extension, research and certificate level courses for the benefit of staff as well as lay farmers.
Forest products industry
The state's forest revenues increased at an annual growth rate of 9.5% between 2004-05 and 2013-14 to reach $61.58 million in 2013-14. Forest products have excellent potential for development due to easy availability of raw materials in Uttarakhand.
The state has ample scope to develop industries based on forest and agro-wastes such as lantana, pine-needles, plant and vegetative fibres. Uttarakhand accounts for 6 national parks and 7 wildlife sanctuaries.
The area covered by national parks and sanctuaries is 4,915 sq. km and 2,690 sq. km respectively. In 2014-15, the recorded forest area of the state was 36,556 sq. km which constitutes around 68.4% of its land area.
Biotechnology sector
Home to a rare species of flora and fauna, Uttarakhand has a natural advantage in the biotech sector.The state accords an industry status to the units coming under this sector. That is, policy provisions applicable to the IT sector are applicable to the biotech sector too.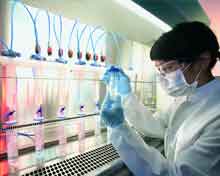 Exclusive parks are to be developed for integrating resources and providing a focused institutional set up for an accelerated growth of biotech industries and bioinformatics. In August 2011, the proposal to set up a biotech park in Uttarakhand was included in the biotechnology programme.
The Uttarakhand Biotechnology Department plans to set up a Centre of Excellence onMountain Biology to support R&D work.
Tourism, a money spinner
Uttarakhand is a well-renowned religious and wildlife tourism destination. In 2014-15, 22.5 million domestic tourists and 0.11 million foreign tourists visited the state. About 21 new places in Uttarakhand that have the potential to become major tourist destinations have been identified to be developed further.
These places include Jageshwar, Baijnath, Saat Taal, Bhimtal, Patal Bhuvaneshwar,Chakori, Someshwar, Pithoragarh, Chakrata, Roopkund, Hanaul, Anson Barrage, Harshil, Dhanaulti and Dayara meadow.
Jauljiwi in Kumaon and Tons in Garhwal division are planned to be developed as adventure tourism destinations. In the budget 2015-16, the state government has announced plans to invest $33.27 million for the development of tourism sector.