Industrial Scenario of Uttarakhand
Blessed with almost all agro-geo climatic zones, Uttarakhand has immense potential forhorticulture and floriculture-related business. The state has 175 rare species of medicinal and aromatic plants.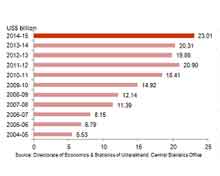 Forest area covers about 68.4% of the state. The state's forest revenues increased at a growth rate of 9.50% between 2004-05 and 2013-14 to reach $61.58 million in this period. Uttarakhand is being developed as an 'energy state' to tap the hydropower electricpotential of over 25,000 MW. About 76.85% of the capacity owned by state utilities is based on hydropower.
The state is located at the foothills of the Himalayas. The presence of several hill stations, wildlife parks, pilgrimage places and trekking routes make Uttarakhand an attractive tourist destination. Flow of tourist arrivals in the state grew at a rate of 12.54% in 2014-15 from the previous year (2013-14).
Uttarakhand has witnessed massive growth in capital investments due to a conduciveindustrial policy and generous tax benefits. Therefore, this hill region is one of the fastest growing states in India. The state's GSDP increased at a growth rate of 15.32% between 2004-05 and 2014-15 to touch $23 million.
Per capita GSDP stood at Rs 2,233 as against the all states' average of Rs 1,389.61 in 2014-15.
Industrial distribution
The tertiary sector's (services) share in GSDP was 50.10% in 2014-15. Trade, hotels and restaurants are the largest subgroups of the sector, and registered strong growth compared with the previous year. The secondary sector (manufacturing) had the fastest growth of 18.7% followed by the tertiary sector (15.5%) and primary sector (9.5%) between 2004-05 and 2014-15.
The share of the secondary sector in the GSDP was 35.97% in 2014-15; its growth was mainly driven by the manufacturing sector. However, agriculture and handicrafts are the traditional vocation for the majority of people in Uttarakhand.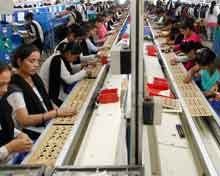 Sugarcane, wheat, rice and potato are the key agricultural products of the state. In 2014-15, the total food grain production in Uttarakhand was around 2.07 million tonnes. Sugarcane is the major crop in the state with production of about 7 million tonnes in2014-15.
The production of oilseeds and pulses during 2014-15 was estimated to be 36,000tonnes and 62,000 tonnes respectively. The state government aims to set up cold chain storage warehouses in every district by 2022.
Exports from the state reached $1.41 billion in 2014-15, reflecting a growth of 8.1% in comparison to 2013-14. The state government has a planned expenditure of $5,448.9 million for various industrial, social and infrastructure sectors during 2015-16.
Major initiatives to boost growth
Uttarakhand has been successful in attracting long-term investments because of its key industrial and sector-specific policies. The state offers a wide range of benefits in terms of interest incentives, financial assistance, subsidies and concessions.
The state has a robust social and industrial infrastructure, virtual connectivity, over 38,680.92 km of road network, two domestic airports, 345 km of rail routes and an installed power capacity of 3,177.27 MW.
Directorate of Industries is the state-level office responsible for implementing the policies and programmes for industrial development in the state.
Some of the major initiatives taken by the government to promote Uttarakhand as an investment destination are:
The state is being developed as an 'energy state' to tap the hydropower electric potential of over 25,000 MW.
The state government is planning to launch a rail project between Rishikesh and Karanprayag. The length of the railway track would be around 12 km.
In 2015-16 budget, the government has announced plans to invest $16.77 million for industrial development.
With the setting up of the Software Technology Parks of India (STPI), the earth station at Dehradun now offers high-speed connectivity.
There are more such earth stations planned at other locations. Facilities by BSNL and Reliance are also available in the state.
The state government has decided to set up a marketing board to boost horticulture products in the state.
The state government aims to set up cold chain storage warehouses in every district by 2022.
The state plans to utilise and leverage biotechnology for accelerating the economic development by converting its bio-wealth into economic wealth.
The single-window facility is available under a two-tier system - the District Industrial Centres (DIC) at the district-level and State Infrastructure and Industrial Development Corporation of Uttarakhand Ltd. (SIDCUL) at the state-level.
These centres are responsible for providing information and escort services to entrepreneurs. They also maintain a data bank.
Industrial hub in making
The state is being transformed from an essentially agrarian and services driven economy into a hub of industrial activity.
Following are the industrial estates in Uttarakhand:
Four integrated industrial estates (IIEs) in Haridwar, Pantnagar, Sitarganj and Kashipur.
Pharma city at Selaqui.
IT park at Sahastradhara Road (Dehradun).
Growth centre at Siggadi (Kotdwar).
Some of the other initiatives towards increasing industrial activity include:
Under the special integrated industrial promotion policy (2008), the government's incentives include exemption from stamp duty, rebate of up to 90% on value added tax, rebate on power tariffs and transport subsidy.
The government expects to attract ventures in eco-tourism, adventure sports and service sectors through this policy.
Proposed strengthening of the single-window – contact, information and facilitation mechanism.
Provision of arranging financing through a consortium of banks and financial institutions.
Provision to facilitate expeditious land availability for setting industrial venture and infrastructure projects.
In 2013-14, the state government of Factories: announced plans to invest $833.3 million in the next three-five years towards infrastructure projects. Under the Special Mega Industrial Policy 2013, investments worth more than $12.4 million are expected under various sectors attracting concessions.
These mega industrial units would enjoy a host of concessions including 25% exemption on land premium at base price; 50% reduction in stamp duty; central sales tax at 1% and 50% exemption on electricity duty for captive generation for seven years.
Rural & small scale industries
Khadi udhyog/gramodhyog: 447 units
Small scale industries (SSIs): 25,294 units
Total employees of khadi units: 3,853
Total employees of SSIs: 63,599

Factories in Factories:
Number of factories 2,843 Number of workers 2,73,464