Industrial Scenario of Punjab
One of the northernmost states Punjab borders Pakistan to its west and is known for high productivity of principal crops of India. Sikhs are the majority in this state which is prosperous with overflowing granaries thanks to its hardworking people.
The confluence of five rivers makes Punjab's agricultural land rich and productive. Nearly 82% of the state's land is under cultivation compared with the national average of 40%. Punjab's fertile and productive soil has accorded it the status of 'Granary of India' and the 'Bread basket of India'.
Occupying only 1.5% of India's geographical area, the state accounts for about 17% country's wheat production and 11% of rice production. With the practice of high-tech farming and growing yield per hectare, Punjab has enormous potential for agro-based industries, dairy development and other food processing units.
During 2014-15, Punjab accounted for 60% share of wheat and about 35% share of rice procured by the Indian government for food security. Punjab has strong agriculture base with the huge production of principal crops. The production of sugarcane has increased from 6,675 thousand metric tonnes in 2013-14 to 7,200 thousand metric tonnes in 2014-15.
For the same period of time, production of barley has increased from 46 thousand metric tonnes to 72 thousand metric tonnes.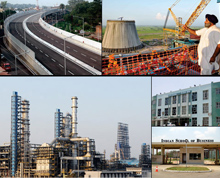 Punjab - Granary of India
Top notch infrastructure
Punjab has been ranked first in India in terms of infrastructure facilities being offered to farmers and industries. The road, rail and air transport network, connectivity, construction of bridges and infrastructure facilities are rated among the best.
Punjab emerged as a key hub for textile-based industries including yarn, readymade garments and hosiery. With the development of apparel parks, favourable textile policy and other incentives for the creation of textile infrastructure, the state offers opportunities for investment.
The average GSDP growth rate of Punjab was about 10.32% between 2004-05 and 2014-15. The state provides investment opportunities in sectors such as textiles, agro-based industries, IT and ITeS, automotive and auto components, sports goods and light engineering goods.
Punjab's gross state domestic product (GSDP) was $57.7 billion in 2014-15 as against $52.6 billion in 2013-14.
Major growth initiatives
The following are some of the major initiatives taken by the government topromote Punjab as an investment destination:
In the 2015-16 budget, the state government proposed to invest $334.77 million for the development of road infrastructure in the state.
An amount of $497.67 million has been proposed by the government exclusively for the improvement of national highways.
In March 2015, the state government has announced plans to establish a joint venture with Indian Railways to speed up the rail projects as well as to take up new projects, including setting up of ultra-modern railway stations and laying new railway tracks.
Punjab has announced plans to install two thermal power plants with 660 MWcapacity each in the state. Both plants are expected to be operational by the end of 2015.
In the 2015-16 budget, the state government has proposed to invest $909.75 million for the improvement of power infrastructure in the state.
Out of the overall allocated budget for power infrastructure, $159.25 millionwas sanctioned for power transmission, whereas $172.52 million is for generation and $290.31 million was sanctioned for power distribution.
Under the Urban Infrastructure and Governance (UIG) programme, five additional projects have been sanctioned and are in the transition phase.
Some of the key UIG areas of development are roads and flyovers, water supply, sewerage and solid-waste management.
As of May 2015, about 61 public-private-partnership (PPP) projects have been approved in the state.
The investment for the PPP projects is $4,330.04 million.
The state's textile policy provides incentives such as development of clusters, benefits under the Centre's Technology Upgradation Fund Scheme (TUFS), electricity at reduced rates and government support in the acquisition of land for textile mills.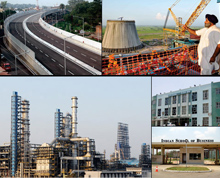 Punjab - Granary of India
Fiscal incentives
Punjab offers industries with a wide range of fiscal and policy incentivesunder the Industrial Policy 2013.
In order to improve the cropping pattern and restructure the incentives, the state government introduced Agriculture Policy for Punjab 2013.
Punjab has a well-developed social and industrial infrastructure. Its transport network is one of the best in India, with easy access to key markets such as the Delhi-NCR region.
Punjab has witnessed impressive growth in the number of clusters and hubs with the establishment of several PPPs.
Industrial composition
With a CAGR (compounded annual growth rate) of 12%, the tertiary sector has been the fastest growing among the three sectors – primary, secondary and tertiary – from 2004-05 to 2014-15 in Punjab.
The tertiary sector (services) is also the largest contributor to Punjab's economy,contributing 49.75% to the GSDP.
The economic growth was driven by trade, hotels, real estate, finance, insurance, communications, transport and other services.
The secondary sector rose at a CAGR of 9.8% between 2004-05 and 2014-15 driven by the increase in manufacturing, construction and electricity as well asimproved gas and water supply.
The primary sector witnessed a CAGR of 8.1% between 2004-05 and 2014-15.
Agricultural production
Punjab's fruit production was 6,53,000 tonnes in 2014-15. Apples accounted for a majority of the share in the overall fruit production in the state.
Total apple production stood at 5,81,000 tonnes in 2014-15.
In 2013-14, Punjab's total fruit production was 1.54 million metric tonnes.
Wheat is the major crop produced in the state, covering almost half of the cropped area.
In 2014-15, estimated wheat production stood at 16.56 million metric tonnes.
During 2014-15, Punjab accounted for 60% share of wheat and about 35% share of rice procured by the Indian government for food security.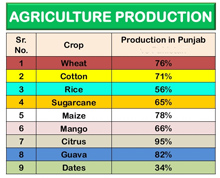 Punjab Agricultural production
FDI flows and investments
According to the Department of Industrial Policy and Promotion (DIPP), the cumulative FDI inflows from April 2000 to March 2015 amounted to US$ 1,331 million for combined region of Punjab, Chandigarh, Haryana and Himachal.
In 2013-14, outstanding investments in Punjab were $35.9 billion.
In 2014-15, the outstanding investments stood at $33.17 billion.
In 2014-15, the services sector maintained the highest share of outstanding investments, accounting for about 39%.
The services was followed by the electricity sector with a share of about 31% and construction and real estate with about 23%.
Gurdaspur-Rupnagar emerged as a dominant region in Punjab in terms of outstanding investment with 33% share.
Amritsar-Patiala is the second most attractive region in Punjab with 27% share.
Firozpur-Sangrur is recognised as third most lucrative region with 20% share in overall outstanding investment in 2014-15.
Export markets
Readymade garments, hosiery, yarn and textiles account for a majority of the share in the overall exports of the state.
Rice and sports goods are the other major products that account for a significant share in Punjab's export basket.
Rice accounts for 11.5% share in the overall exports of the state.
Exports of pharmaceutical goods from the state accounted for 1.68% share intotal exports in 2013-14 which increased to 5.09% in 2014-15.