Industrial Scenario of Manipur
Caught in a grip of terror strikes by armed militias and rebel groups demanding sovereignty, Manipur finds it difficult to attract investment in the region due to spiralling ethnic violence.
Moreover, the industrial houses from the mainland don't foresee this north-eastern state emerging as a favourable destination for industrial growth as social peace is not assured in this volatile region.
Gateway to south-east Asia
Despite having tremendous potential as gateway to south-east Asia with near open borders with Myanmar, commercial activity is yet to pick-up at trans-border sites.
However, with abundant natural resources such as verdant hills and plenty of rivers, Manipur holds much promise in traditional cottage industries and tiny village based units that are critical to provide employment.
With about 3,268 sq. km of area covered by bamboo forests, Manipur is one of India's largest bamboo producing states and a major contributor to the country's bamboo industry.
Manipur has the highest number of handicrafts units as well as the highest number of craft persons comprising skilled and semi-skilled artisans in the entire north-eastern region Handlooms is the largest cottage industry in the state which ranks among the topfive in terms of the number of looms in the country.
Manipur has the advantage of acting as India's "Gateway to the East" through Moreh town -- the only feasible land route for trade between India and Myanmarand other Southeast Asian countries.
The Ema Bazaar is one of India's largest markets run by women.
This market primarily sells handloom and handicraft products such as earthen pots, knives, shawls and puppets, besides all kinds of dried fish and vegetables.
Advantage Manipur
During Eleventh Plan Period (2007-12), the GSDP grew by 6.6%. For the 12th Plan Period (2012-17), Manipur government has targeted to achieve an average GSDP growth of 7.1%.

Manipur holds significant cultivation potential for various horticultural cropsdue to varied agro-climatic conditions.

Entrepreneurs get easy access to process and market a wide variety ofrare, exotic medicinal and aromatic plants grown in Manipur.

Moreh town offers a feasible land route between India and Myanmar and to the South-east Asian countries.

Moreh has a land customs station, an integrated check post (ICP) is alsobeing developed.

Minerals of Manipur

With a 79.2% literacy rate, Manipur offers a largely educated workforce.

Knowledge of English is an added advantage for the Manipuri workforce.

Imphal has one airport and Air India provides air cargo services. Fournational highways run through the state.

The railway line under construction on the Manipur-Assam border is a nationalpriority project.
Economic profile of Manipur
The GSDP of Manipur grew at an average of 7.8% from 2004-05 to 2014-15. At current prices, the total GSDP of Manipur was about $2.4 billion in 2014-15.

The state's per capita GSDP in 2012-13 was $767.2 as compared to $463.8 in 2004-05.

In 2014-15, the tertiary sector contributed 56.2% to the GSDP at current prices, followed by the secondary sector at 22.4%.

The tertiary sector grew at an average rate of 11.9% between 2004-05 and 2014-15 driven by trade, hotels, real estate, finance, insurance, transport, communications and other services.

The secondary sector grew at an average rate of 2.6% during the period between 2004-05 and 2014-15, driven mainly by construction and manufacturing.

The primary sector grew at an average rate of 6.2% between 2004-05 and 2014-15.

Natural forests cover about 77% of the total geographical area of Manipur.

Agriculture has a significant share in the state domestic product and providesemployment to about 52.2% of the total workers in the state.

Rice is the staple food of Manipur and is grown in both the hills and the plains. In 2013-14, total production of paddy (rice) was 588,870 metric tonnes in the state.
Industrial snapshots
According to the Department of Industrial Policy and Promotion (DIPP), the cumulative FDI inflows to the northeast states from April 2000 to May 2014 amounted to $79.0 million.

In 2013-14, the outstanding investments in Manipur were $3.7 billion.

The electricity sector accounted for 44.6% of the outstanding investments in the state followed by the services sector (39.8%). Irrigation and manufacturingsectors accounted for the rest.

Nilakuthi Food Park: The food park is constructed on a 30-acre campus at Nilakuthi.
The Manipur Food Industries Corporation Ltd is the implementing agency.
The park will host 49 food processing units for which common facilities will be provided.
The total project cost is estimated to be $5.3 million.
Integrated Infrastructural Development Project (IID): The Central government has sanctioned the IID project at Moreh with a total project cost of $1.19 million.
Land acquisition is being completed.
Export Promotion Industrial Park (EPIP): The Central government has approved the EPIP project at Khunuta Chingjin in the Kakching sub-division of Thoubaldistrict at a project cost of $3.1 million.
Land acquisition is being completed.
Trade Centres: The Central government had sanctioned $0.4 million for the construction of two trade centres, one at Moreh and another at Imphal.
The construction of the two buildings is completed.
Industrial Growth Centre: The Central government has approved one industrial growth centre project at Lamlai-Napet with a total project cost of $6.2 million.
Land acquisition is being completed.
The government has invited an expression of interest from investors, units or organisations who are willing to set up an industrial unit within the proposed centre.
Key growth drivers
Handloom is the largest cottage industry in the state. Manipur ranks among the top five states in terms of number of looms in the country. Manipur has around 40 active handloom production centres.
Most of the silk weavers, famous for their skill and intricate designing, are from Wangkhei, Bamon Kampu, Kongba, Khongman and Utlou. A mega handloom park will be developed at Imphal East district's LamboiKhongnangkhong under the sponsorship of the Union ministry of textiles.
Handicrafts of Manipur
Handicrafts is another important industry in Manipur. It has its own unique identity amongst the various crafts of the country.
Cloth embroidery, cane and bamboo, ivory, stone and wood carving, metal crafts, deer horn decorative articles, supari working sticks, dolls and toys are some of the well-known Manipuri handicrafts.
Since cane and bamboo are abundantly available, basketry is a popular occupation of the people of Manipur. Pottery flourishes in Andro, Sekmai, Chairen, Thongjao, Nungbi and parts of Senapati districts.
Cane and bamboo crafts, kauna crafts and pottery have high investment potential in the state. There are altogether 98,051 handicrafts units in Manipur providing employment to 3,79,998 artisans as on August 2014.
Manipur has four varieties of silk: mulberry, eri, muga and oak-tussar. The Manipur Sericulture Project was initiated by the Central government with the assistance of Japanese government, particularly, to provide employment to women.
For the Annual Plan 2013-14, a sum of $2.02 million is proposed for the implementation of the existing 13 sericulture development schemes.
Food and bamboo processing
The food processing industry is a major thrust sector of Manipur. The state's agro climatic conditions are most suited for food processing industry.
The food processing sector plays a significant role in diversification and commercialisation of agriculture, horticulture, fisheries, poultry, animal husbandry and forest resources. Food processing training institute was set up at Porompat in Imphal East by upgrading the existing training centre and amalgamation with the existing regional extension service centre.
An integrated cold chain, value addition and preservation infrastructure would be set up for the development of food processing industries at Senapati district. A food park would be set up at Nilakuthi at a project cost of $5.3 million to provide common facilities like cold storage, warehouse, quality control labs, packaging, tool room, power, water supply and sewerage treatment.
Three common facility centres for bamboo processing have been established at Tamenglong, Churachandpur and Imphal. Manipur government is setting up a Bamboo Technology Park at Kadamtala, Jiribam at an estimated cost of $104.3 million.
The main objective of the park is to set up cluster-based bamboo processing units on a PPP basis under the special purpose vehicle (SPV) mode. The bamboo park is being set up in association with the National Mission on Bamboo Application (NMBA) of the central government.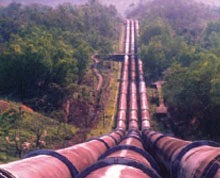 Loktak Hydro Electric Project
Hydro-electric power
Manipur is richly endowed with considerable hydropower potential. The Loktak Hydro Electric Project (3x35 MW) commissioned in 1984 is Manipur's main source of power.
The government sees hydropower as a major industry and has given top-priority to developing the state's hydropower potential. In view of this goal, it has decided to invite private investors in the hydropower generation industry.
The main objectives of the 12th Five-Year Plan for the development of the hydro-electric sector are as under:
Completion of on-going projects and schemes.

Implementation of the Loktak downstream hydroelectric project and the Tipaimukh project as joint ventures and the implementation of new hydel projects as statesector or JVs.

Strengthening transmissionand distribution systems to the maximum to utilise the available power and implementing the system improvement schemes to reduce aggregate technical and commercial losses.

The proposed reduction of power losses (and leakages) from 62.56% during 2010-11 to 30% during 2016-17.

Introduction of systems for computer billing and revenue collection, energy auditing and area-wise fixation of revenue collection responsibility.

Providing electricity access to all households and un-electrified villages.

Providing feeder meters at 132 KV, 33 KV, 11 KV systems and at distribution sub-stations for proper energy auditing.

Providing pre-payment energy meters to consumers in specific areas of the Greater Imphal region.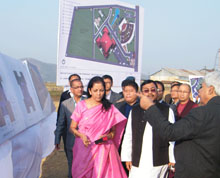 Tetra-park unit for Export
Promotion at Nillakuthi
Upcoming/Ongoing Projects in Manipur
Cold-chain at Senapati district

Border town at Haolaphai, Moreh

Special Economic Zone (SEZ) at Kakching

Bamboo Park at Jiribam

Export Promotion Industrial Park at Nillakuthi

Tetra-park unit for Export Promotion at Nillakuthi

Timber Park at Kuraopokpi, Kakching