Infrastructure of Manipur
Manipur being a hilly terrain, it requires such an infrastructural set up which provides physical accessibility to all parts of the state. Adequate and efficient provision of a well-connected road, rail, and aviation network is an important pre-condition for the social and economic development of the state.
Besides, a sound telecom and power infrastructure is necessary to improve the quality of life. Imphal, the state capital, has the second largest airport in the northeast region of the country. The Imphal airport is well connected by air with Delhi, Kolkata and Guwahati.
The national highways in the state link it with the rest of the country. Almost all the villages of the state are connected by all-weather roads.
Manipur Road Routes
Road connectivity of Manipur
Manipur has ten national highways (NH), the arterial one being NH-39. The NH-39 connects lmphal with Dimapur in the neighbouring state of Nagaland. From Imphal, it runs for another 110 km south-east to the international border town of Moreh on the Indo-Myanmar border.
The NH-53 is also another major highway that connects Imphal with Jirighat on the Manipur-Assam border. The NH-150, the other crucial highway, runs southwards, connecting Manipur with Seling in Mizoram.
The Central government has a trilateral agreement with Thailand and Myanmar to construct a trans-Asian highway connecting India (through Manipur) to the two countries.
The Manipur State Road Transport Corporation (MSRSTC) provides state road transport services. As of 2011, the state had a road density of 56.51 km per 100 sq. km.As of May 2014, the state had 1,488.7 km of national highways.
By the end of March 2013, the state had a total road network of 12,628 km, which include national highways, NEC (North East Council), BRTF (Border Roads Task Force) and other roads. The 12th Five Year plan (2012-17) target is to make roads of 12,618 km including major district roads of 1,179 km, other district roads of 1,063 km and interior village roads of 8,280 km.
Airport and railways of Manipur
Manipur has a domestic airport in Imphal - the Tulihal airport, which is located about 8 km from the heart of the city.
Airport of Manipur
Imphal airport is the second-largest airport in the north-eastern region with postal air cargo services for six days a week.
In October 2013, the airport was given an international status. The airport is being expanded to increase parking space for more aircraft and to make it an international standard airport.
A new terminal building with cold-storage facilities is in the pipeline. The major functional rail head linking Manipur with the rest of India is at Dimapur in the state of Nagaland, 215 km away from Imphal.
A railway-line from Jiribam (on the Manipur-Assam border) is under construction as a national priority project. This railway line is expected to connect Imphal with the rest of India by 2016 and is estimated to cost nearly $737.4 million
Power sector in Manipur
As of June 2014, Manipur had a total installed power generation capacity of 178.80 MW. It consisted of 127.94 MW under central utilities and 50.86 MW under stateutilities.
Of the total installed power generation capacity, 80.98 MW was contributed by hydropower, 92.37 MW was thermal power and renewable power contributed 5.45MW of capacity. Hydropower majors such as Satluj Jal Vidyut Nigam Ltd (SJVNL) and National Hydroelectric Power Corporation Limited (NHPC) are jointly setting up a mega hydroelectric power project at Tipaimukh, with an investment of $2 billion.
On completion, the project would have six generating units of 250 MW each totalling to 1,500 MW. The state has a hydropower potential of about 2,000 MW. In 2012, per capita power consumption in the state was 207.2 kWh.
As of March 2014, the state had achieved 86.3% of village electrification.
Telecom and urban facilities in Manipur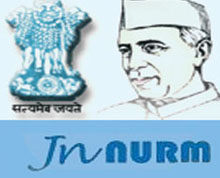 JNNURM in Manipur
As of May 2014, the north-eastern states of India had 9.5 million wireless subscribers and 1,36,892 wire-line subscribers. As of March 2013, Manipur had 1,89,884 Bharat Sanchar Nigam Limited (BSNL) telephone connections.
Manipur had 697 post offices in 2013.
Under the Jawaharlal Nehru National Urban Renewal Mission (JNNURM) three UIG projects costing $25.5 million have been sanctioned in Manipur as of March 2014. As of March 2014, a total of $15.4 million was released for the UIG (urban infrastructure and governance) projects under JNNURM.
The UIG projects have been sanctioned between 2007-08 and 2009-10. Key areas of development are solid waste management, preservation of water bodies and drainage/storm water drains.
Under the UIDSSMT (urban infrastructure development scheme for small and medium towns), $13.7 million has been allocated for development of water supply systems in Thoubal, Kakching, Jiriban, Moirang and Bishnupur.
Education infrastructure in Manipur
Manipur has a literacy rate of 79.2% according to the Census 2011; the male literacy rate is 86.1% and the female literacy rate is 72.4%.
The state has 68 colleges for general education, out of which 28 are government colleges, 12 are government aided colleges and 28 are private colleges.
In the Annual Plan 2013-14, the state government has proposed an outlay of $20.8 million for the development of general education during the year.
The tentative projected outlay for the 12th Five-Year Plan 2012-2017 is$207 million.
Health infrastructure in Manipur
Health infrastructure in Manipur
The health infrastructure comprises seven district hospitals, 85 primary health centres (PHCs), 421 primary health sub-centres (PHSCs), 16 community health centres and 30dispensaries.
Primary care level comprising primary health sub-centres (PHSC), primary health centres (PHC) and community health centres (CHC). Essential basic health care are provided at this level.
Secondary care level comprising of CHCs and district hospitals, which act as referral centres and where comparatively better services are provided with basic specialist facilities.
Tertiary care level where specialist and super specialist care are provided. The state-level hospital (JN Hospital) is providing the service.
During the 12th Five-Year Plan 2012-17, a special thrust would be given to rural health care institutions to provide the state with efficient and effective primary health care.
Efforts would be made to reduce infrastructure gaps in the healthcare sector at all the three levels as far as practical.