Employment Level in Manipur
Getting a secure job in Manipur is a tough and challenging task as only government can recruit educated youths based on the vacancy position. With the absence of private sector in any worthwhile industries, the state government is the main provider of employment to thousands of skilled and educated youth of Manipur.
However, the state government is seriously handicapped in giving employment to thousands of educated Manipuris who are forced to migrate to other parts of the country seeking a bright career.
Manipur educated youths
It is not surprising to find that highly-talented and skilled youth from Manipur are getting hired in private sector enterprises in major cities across India. Those youth bent on staying put in Manipur despite very little job prospects or even improvement in their livelihood have become the target of militant groups.
More than two dozen armed militant groups (and rebel outfits) are active in Manipur with secessionist agendas. Without a job or useful engagement in their lives, the educated youth of Manipur fall prey to the evil designs of ultras as they brainwash them to take up arms against the Indian Army.
Rising unemployment figures of Manipur
According to official reports, there are 7,01,987 educated youth seeking employment in Manipur as on May 2014. The population of Manipur, according to the 2011 census, is 27,21,756. Out of these, there are 2,01,327 girls listed in the employment exchange as on mid-2014. There are 2,643 handicapped persons.
Political observers say due to absence of industries and other private enterprises in Manipur, employment opportunities are very limited in this remote north-eastern state. These boys and girls have been scrambling for jobs in government offices whereas the state machinery does not have either funds or autonomy to recruit such large numbers of education youth.
It is alleged that every government job has a price tag.
Those youths whose parents cannot afford huge amounts to be paid as bribes are disillusioned and many of them become susceptible to anti-national propaganda. According to a perspective of Indian Army, unemployment is one of the main reasons of the spurt in the separatist movement in Manipur.
However, the rebels and ultras have rubbished the claims of the Army and assert that youth are joining their ranks as they are committed to the task of liberation of Manipur from the Indian Union.
Many of the unemployed youths had gone to other parts of the country seeking employment.
Reports say that there are a large number of Manipuri boys and girls who had got job placements in many industrial and services sectors in the mainland India. The unemployed youths lament that they cannot even start small-scale industries in Manipur as power supply is erratic and infrastructure facilities like road connectivity are abysmal.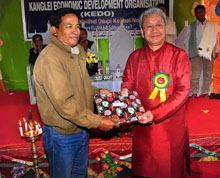 KEDO, Manipur
Self-employment, the only alternative
The youth in Manipur are finding out different ways to become self-reliant and generate means of livelihood.
The Kanglei Economic Development Organisation (KEDO) started by a group of unemployed youth of Thoubal district has come as a ray of hope for many youth in the area by helping them engage in a variety of jobs.
Set up in 2007 by a few unemployed youth at Amyang Leikei village in Thoubal district, KEDO has around 100-120 volunteers doing a variety of jobs in and around Imphal.
The group has taken up a project on vegetable farming at Irang Ahum Fangba at Lilong Arapti with an aim to provide fresh vegetables to the public as well as enable its volunteers to enhance their income.
They grow different seasonal vegetables like ladies finger, lime, banana and cucumber. KEDO president Soibam Maniton said the organisation was started with an aim to generate employment in Manipur.
It must be noted that all the KEDO members are well-educated and skilled people, but they could not get a decent job in the state.
So, all the youth came together and set up this organisation under the motto of "to work for identity" in order to employ themselves and also to bring more development in Manipur's economy.
Besides supplying vegetables to Ina Market, the KEDO volunteers are involved in transporting goods and selling a variety of products like tea, juice, corn, and ice cream in the market.
The members manage to earn anywhere between from Rs 4,000 to Rs 20,000 per month per head. Wahengbam Rajen, a KEDO member, had joined the organisation to earn a living as he could not get employment elsewhere despite acquiring a good educational qualification.
There are many people in Manipur who are working in KEDO and earning for their livelihood instead of wasting their time.
Youth must turn constructive
Manipur youths in Indian Army
After having tried their luck in getting a job, frustrated youth either get addicted to drugs or join the ranks of militant outfits. Some other youths depend on their parents for everything including daily money as they spend time without doing anything productive.
With the state government unable to intervene positively, the youths are left in the lurch and fall easy prey to anti-social and anti-national elements. In the absence of a responsible civil society, the time is ripe for the Central government to create a favourable climate for engaging youth of Manipur.
The Central government along with the state must invest in social welfare projects like building medical infrastructure, schools and water supply lines, among others, that rope in thousands of local youths for gainful employment.
Unless the government steps in with huge investment in public infrastructure, the private sector won't invest in setting up industries that are must for improving the employment scenario.
Snapshots
Agriculture has a significant share in the state domestic product and provides employment to about 52.2% of the total workers in the state.

There are altogether 98,051 handicrafts units in Manipur providing employment to 3,79,998 artisans.

The Manipur Sericulture Project was initiated by the Central government with the assistance of the Japanese government particularly to provide employment to women.

Traditional sectors like handicrafts, handlooms, bamboo, food processing and forestry offer a lucrative source of livelihood through gainful employment throughout the year.