Traffic in Manipur
With the number of vehicles rising every single day in the state, Imphal, the capital city is becoming more and more congested in spite of expanded roads and a flyover bridge.
But what one cannot miss is the fact that traffic congestion in and around the Khwai bazaar is more because of unsystematic and short-sighted character of the state's planners including the transport department and the traffic police.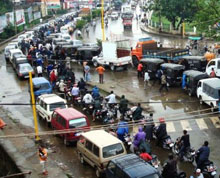 Traffic in Imphal, Manipur
A number of experiments to reduce the congestion in the Khwai bazaar area had not borne fruit. "Only pedestrian zone" experiment taken up by Imphal police and state transport department only resulted in inconveniences to the public.
Moreover, development projects in Imphal have piled up the miseries of commuters creating mental anxiety rather than comfort and better standards of living.
For instance the sewerage project in Imphal has given rise to a host of problems for pedestrians and commuters on city roads.
Frequent anxiety, headache and dust allergy are common among city residents who had to put up with the undue delay in the completion of sewerage projects that diverted traffic at important places.
"Only pedestrian zone" experiment was expected to reduce traffic congestion in and around Khwai bazaar, thereby giving breathing space to the public. But in reality, it turned up giving more trouble to the public in this busy locality.
Politicos, babus violate norms
In Manipur, a tendency has developed among high-ranking officers and the political class that they don't need to confirm to road norms and laws are meant for ordinary public only.
It is a common sight and experience that all the officials and babus violate traffic norms at their own will, whether it is one way or no parking zone norm.
They stop their vehicles right in the middle of the road, sometimes obstructing regular flow of traffic. State government has to put a definite stop to this flagrant violation of traffic norms by the ruling elite, military officers and other top officers.
Traffic police must be empowered to book all those who flout traffic rules however mighty they are to bring a semblance of justice on Imphal roads.
It is unanimously felt that police and law enforcers must uphold the equality of rights among all citizens and Khwai bazaar must not be turned into an elite zone.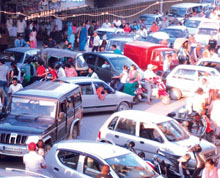 Violate traffic norms in Manipur
Need to decongest city
It is important to trace out the reasons for traffic congestion or problem in order to draw up a sensible and suitable policy. If one looks around the Khwai bazaar, it would seem the entire Manipur has descended on this busy commercial hub.
Three important centres merged at Khwai bazaar.
This area of Imphal is not only a cultural zone but also political and commercial capital of the state. All the important centres/offices such as Kangla, Mapal Kangjeibung, Governor's residence cum office, secretariat, CM's Bungalow, housing quarters for MLAs, judges, state Assembly and all banks are located within the 3 km radius of this area.
Besides, national highways pass right in the heart of Imphal city.
All these have made this prime area of Imphal a nightmare for pedestrians and daily commuters.
The unremitting cacophony due to clutter of markets, shops and malls have made Khwai bazaar an urban hellhole in the heart of Manipur known for its scenic locales.
Shrinking parking space
Factors like construction activity, rising population and ever growing numbers of vehicles have added pressure on space.
The number of registered vehicles as on August 2014 is more than 2,23,000 that is almost 10% of the total population (2.8 million according to 2011 Census).
Heavy and dense traffic movement occurs from north to south, that is, from Singjamei to Senapati or Churachandpur whereas there is little or less navigation towards Ukhrul or Jiribam.
As the trade epicentre is Imphal, 90% of the vehicles converge and ply towards it.
The busiest streets of Imphal pass through Babupara, Kangla, Paona and ThangalBazaars, North AOC, Nagamapal and Lamphel.
These roads are amongst the most accident-prone and traffic-jam zones.
For want of a safe place, car owners park their vehicles on road creating hurdles for traffic.
High-rise buildings, hotels, hospitals and institutions don't have parking bays in Imphal. The visitors to these places have no choice but park their vehicles bang in front of the buildings hindering the movement of vehicles on road.
People face a tough time commuting around the offices of BSNL, secretariat or BSEM at Babupara as one-third of the road is occupied by parked vehicles.
Traffic jam is a common sight during prime time of office arrival and departure.
A good sign is the shifting of the Assembly office from its earlier location in the heart of Imphal city to Chingmeirong.
One proposal for easing traffic problem in Imphal city is construction of a flyover bridge over the junctions between Paona and Thangal Bazaars.
Road widening has to be taken up urgently in Imphal to accommodate more vehicles. At the same time deck parking system using multi-layer technology and creation ofbasement parking in multi-storeyed buildings have become a necessity.
An irregular parking method, poor traffic management, bulk entry of autorickshawson Manipur roads, lack of a clear town planning by the municipality and a tendency to disobey traffic laws, have all made travelling on Imphal roads a chaotic experience.
Rs 346 crore Ring Road in Imphal
Ring Road in Imphal Route
Manipur government has started groundwork for construction of the proposed ring road in Greater Imphal. Imphal has one of the densest urban population (7,202 per sq. km in 2011) in the North-east.
The capital city of Manipur is rapidly growing and bustling with 2,26,913 vehicles as per a 2013-14 study. Delays on roads due to traffic jams and gridlocks at intersections average 15-30 minutes for a 5-10 minute journey within the city.
Analysis of the road accidents shows that almost 36% of the state's total road accidents occur in Imphal. Manipur has the highest accident rate of 26.92 accidents per lakh population in the north-east and 17th highest in the country.
During January-June 2014, there were 220 accidents in which 97 persons lost their lives. The move to develop the Imphal Ring Road was initiated as a mitigating solution for road safety in the state capital besides providing rapid and improved connectivity that will reduce traffic congestion.
The proposed Imphal Ring Road which will be 39.48 km long with a width of 22 metres is planned to be constructed within five years at an estimated cost of Rs 346 crore. A survey for resettlement and rehabilitation of areas likely to be affected by the project has been initiated.
After the resettlement survey is completed, the district commissioners would initiate due process for land acquisition. But the IRR has evoked protests from sections of the public affected by the project while villagers of Kasom Khullen have reportedly filed a case in the court.
Road safety lessons in schools
Manipur government has introduced lessons on road safety in school textbooks. Altogether 676 road accidents were reported on an average per year during the last five years in the state.
The government has taken up steps for creation of road safety fund and inclusion of chapters on traffic rules and road safety in the school syllabus.
The state has called for an extensive participation of public in the effort to minimise road accidents and prevent injuries and loss of valuable lives.
As part of vigilant move, there will be minute scrutiny process to identify applications from under-aged persons for driving licences.
The driving licence will be given only in adherence to the rules and regulations and based on the results of the driving test.
The transport department will monitor the operation of driving training schools with official authorisation.