Kaziranga National Park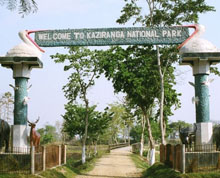 Kaziranga National Park
Located in the state of Assam, the Kaziranga National Park has become an entrancing preserve for the one-horned rhinoceros. The proclamation of the park as a wildlife sanctuary in 1940 saved these this prehistoric survivors from extinction, and currently their population stands at 2000.
It is the Brahmaputra River together with three other rivers that create a landscape filled with lush vegetation, dense tropical moist broadleaf forests that make up what is described as a biodiversity hotspot. The park attracts wildlife lovers, naturalists and bird watchers.
A World Heritage Site, the Kaziranga National Park is situated 23 km from the town of Bokakhat, and is 217 km from Guwahati, 97 km from Jorhat, the nearest airport and 75 km from Furkating, the nearest railway station.
Fauna
Though the undisputed highlight of the Kaziranga National Park is obviously the world famous for rare one-horned rhinoceros, the park is home to 35 species of mammals, 42 species of fish, 9 species of amphibians, 27 species of reptiles and more than 491 species of birds. The confines of the park also support several elephants.
The Asian water buffalo is another notable species. The park is haven for tigers, elephants, Swamp deer or Barasingha, Samber, Hog deer, Indian bison, Sloth Bear, Leopard cat, Jungle cat, hog badger, Capped langur, Hoolock gibbon, Hornbills, lbis, Jackal, Goose, Cormorants, Egret, Heron Fishing Eagle etc.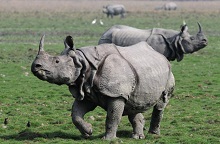 Kaziranga Fauna
The Kaziranga National Park is also a haven for a large number of migratory birds during winter. You can spot resident birds like oriental honey buzzard, Brahminy Kite, black kite, black-shouldered kite, Himalayan griffon, white tailed eagle, grey-headed and fishing eagle. The migratory birds that come to the park are greylag geese, bar-headed geese, gadwall, falcated duck, ruddy shelduck, northern shoveller and red-crested pochard.
Kaziranga Accommodation
Kaziranga offers a variety of accommodations, enhanced by facilities that allow the guests to unwind, relax and enjoy the amazing surroundings of one of India's most popular tourist destinations - Kaziranga National Park.
Wild Grass Lodge
Located outside Kaziranga National Park, the Wild Grass lodge offers guests intimate and comfortable accommodation allowing guests to sample the delights of true Indian hospitality and cuisine.
Bonhabi Resort
Bonhabi Resort (www.bonhabiresort.com) and Aranya Resort are the other two resorts catering to the requirements of the tourists visiting Kaziranga Accommodation. IORA - The Retreat, Infinity, Jupuri Ghar, Bon Habi and Aranya Lodge are some of the accommodation facilities at Kaziranga National Park.
Furkating Railway station
to visit Kaziranga
How to reach Kaziranga National Park
Air: Jorhat Airport, Tezpur Airport and Lokpriya Gopinath Bordoloi International Airport in Guwahati are the nearest airports which are 97km, 100 km and 217 km from Kaziranga National Park.
Rail: The nearest railhead is Furkating, 75 km away from Kaziranga National Park. Located on the Northeast Frontier Railway, Furkating is connected by most of the main places in India.
Road: Kaziranga National Park is connected by motorable roads to different places and cites of India. Government and private buses ply from Guwahati and other places in Assam to Kaziranga National Park.
Best time to visit Kaziranga National Park
The Kaziranga National Park is open 1st November to 30th April and is closed for visitors for the remaining months.