Assam Travel
Termed as the land of "Blue Hills and Red River" Assam is the largest among the northeastern states of India. Its capital is Dispur (Guwahati). This central state in the North-East Region serves as the gateway to the rest of the Seven Sister States (Arunachal Pradesh, Nagaland, Manipur, Meghalaya, Tripura and Mizoram). It hangs on to the rest of the India by a thin chicken neck (Siliguri Corridor).
The landscape with its rare combination of mountains, plains and Plateaus is a treat for the eye. Nestled in the colossal mountains and deep valley of Himalaya, Assam prides of plenty of fascinating secrets. An enchanting and adventerous holiday in Assam is about witnessing a heady mix of history, culture, and nature at the same time.
Assam is coming up as one of the most attractive tourist destinations of India with its ruins and monuments, natural beauty and exotic wildlife, colorful people and their colorful festivals and a wide range of adventure sports.
Assam is a land of myths, mysteries, folklore, and legends. The ethnic diversity of Assam is unique with a large number of tribes such as the Bodo, Miri, Mishimi, Kachari, Karbi, Rabha, etc. that co-exist here. Each has its own cultural heritage and unique features in its socio-cultural life including language, culture, customs, religious belief, way-of-life, food, songs, festivals including Bihu, Baishagu, Rongker & Chomangkan Festival, Bishu, Baikho, Ali-Aye-Ligang, Me-Dum-Me-Phi, Ambubachi Mela, etc.
Tourists Destinations in Assam:
Wildlife Reserves in Assam:
Assam is one of the most forested states of India and is rich in bio-diversity with a number of wildlife preserves in the state. It is home to Five National Parks and 18 Wildlife sanctuaries. Both Kaziranga and Manas National Parks are designated as World Heritage Sites for its rich flora and fauna and the success they have achieved in preserving these ancient habitats for wildlife.
Kaziranga Park: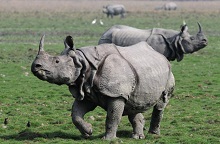 Kaziranga National Park, the first National Park in Assam is the most popular wildlife tourist destination of North East. It is the home to the one-horned rhino, one of Assam's tourism best-known mascots, Eastern Swamp Deer and Wild Asiatic Water Buffalo, wild elephants as well as Migratory birds. The Park also has 39 species of reptiles such as the endangered Gharial and the Assam Roofed Turtle, 52 mammalian species including Gangetic Dolphin, Hog-Badger, Parti-coloured Flying Squirrel, Chinese Pangolin, Hoodlock Gibbon, Sambhar, Hog deer, Sloth bear, Leopard, Jungle Cat, Hog badger, Capped langur, Hoolock Gibbon, etc.
Spread over an area of 400 sq. km. this park is located along the Asia's mightiest yet most enigmatic river Brahmaputra boarding the Karbi Anglong hills. National Highway 37 passes through the park and the park is spread over the two districts of Assam namely Golaghat and Nagaon. It is 240 km from Guwahati which is well connected to the rest of the country.
A trip inside the National Park is organized in a jeep or by car or on elephant back. Elephant rides usually starts between 5.00 am and 6.00 am from Kohora. You can go on a car safari which is available almost throughout the day. However, walking inside the National Park area is not permitted.
The Park is generally closed between June and October.
Manas National Park:
The Manas National Park is situated on the Himalayan foothills and extends to Bhutan where it is known as the Royal Manas National Park. In 1928, the park was declared a sanctuary and then in 1990 it became a National Park. This park is also a Project Tiger Reserve, an Elephant Reserve, and a Biosphere Reserve. The park area is spread over five districts of Assam i.e. Buxa, Udalguri, Kokrajhar, Chirang, and Darrang. The park is divided into three ranges. The eastern at Bhuiyapara the central at Bansbari, and the western range based at Panbari.
A trip to Manas is truly captivating because of the heavily forested National Park's unrivalled scenic grandeur as well as its uncommon animals.
The park is home for some of the following:
Most endangered wildlife species such as the Assam Roofed Turtle, Golden Langur, Hispid Hare, and Pygmy Hog which cannot be found anywhere else.
For about 380 species of birds some of which include Bengal Florican, Bulbuls, Brahminy Ducks, Giant Hornbills, Jungle Fowls,Kalij Pheasants, Egrets, Pelicans, Fishing Eagles, Serpent Eagles, Falcons, Scarlet Minivets, Pied Hornbills, Grey Hornbills, Mergansers, Bee-Eaters, Magpie Robins,Harriers, Ospreys, Herons, and many others.
50 species of reptiles and 3 species of amphibians.
Manas River passes through the west of the national park and splits into two separate rivers, the Beki and Bholkaduba. There are five other smaller rivers that flow through the Manas National Park.
During the Monsoon season (June-September), the National Park receives substantial rains, with an annual average of 333 cm. The temperature in the park can range from around 15 degrees to around 35 degrees Celsius.
For the tourists who want to visit inside the park, there are jeep safaris take you deeper into the jungle and elephant rides that are restricted within a few kilometers. On the other hand, the elephant ride can give a much better opportunity to explore the terrain due to the versatile nature of the ride. Boating in the Manas river is also quite popular.
Garampani Wild Life Sanctuary:
Garampani Wild Life Sanctuary is one of the oldest sanctuaries of Assam and it is located in the Karbi Anglong area. It is famous for its hot springs and waterfalls and rich in its bio-diversity.
Nambor Wildlife Sanctuary:
Nambor Wildlife Sanctuary is another wildlife sanctuary in the Karbi Anglong area, 10 km from Garampani Wildlife Sanctuary, it is spread over 37 sq. km. The Sanctuary is home to more than fifty rare species of Orchid.
Nameri National Park:
Nameri National Park is one of the most beautiful forests in Assam which is spread over 213 sq. km. The park consists mostly of deciduous forests. The park is paradise for bird lovers with over 300 species of the feathered bipeds available in the forests. The Park also gives an opportunity to the tourists for water sports activities such as River rafting, swimming, sunbathing which can be enjoyed in the different river islands. It is located in the foothills of Himalayas. Tezpur is the major town in the vicinity.
Orang National Park
Orang National Park, sometimes referred to as Mini Kaziranga is known for its population of Rhino and Tiger. This Park has now been renamed and is officially called the Rajiv Gandhi Orang National Park.
This Park is situated at a distance of 32 km from Tezpur. Guwahati, Assam's capital, is also 3 hours away by car. Salonibari Airport in Tezpur is the closest airport and Rangapara is the closest train station.
Pobitora Wildlife Sanctuary
Pobitora Wildlife Sanctuary is in the Marigaon district of Assam. Pabitora's terrain is hilly, and the forest's diverse vegetation can be particularly interesting to naturalists. Apart from one-horn rhinoceros it is a home to a large number of migratory birds. It is located on the border of Nagaon and Kamrup Dist, 60 km from Guwahati. Guwahati is the closest major city and the connecting point for visitors arriving by air, rail, or road in Pabitora.
Note: As per local lore, the name Pobitora was given by King of Mayong (A village near Pobitora) in the memory of his daughter of the same name who died in her youth.
Sivakunda waterfall:
Sivakunda is a gorgeous waterfall situated in the Amsoi hills, Assam. It is one of the key attractions in Morigaon District.
Other destinations of Assam:
Majuli:
Majuli is the largest river island in the world. Located on the Brahmaputra River is the nerve center of Assamese Vaishnavite culture. The chief attraction of this island is that of seeing the largest human inhabitant River Island in the world along with an opportunity to see the colorful and rich cultural tradition of the people.
Since Majuli is an island, the visitor has to use a ferry to reach the island. There are three main ferry routes – Dhokuakhana from Dhemaji, Nimatighat near Jorhat and Luit-Khabolughat from North Lakhimpur. The Rowriah Airport of Jorhat and the Jorhat rail station are the nearest airport and railhead.
It is an ecological hotspot and is home for a wide variety of flora and fauna. During the winter months, many migrating birds from the Himalaya and beyond visit here. Some of the more frequent bird species found here are the Greater Adjutant Stork, Pelican, Siberian Crane, and Whistling Teal.
Satras:
The satras (monasteries) set up in Mauli are an integral part of the Assam's pilgrimage tour. It was set up by the followers of Sankardeva, the proponent of Eksarana Dharma. The satras also offer guest accommodation where devotees and visitors not only take part in worship of Vishnu and Krishna,but also watch traditional bhaona performances.
These monasteries preserve antiques like weaponry, utensils, jewellery, and other culturally significant things. The local handloom has received international acclaim because of its intricate design. Kamalabari, known for making the best boats, and Bengena-ati are centres of performing arts. Bengena-ati also preserves the royal gold umbrella and gilded robe belonging to Ahom king Swargadeo Gadadhar Singha. The satra is famous worldwide for its Mask-making tradition.
Every year, Majuli hosts a three-day Raas festival that depicts the life of Lord Krishna. During the Raas festival, people from all across Assam and beyond assemble here. The best time to visit Majuli is during the Raas festival in November.
Kamakhya Temple: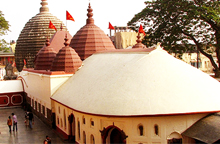 Kamakhya Temple is located in the Nilachal hills in the western part of Guwahati. It is the oldest temple dedicated to the goddess Kamakhya. The temple attracts Tantric worshippers, especially during the annual Ambubachi Mela Festival.
Kedareswara Temple, Dol Govinda Temple, Asvakranta Temple, Ugra Tara Temple, Maha Bhairav Temple, Tamresveri Temple, and others are among the other temples in Assam.
Hajo:
Hajo is another spiritual centre of three different religious beliefs. The place is full of mythological importance and is considered to be a highly sacred place by Pilgrims from three religions i.e. Buddhists, Hindus, and Muslims. A number of ancient places of worship are also located at Hajo.
The Hayagriva Madhava Mandir,situated on the Monikut hill, is the most famous temple. King Raghudeva Narayan completed the current Hayagriva Madhava temple edifice around 1583. According to some historians, the first temple was built in the 6th century AD by the King of the Pala dynasty.
There is an important Muslim mosque located in the Hajo city known as the Poa Mecca. Powa/poa is a term that means one-fourth. Its significance is said to be equal to one-fourth of the Mecca of the Arab Emirates. It was built by Mir Lutufullah-i-Shiraji in 1657, during the period of the Mughal emperor Shahjahan. It is believed that soil from Mecca was used in the construction of this mosque.
The town of Hajo is also famous throughout Asia for its bell metal industry. The small town is also the largest producer of silk clothes in Assam. It is located on the banks of river Brahmaputra, 24 km from the city of Guwahati in the Kamrup district of Assam.
Madan Kamdev
Madan Kamdev is located at a distance of 12 km from Hajo. It is an archaeological site where erotic sculptures are found. There is a museum which stores archaeological findings of the place.
Mayong:
Mayong is located 10 km away from Pobitora Wildlife Sanctuary & 40 km from Guwahati. Mayong is considered to be the Indian capital of black magic and witchcraft. Although you are unlikely to witness any black magic here, the historical significance is enough to draw tourists here.
Jorhat:
Jorhat is a beautiful city located in Jorhat district of Assam. It was the last Capital of the Ahom Kingdom. There are places of major archeological significance around Jorhat. The places of visit in this place are - Mauli, the world's largest river island is situated in the Brahmaputra River in Jorhat.
Hollongapar Gibbon Wildlife sanctuary more popularly known as Gibbon Wildlife Sanctuary is located 19 km from Jorhat town. The main attractions include different species of primates. Tiger sighting at this forest has not been very rare.
Jorhat Gymkhana Club has the oldest golf course in Asia and third oldest in The World. It was established in 1876 by D. Slimmon. The club is situated at Seconidhara village. The club has been a venue for horse races ever since its inauguration. The Governor's Cup is the major trophy awarded here every year. It has a lush green 9 hole course. The club offers facilities such as lawn tennis (grass court), swimming pool, billiards, polo, cricket ground, gentleman's bar, and cinema theatre.
Dhekiakhowa Bornamghar is located at Dhekiakhowa village 3.5 km off the National Highway 37. It is one of the famous Bor Namghar (place of worship) in Assam, established by saint/reformer Madhabdev in 1461. It took around 42 years to complete the grand structure.
Lachit Borphukan's Maidam is located 27 km away from Jorhat town. This is the Maidam (Tomb) or burial vaults of great Lachit Borphukan. He was the greatest Ahom General who defeated the mighty Mughals at Saraighat in 1672.
Sukapha Samannay Kshetra is located 20 km away from the Jorhat town the Sukapa Samannay Kshetra is laid in the fond memory of the first Ahom king of Assam, Sukapha.
Cinnamora Tea Estate which is located 10 km away from Jorhat town is the first tea garden of Assam established by Maniram Dewan in 1850.
Karimganj:
Karimganj town is a small sleepy town that is gaining popularity as a tourist destination. It is located at the southernmost corner of Assam. It is one of the furthest corners of North East India. The Karimganj district is bounded on the North and west by Bangladesh; on the South is Mizoram and Tripura and on the east is Hailakandi district of Assam.
There are numerous forests worth seeing in Karimganj's surrounding areas. This town is more of a place to unwind than a location to go sightseeing. Karimganj is for you if you want to enjoy the natural beauty of a little village surrounded by hills with a small meandering river running through it. The region is surrounded by hills on three sides.
To get here, fly to Kumbhirgram and then drive for a couple of hours. If you're travelling by train, seek for Badarpur Junction, which serves the Barak valley and southern Assam as a major rail hub. Karimganj is 32 kilometres from the rail junction. To get here by vehicle, you'll need to travel 335 kilometres via National Highway 44 from Guwahati.
Halflong
Haflong, the only hill station in Assam is situated in the Cachar district of Assam at an elevation of 680 meters. It is a paradise for the Ornithologists. It is famous for its amazing natural beauty of the hills and the valleys covered with flowers and huge trees. is a land of pleasing blue orchards, pineapple, and oranges. There is an Orchid Garden in Haflong which is worth seeing. Adventure enthusiasts can enjoy trekking on the Borail range; hang-gliding and paragliding are also possible. Haflong Lake, situated in the heart of the hill station is one of the largest natural water bodies in Assam.
Places of interest near Halflong.
Jatinga, a village located on a spur of the Haflong ridge is the place famous for bird mystery (Birds Harakiri). It is 9 km from Haflong. A Rock concert accordingly known as Jatinga Rock Fest is held thrice every year in aid of Jatinga.
Maibang:
It is located on the bank of the river Mahur 53 km from Haflong. Maibang once flourished as the capital of Kachari Kingdom. Stone house, Ramchandi Temple, the Mahur Lake & other ruins of the kingdom are the main attractions of the place.
Umrangso
The massive Hydel plant on the Kopili river is located in Umrangso, 112 kilometres from Haflong. There is also a hot spring (GARAMPANI) near Umrangso whose water is said to have medicinal properties.
Muolhoi
Muolhoi is a Christian community with Hmar residents. It is well-known in the area for its churches and chapels. The folks living there are known for their hospitality. The World Peace Center for India's North East Region is headquartered in Muolhoi.
The best time to visit Assam is from November to March.
Assam Cuisine:
Assam offers just the right kind of flavours to satisfy your taste buds. It has the perfect combination of flavours to entice your taste senses. Assamese cuisine is known for its particular flavouring and influences, and it offers a wide array of indigenous foods. It is a non-vegetarian lovers dream come true. Delicious pork, mutton dishes and Chicken as well as fish will leave you craving for more.
Here are a few of Assam's most favourite dishes:
Duck Meat Curry (Hanhor Mangxo)
Ou Tenga – Food of Assam to tingle your taste buds!
Paror Mangxo (Pigeon meat curry)
Silkworm – Creative food of Assam to stoke your imagination!
Baanhgajor Lagot Kukura (Chicken with Bamboo Shoot)
Maasor Tenga (tangy fish curry)
Aloo Pitika – Comfort food of Assam!
Xaak aru bhaji (herbs and vegetables)
Pitha – Home cooked Sweet dishes of Assam
Khaar - A traditional dish loved by locals and also people from other states.