Economy of Chhattisgarh
One of the few states having surplus electricity, Chhattisgarh is quite efficient in utility-based power consumption.
The gross state domestic product (GSDP) of Chhattisgarh is expected to reach $46.8 billion in 2016-17 from $29.2 billion in 2013-14.
Gifted with mineral resources, Chhattisgarh has a vibrant mining industries offering employment to local people.
The state is the top producer of key minerals like coal, iron ore and dolomite accounting for 21%, 16% and 11% of total production in the country respectively.
Apart from major minerals, the state has huge deposits of bauxite, limestone and quartzite, all of which contribute the much needed income to the state exchequer.
A number of fiscal and policy incentives for corporate houses were announced in the industrial policy for the period 2009-14.
Chhattisgarh has well-drafted policies to attract investments in the IT cum ITeS, solar energy, agro and food processing, minerals and biotechnology sectors.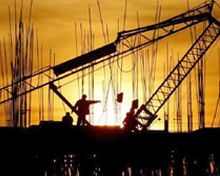 In 2012-13, outstanding investments in the state were pegged at $ 84.2 billion.
The natural resources, policy incentives and infrastructure in Chhattisgarh have created an eco-system that is conducive to the speedy growth of iron and steel, cement and power industries.
Being the richest among Indian states in terms of wealth deposits, Chhattisgarh has over 28 varieties of minerals including diamonds under it soil.
Steps are being taken to boost investments for setting up a network of infrastructure for industrial growth.
The Chhattisgarh State Industrial Development Corporation (CSIDC) has set up industrial clusters including five industrial parks and three integrated infrastructure development centres (IIDC).
The state has a notified special economic zone (SEZ) in Rajnandgaon district.
Some of the major initiatives of Chhattisgarh government to attract capital and businessmen to the state are:
The state government has drawn up plans to set up a food processing park in Rajnandgaon district on around 120 hectares of land.
Around 121 MoUs with proposed investment of $31.9 billion were signed in 2001-12, including in core sectors such as steel, cement and power.
A new medical college was constructed by the state in Raigarh at a cost of $ 17.6 million. The college is spread over 40 acres of land and would have 21 departments.
The state government has signed an MoU with South Eastern Coalfields Ltd (SECL) and IRCON International Ltd for the construction of about 300 km of rail network in the state. The project would have two rail corridors - East Corridor and East-West Corridor.
A bus rapid transport system (BRTS) has been planned in the capital Raipur at a cost of 37.3 million. Work on the BRTS is expected to be completed soon.
Rs 9,500 crore for road upgrades in Chhattisgarh
Chhattisgarh plans to invest Rs 9,500 crore to upgrade 44 roads in the state.
The road upgrade project is expected to be completed in 21 months from the issue of the tender process in July 2015.
Under this state PWD project, about 1,900 km of roads would be taken up for the upgradation.
Of these, 19 are state roads while 25 are district roads. The districts to be benefitted by the project are Kawardha, Bemetara, Durg, Balod, Rajnandgaon, Balodabazar, Mahasamund, Korba, Jashpur and Bilaspur.
Chief Minister Raman Singh who also holds the additional portfolio of finance department had said in the budget speech (2015-16) that about 2,000 km of existing roads would be upgraded in the PPP mode at an estimated investment of Rs 10,000 crore.
About Rs 700 crore has been earmarked for construction of roads in rural areas.
The state budget (2015-16) focused much on infrastructure with the government allocating Rs 11,000 crore, an increase of 39% compared to the fund set aside for this sector in 2014-15.
The allocation for the road projects alone (under the infrastructure sector) was Rs 5,183 crore in 2015-16 budget, an increase of 43% over 2014-15.
Chhattisgarh Youth budget 2015-16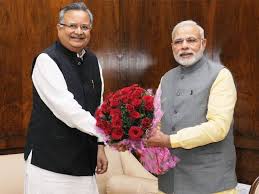 According to Chief Minister Raman Singh, the budget 2015-16 has placed emphasis on the development of youth, infrastructure and industry which would help in fulfilling the vision of 'Make in India' and a skilled India envisaged by Prime Minister Narendra Modi.
For the first time, there was a separate section called 'Youth Budget' for Chhattisgarh. This sub-section in the state budget gave importance to skilling of the youth to make them productive.
About Rs 6,151 crore has been allocated for development of youth, which is equal to 16 per cent of the state plan outlay.
Boost to infrastructure in Chhattisgarh
The Swami Vivekananda Airport in Raipur will be developed into global standards to attract passenger traffic both from abroad and domestic routes.
A new industrial policy has been formulated to encourage investment across the industrial spectrum in Chhattisgarh.
In the software space, an International Institute of Information Technology (IIIT) would be set up in Naya Raipur, the upcoming capital city of Chhattisgarh, to act as a catalyst for the rapid growth of IT clusters in the state.