Traffic in Chhattisgarh
Narrow roads, lack of parking space and ineffective trafficmanagement have been the major irritants for motorists on Raipur roads.
In the absence of a well-managed traffic system, pedestrians face hardship while crossing roads and busy junctions in Raipur.
While the number of vehicles especially two-wheelers is growing exponentially, the acute shortage of traffic cops to regulate the movement of vehicles is felt most in the capital of Chhattisgarh.
As capital city Raipur is set for explosive growth in physical and social infrastructure.
But poor urban planning and lack of skilled police personnel have come in the way of meeting the aspirations of the residents.
The need to broaden roads and lanes to accommodate the surge in traffic is felt in most parts of Raipur and its suburbs which have given rise to industrial parks.
Sometimes the defunct traffic signals at busy junctions result in chaotic flow of vehicles with the beat constables having to regulate the traffic at these stretches.
According to the reports of National Crime records Bureau (NCRB), 12,804 traffic accidents took place in state in 2014, ranking 12th highest in the country.
Going by the occurrence of road mishaps, the highest number of road accidents took place in January (1,167) with month of Maytrailing with record 1,149 accidents.
With a series of awareness drives and campaigns being taken up the Raipur traffic police, it is expected the road mishaps will be reduced in the coming years.
Moreover, an effective traffic management system is found wanting in Raipur which can do better with police personnel who have been trained in the latest tech skills to handle gadgets for a smooth flow of vehicles on major roads.
New bypass roads across districts
State government has made a provision of Rs 56 crore in its annual Budget (2015-16) for development of 20 bypass roads with an aim to decongest major roads and thus ensure smooth connectivity to small towns and villages.
The civil work is in progress for constructing all-weather rural roads in the regions around the industrial zones near Raipur.
As part of ushering in an effective transport system, 450 city buses have started plying in 21 major cities and 49 link towns.
In June 2014, the government had constituted nine Public Transport Societies (PTS) for operation of bus services in 9 major cities and towns.
State government has created 'Urban Traffic Fund' and it will be jointly managed by the PTS in the respective districts.
The fund money will be provided to the PTS from the interest received by the municipal corporation on the amount received for development works.
Raipur received a fund of Rs 20 lakh, Durg-Bhilai Rs 25 lakh, Bilaspur Rs 20 lakh while Rajnandgaon, Korba, Raigarh, Ambikapur, Chirmiri and Jagdalpur have been allocated Rs 15 lakh each.
The government has issued directives for opening bank accounts in the name of respective PTS for 'Urban Traffic Fund.'
However, the salary of the officers and employees are being paid by the municipal corporation.
For the utilisation of income generated through the bus service, separate instructions will be issued by the Urban Administration and Development (UAD) department.
Mass Transport Company in Chhattisgarh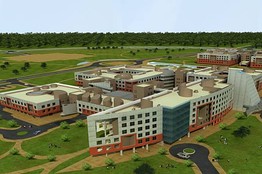 State government has floated 'Naya Raipur Mass Transport Company' for proper management of public transport system in the new capital.
The Naya Raipur Development Authority (NRDA) has constituted a board of directors for the new company.
It has been agreed that Naya Raipur would have 10 bus shelters and a depot.
To begin with, a total of 40 premium and 10 mini buses are being purchased under the BRTS.
The buses would be operated with an automated mechanism and ticket services would be offered in line with the metros.
The World Bank has extended support to Rs 179 crore 'Bus Rapid Transit System' (BRTS) project currently under implementation which would have 40 AC buses plying between Raipur and Naya Raipur.
Tata Motors would supply 40 buses to NRDA for its BRTS project.
The buses would be fitted with CCTV cameras that can record each and every movement inside the bus.
A broad central passage, bigger window panes for better visibility and wider and lower entry cum exit doors make these new buses a convenient mode of public transport.
Tata buses would have intelligence transport systems (ITS) for public information through GPS via electronic display boards, indicating expected time of arrival at bus stops and route announcements within the bus.
Modern design, fuel efficient engines, new 6-speed gear box and cable shift mechanism of Tata buses will offer a smooth ride with good pick up and power steering for daily commuters.
The automatic transmission line of Tata buses will give better on-road performance and a jerk-free ride