Culture of Chhattisgarh
Land of primitive tribes in Chhattisgarh
Nearly 70% of Chhattisgarh population is made up of tribes who are friendly, hardworking and take pride in their community upbringing.
Their boundless energy and devotion to their vocation, namely farming or whatever task at hand, keep them engaged throughout their life which helps them earn a decent livelihood.
Bastar district has the largest tribal population in the state.
As the tribes are extremely dedicated to their work, those employed in mines and factories exhibit good productivity despite the harsh conditions at the workplace.
Apart from vocations like farming and mining-related activities, the tribes are good at traditional handicrafts which earn them good income at the urban malls and shopping centres.
Some of the major tribes of Chhattisgarh are Gond, Korba, Baiga, Bison Horn Maria, Abhuj Maria, Muria, Halba, Bhatra and Dhurvaa -- each one of them having their own customs, social practices and lifestyle.
The Gond tribe of Bastar region is the dominant group and present in large numbers in this area.
Further, the Gonds are known for their unique custom in marriages and education which they call Ghotul.
Most of the Chhattisgarhi tribes have their ancestry drawn from the same aboriginal stock of indigenous roots.
But in the course of centuries, each one of them evolved their own features in food, dress code, tradition, social practices and worship, thus developing their clan identity.
Despite inroads of modern society and political governance, there are still pockets of deep forests that are habitats for these tribes who live an undisturbed life of their own, totally cut off from the outside world.
Literature and fine arts of Chhattisgarh
The culture of Chhattisgarh is a fusion of literature, performing arts and crafts which are products of tribal experience over the centuries.
A number of factors like religion, daily life, mythology, long-held customs, nature, folklore and social movements have influenced the tribes giving rise to new forms of literature and fine arts.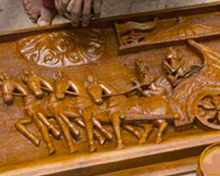 Most of their decorative or the design pattern in the crafts is inspired by religion, nature worship and social customs.
The households are engaged in a range of traditional crafts like basketry, painting, woodcarving, bell metal craft, bamboo ware and tribal jewellery.
All these hand crafted items fetch them a good income at the shopping malls and markets in Raipur.
Chhattisgarh has a rich legacy of literature that traces the sociological and political milestones of the state in creating a distinct identity for its region in central India.
The social inequities of the lower castes (untouchables) were narrated at length in the plays 'Jarnail Singh' and 'Unch Neech' written by Khub Chand Baghel.
Many talented writers like Abhishek Agrawal, Gajanan Madhav Muktibodh, Mukutdhar Pandey, Padumlal Punnalal Bakshi and Habeeb Tanveer have earned reputation for their prodigious works that highlight social life in central India from various angles.
Arts and crafts in Chhattisgarh
Bastar tribes are believed to be the earliest mankind who had worked in metal casting.
They are specialised at Dhokra casting in bronze and bell metal. These metals are also used to make tribal gods, votive animals, oil lamps, carts and animals.
With more forest land, the people are good at creating intricate wood carvings in doors, windows, ceilings, lintels, masks and sculptures of tribal figures.
They use more of teak, shisham, sal and other hardwoods which were abundant in the forests of Chhattisgarh.
The tribal people are also noted for their 'Pithora' style of painting which is done on occasions like festivals, marriages or other gala events.
In ancient days the paintings were done on the floors and walls of the temples and houses.
At present, artists display their skills on cloth or paper with subjects drawn from mythology and religion.
Kosa silk, a special fabric
Chhattisgarh is known for "Kosa silk" and "lost wax art". This unique fabric is used to weave saris, salwar suits, lehengas, stoles, shawls and menswear including jackets, shirts, achkans and sherwanis.
The tribes make intricate work to produce toran mats and boxes with shells, mirrors and Kosa fabric.
The Kosa fibre is developed out of seeds from the marshes with a beautiful ivory colour.
They are used to weave potholders, mats, hammocks, bags and dolls.
As Chhattisgarh is blessed with bamboo trees, the people use them for building tiled houses, bows and arrows, baskets, fish and bird traps and a lot of agricultural tools.
The handloom product Dhruva patta or Dhruva sari is popular all over the country.
Delicious cuisine in Chhattisgarh
Known as the 'rice bowl of India', Chhattisgarh supplies food grains to many parts of the country, apart from domestic consumption.
Other staple food of the people is jowar, maize and wheat.
Chhattisgarhi food is classified into two main types -- tribal and non-tribal menus.
The tribal food includes fish, pork, red ants, flying ants, squirrels, field rats and wild mushrooms and plants. The fruit got from the mahuwa tree is famous in Chhattisgarh.
The fruit is small, white and creamy which is further fermented into a strong brew and consumed by the people.
Among lip smacking delicacies jalebis, rakhia badi and petha are most favourites of the people.
The meals of these people are complete only with a sweet after their food and so jalebi has become an integral part of the food menu of the state.
Bafauri a special recipe made of chana dal is also a favourite among the people of the state.
Chhattisgarhi people relish eating tangy menus and sweet dishes.
Social customs of Chhattisgarh
Customs and tradition are observed strictly by the tribes. The worship of mythical deities are common in Chhattisgarh.
The temples don't have any major architecture but instead are simple and unadorned where the deities are represented by terracotta figurines.
These shrines are called 'gudi' which are mostly built near a stream or in a cave.
Danteshwari is one of the most revered goddesses worshipped as the bestower of wishes and protector against evil forces.
The Gonds have a social institution called Ghotul where the boys and girls are taken into this school to instil the spirit of family life and the responsibility that comes with it.
Ghotul is worshipped by Gonds as they believe it is the brainchild of Lingo Pen, their cult hero.
The boys and the girls of Gonds called as 'cheliks' and 'motiaries' respectively are taken into a dormitory in Ghotul where they learn the tenets of social, religious and artistic life.
The Gond custom is first co-habitation and then marriage. Once the cheliks and motiaries attain puberty, they are initiated to sex by the older members of the Ghotul.
If the Gond couple wish to get married after living together in Ghotul, then they can do so following the tradition by quitting the institution.
Tribal dance, festivals of Chhattisgrah
In Chhattisgarh, it is customary to hang bunches of neem leaves on doors and at crevices to ward off diseases in the run up to festivals like Hareli.
The cultural mosaic of Chhattisgarh is also marked by tribal entertainment like cock fights, tribal dances like Panthi, Rawat Nacha, Pandwani, Chaitra, Kaksar, Saila and Soowa.
Every occasion here is marked by singing of folk songs by elderly women of a particular tribe.
Some of important festivals celebrated in Chhattisgarh are Dusshera (or Durga Puja), Lokotsav, Madai, Rajim Kumbh Mela and Pakhanjore Mela.
Tribal dress, costumes in Chhattisgarh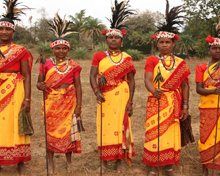 Chhattisgarh tribes wear bright and colourful fabrics. They love to wear jewellery, notable around their neck.
These neck rings are made of metal casts, silver ghungroos and chunky wooden bangles.
The saris of the women is supposed to be knee length and of bright colours. Men in tribal groups wear dhotis and headgears like cotton turbans.
The most used fabrics are linen, silk and cotton and they are usually painted with molten wax. The tie and dye is a common technique used in Chhattisgarh to make fabrics and these are called as Batik.
The men and women living in the urban area dress like any other people in the cities.
Gaudy costumes in striking colours too are features of the tribal festivals.
Farming occupation of Chhattisgarh
Nearly 80% of the population is involved in agriculture or its related activity.
They grow paddy, oilseeds, wheat, coarse grains, groundnut, maize and pulses.
They also grow fruits like guava, mango and banana, among others. A number of vegetables are also cultivated in Chhattisgarh for local consumption and sales to other parts of the country.