Culture of Madhya Pradesh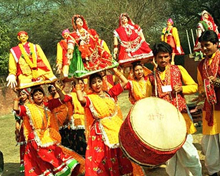 Madhya Pradesh has its distinctive culture. Madhya Pradesh culture represents unfathomable influence of tribal communities. In fact, its culture reflects the superb past which was also very famous during the Mauryan and Mughal empires. Attractive monuments and architectures are indication to this reality.
The cultural traditions of Madhya Pradesh basically reflect the combination of tribal lifestyles and rich historical past. The Cultural Centers of Madhya Pradesh are also good places to see the tradition and culture of this region from close quarters. Amongst the Cultural Centers in Madhya Pradesh, Bharat Bhavan in Bhopal is famous. It is a multi-arts complex that provides interactive closeness to the verbal, the performing and the visual arts.
In fact, Bharat Bhavan is an innovative means in pursuit of classic and traditional culture of the state, besides extensive involvement in the new cultural upsurge. Numerous festivals, music & dance performances are held where people can view traditional lifestyles and taste the delicious cuisine. Festivals in Madhya Pradesh form a vital part of the culture. The popular celebrations of MP are Holi and Dusshera. Kalidas Samaroh and Tansen Samaroh are also celebrated with enthusiasm.
This state has a rich legacy of musicians which again compose an indivisible part of the culture of Madhya Pradesh. Folk songs and songs from Indian classical music are famous with the natives here. The folk song called "Relo" sung by tribal children is very famous.
Basically, the Muria and the Sing Maria tribes are related with this type of song. Musicians play some the important instruments which are flute, harmonium and bansi. The renowned dance forms of this state are stilt dance, Phag and Lota. The local people of Madhya Pradesh speak Hindi and Marathi. Tribal languages are also used. These are Bhili and Gondi. Another attractive part of Madhya Pradesh culture is textiles and rural handworks. People like to eat hot and spicy food here. Wheat, Pulses and Rice are their main food ingredient.
The specialty dish of this region is Bafla which is dipped in rich ghee and is taken with daal. In breakfast, poha is liked by people. Locals also consume sweet ladoo. Milk based food is also preferred. In Madhya Pradesh, many fairs and festivals are held throughout the year. The long-established religious festivals of the Hindus, Muslims and other communities are celebrated in Madhya Pradesh very enthusiastically as in the rest of India.
The tribal festivals in Jhabua and Bastar are known for its joyful festivities, drinking bouts and striking entertainment like cock fighting, candid dancing, etc. Among the cultural festivals of Madhya Pradesh, the Khajuraho Festival of Dances and the Tansen Music Festival in Gwalior are important celebrations of Indian classical dance and music.
The arts and crafts of Madhya Pradesh depict the tribal art form blend seamlessly into the tradition of the people residing in Madhya Pradesh. The arts and crafts of Madhya Pradesh have gained a market throughout India. People can find a great variety of arts and crafts in Madhya Pradesh.
The arts and crafts give an impression, reveal hereditary skills and reflect craftsmanship of the local people. These arts and crafts includes bamboo work, carpet weaving, dolls & toys, metalwork, ornaments & jewellery, paintings, papier mache, pottery, stone-carving, textile weaving and printing and woodcarving. Crafting bamboo articles is a favorite activity of the tribes. The Gond, Baiga, Korku and Basor tribes make elegant bamboo articles.
This craft form is encouraged by the government of the state and earns huge profits for the government as well as help in enriching the tribals. Gwalior is a carpet-weaving centre in India. Dhurrie weaving is mainly done by the women of the tribe. The dolls made out of small cloth pieces are produced in Gwalior and are recognized world wide. These crafts are exported in huge volumes. Dhokra works are mainly hollow-cast process of bending irons and making oil lamps, tools and statues.
Attractive silver jewelry is also made in Madhya Pradesh and is among the beautiful handicrafts of Madhya Pradesh. The famous Maheshwari Sari of Madhya Pradesh has gained recognition throughout the world.
Madhya Pradesh is also well known for diverse sport activities. Cosco Cricket is one of the famed sports in Madhya Pradesh. It is mostly played in sagar Division/District. Apart from Cosco Cricket, People in Madhya Pradesh are also involved in sports like Football, Basket-Ball, Volley-Ball, Cycling, Swimming, Tracking, Badminton, Table-Tennis.
Some traditional games are Gulli Danda, Pittu, Gadha Paddh.
Overall, the state of Madhya Pradesh possesses of a natural beauty that is quite varied in nature. Winding rivers, amazing mountain ranges, miles and miles of thick forests offer an exclusive abode for wildlife.