Mandu Tourism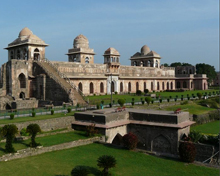 Baz Bahadur Mahal Mandu
A travel to the fortress town of Mandu in Madhya Pradesh is a perfect place to travel back in time. Perched on the Malwa Plateau at a height of 2000 feet, the place boasts an exciting array of architectural wonders such as Jahaz Mahal, Hindola Mahal and Hoshang Shah's Tomb.
Gloriously romantic and seductive, Mandu offers spectacular views of the Nimar Plains below. It is no surprise the place had earned the sobriquet of the Shadiabad ("City of Joy,") from the Malwa rulers. The picturesque and the ghost town of Mandu is also associated with the legendary romance of Malwa governor Baz Bahadur for his beautiful consort Rani Roopmati.
Baz Bahadur, the Last Independent ruler of Malwa
Baz Bahadur, a contemporary of Mughal emperor Akbar, was the ruler of Malwa who is known more for his love-life rather than the military exploits or administrative skills. Mandu was his capital.
After the death of his father Shuja'at or Shujawal Khan Afghan, who ruled Malwa independently for all practical purposes as the viceroy of Afghan ruler Adali Shah Sur during the Sur dynasty, Baz Bahadur became its next governor who later asserted his independence and became the ruler of the province. Shujawal Khan died in 1556, the year in which Akbar was proclaimed Mughal emperor.
According to the contemporary writer, Nizamu-d din, author of Tabakat-i-Akbari, "Baz Bahadur was the most accomplished man of his day in the science of music and in Hindi song. He spent much of his time in the society of musicians and singers." His love for his Hindu wife Rupmati, who was proficient in reciting poetry, is still remembered by the bards of Mandu (in Madhya Pradesh) which was also his capital.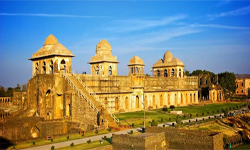 Jahaz Mahal Mandu
As a result of the above, the affairs of the state came to a standstill. This was used as a pretext to invade Malwa by Akbar, an imperialist by instinct. He sent his nobles Adham Khan, son of Maham Anaga (Akbar's foster mother), Pir Muhammad to conquer the Muslim kingdom of Malwa in 1961. According to some school of though, one of the causes for the invasion was Adham Khan's infatuation for Baz Bahadur's queen, Rupmati, of exquisite beauty. Baz Bahadur, who had hitherto neglected the administration of his kingdom, awoke from his slumber and faced the enemies but was defeated in the battle of Sarangpur and fled to Khandesh and Burhanpur. All his treasure and several other wives fell into the hands of Adham Khan and Pir Muhammad whose methods to conquer Malwa and their oppression in the Malwa kingdom have been described by the contemporary historian Badauni, who had accompanied the Mughal army.
When it was found that Rupmati ran the risk of being captured by Adham Khan, a eunuch of Baz Bahadur's harem caused wound to her with a sword. She later consumed poison and killed herself.
Baz Bahadur however, managed to recover Malwa soon. Akbar sent his general Abdulla Khan Uzbek once again to incorporate the province to Mughal emoire. Baz Bahadur was once again defeated and fled to Mewar where he was sheltered by Rana Udai Singh, son of Rana Sanga and ruler of Mewar. Thereafter, Baz Bahadur fled to Gujarat. After living a life of a wanderer he finally submitted to Akbar and according to according to Faizi, he was granted a Mughal mansab. Badauni however says, he was imprisoned for some time when he surrendered to the Mughal court. He says that he died soon after his release.
Jahaz Mahal
A famous landmark of Mandu, Jahaz Mahal, which literally translates into "ship palace" in English, is a beautiful palace built by Malwa ruler Sultan Ghiyas-ud-din-Khilji (ruled 1469-1500) to accommodate his large harem where some 15,000 concubines used to stay.
Rewa Kund
Constructed by Baz Bahadur, the Rewa Kund is a reservoir which used to provide Roopmati's palace with water.
Baz Bahadur's Palace
The palace of the musician ruler Baz Bahadur, the monument is famous for its remarkable acoustics. The palace is located adjacent to the Rewa Kund.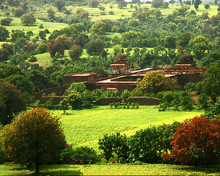 Baz Bahadur's Palace
Roopmati's Pavilion
Built by Baz bahadur for his love Roopmati, the pavilion is perced on a hill commands a sublime view of the Narmada flowing through the Nimar plains below.
Jami Masjid
Built in 15th century AD on a high plinth, the colossal Jami Masjid is characterised by huge domes. Its architecture derives inspiration from Umayyad Mosque of Damascus.
Hindola Mahal
Part of the Royal Enclave in Mandu, Hindola Mahal or 'Swinging Palace' is on a T-shaped ground plan. It is a famous attraction of Madu.
Hoshang Shah's Tomb
Not to be missed while you are on a trip to Mandu, mausoleum of the prominent Malwa Sultan, Hoshang Shah (ruled 1405-35), who transferred his capital from Dhar to Mandu. Located adjacent to the Jami Masjid, the tomb is considered to be the first white marble one in India and said to have inspired architects of Mughal tombs in Agra.
Ashrafi Mahal , Dilawar Khan's Mosque, Nil Kanth Palace, the Nahar Jharokha (tiger balcony), Tower of Victory, Ujali Baodi, Malik Moghi's Tomb, Andheri Baodi and Taveli mahal are other popular places of attractions in Mandu.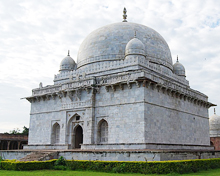 Hoshang Shah's Tomb
Side trips
Dhar, former seat of the power of the Rajput Paramara rulers, the temple town of Maheshwar and the beautiful historic town of Mandleshwar are favourite places that can be used as excursion sites from Mandu.
Where to stay in Mandu
Hotel Rupmat, Malwa resort and Malwa retreat are some of the hotels in Mandu. Ahilya Fort would be a better option if you make Maheshwar your base. Maheshwar, located on the banks of Narmanda is 55 Km from Mandu.
How to reach Mandu
The nearest airport is Indore, 99 km away from Mandu, is connected by flights from major cities in India. Indore is also the nearest railhead connected with different cities in India. Roads good motorable roads connect Mandu with different places in India. Major cities and towns near Mandu connected with it by road are Indore (99km), Ratlam (125km), Ujjain (152 km) and Bhopal (292 km).