Madhya Pradesh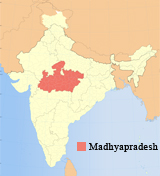 Madhya Pradesh
Old and new, exotic and traditional, the beautiful state of Madhya Pradesh sits at the heart of India, offering the travellers stunning scenery, a rich indigenous history and culture, as well as important archaeological heritage.
Just 46 km from the capital of Madhya Pradesh, Bhopal, lies the world heritage site of Sanchi, home to a bewitching jumble of Buddhist architectural forms, Stupas, Chaityas, Monasteries and Temples.
Visitors can marvel at the sophistication of the Khajuraho temples, built by the Rajput rulers of Chandela dynasty between 950 A.D. & 1050 A.D., and explore the many legacies left by the imperial Chandela Kingdom, particularly the ancient Chandela capital of Orchha founded by the Bundela Chieftain, Rudra Pratap in the 16th century. 99 km away from Indore is the fortress town of Mandu.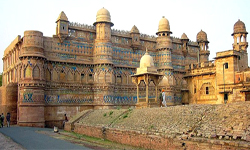 Gwalior Fort
Madhya Pradesh is a state rich in heritage and the historic cities of Bhopal, Indore, Gwalior, Jabalpur and Vidisha offer a wealth of ancient historical buildings and monuments, as well as the remains of some incredible medieval sites. Situated on the banks of the Khan and Saraswaati rivers, Indore captivates visitors with the romantic charms of its architectural grandeurs and historical enigma.
Indrasehwar temple, Bada Ganapati, central museum, rajwada chattris, Kaanch Mandir, Lal Baug Palace, town hall are some of the prominent tourist sites in Indore. A trip to the sacred town of Ujjain can prove exciting indeed. Bade Ganehsji ka Mandir, Chitaman Ganesh Temple, Mandsaur, Pir Matsayendranath and kali Bhairav temple are important temples around Ujjain worth visiting.
Madhya Pradesh is richly endowed with many animal and bird species and promises some of the finest game viewing in the country. Tourists are drawn from around the world to track Barasingha at Kanha National Park and to experience the face to face encounter of a lifetime: that with a tiger at Bandhavgarh National Park.