Kanha National Park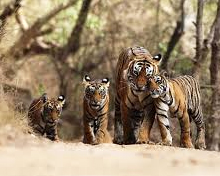 Kanha National Park Bhopal
Kanha National Park is a wonderful land that is home to diverse flora and fauna. Spread over an area of 2000 sq km, this national park in the state of Madhya Pradesh is a wildlife enthusiast's delight. There are good chances of spotting a tiger in this park which came into existence in 1955. Bamni Dadar, also known as the sunset point, located within the park offers awe-inspiring view of the sunset.
A visit to the Kanha National Park is indeed an amazing experience in itself. This premier wildlife destination is located 175 km from Jabalpur, an important town in the state of Madhya Pradesh. The park remains closed from 1st July to 15th October during the monsoons.
Fauna
Though the swamp deer (barasingha) is its signature animal, Kanha National Park is home to a wide array of vertebrates. Within the park one can spot tiger, sambhar, barking deer, bison (the gaur), black buck, chousingha, black deer, nilgai, mouse deer, sloth bear, jackal fox, porcupine, hyena, jungle cat, hare, pea fowl, python, tiger, monkey, leopard and mongoose and leopard. The confines of the park support many rare, endemic and endangered species of mammals which you will most certainly come across during the safari.
The presence of more than 300 species of birds makes Kanha National Park a favourite destination for birdwatchers. Some of the birds spotted in this wildlife park are storks, teals, pintails, pond herons, egrets, peacock, pea fowl, partridges, spur fowl, jungle fowl, spotted parakeets, quails, green pigeons, rock pigeons, ring doves, papihas, owls, rollers, bee-eater, cuckoos, drongos, warblers, kingfishers, hoopoes, woodpeckers, finches, orioles and fly catchers.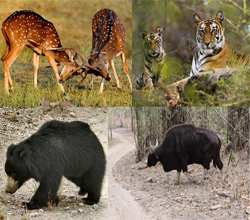 Kanha National Park Fauna
Accommodation in Kanha National Park
Accommodation of several types is available at Kanha National Park to catering to the needs of visitors coming to explore Kanha National Park. There are luxury resorts, forest guest houses, budget hotels and rest houses that make your stay while visiting Kanha National Park absolutely entertaining. It would be a right step in the right direction if you make your bookings in advance to ensure a good accommodation that would let you enjoy your beautiful tour to Kanha National Park.
Kanha Jungle Lodge, Wild Chalet Resort, Dyna Resorts, Baghira Log Huts, Kanha Safari Lodge, Machan Complex, Baghira Log Huts and Winsor tiger resort are some of the well known accommodation options at Kanha National Park.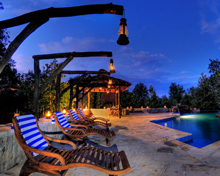 Accommodation in
Kanha National Park
How to reach Kanha National Park
The Kanha National Park is well connected by air, rail and road, so getting here is not an issue at all.
By Road: Kanha National Park is located at a distance of 175 kms from Jabalpur, a happening city in the state of Madhya Pradesh. The park is easily accessible by road and you could get here either by the State Transport buses, private taxis and buses, enjoying the scenic drive to this beautiful wildlife reserve.
By Rail: Jabalpur railway station, located at a distance of 175, is the major railway station closest to Kanha National Park. A bus or taxi from the Jabalpur railway station would get you easily to the Kanha National Park.
By Air: The closest airport- Nagpur- is located a distance of 266 kms. Nagpur airport to Kanha National Park is well connected by buses of the state government, and private taxi and buses run by private tour operators.