Madhav National Park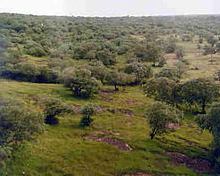 Madhav National Park
The relaxed and laid-back town of Shivpuri is brimful of culture and heritage. Once the summer capital of the Scindias of Gwalior, this laidback town in Madhya Pradesh offers a number of palaces, intricately carved marble chhatris and other cultural attractions, making it a favourite with the visitors.
Administrative headquarters of the district of the same name in the state of Madhya Pradesh, Shivpuri is the most convenient base for visiting other places of tourist attractions in the district. Chief among them is Madhav National Park which is natural habitat to a wide variety of flora and fauna.
Few visitors would like to leave Shivpuri without paying a visit to Madhav National Park. Within the bounds of the one can find George Castle which commands a grand view of the lake in the park. Madhav Vilas Palace, the summer palace of the Scindias of the erstwhile princely state of Gwalior, is a treat for the eyes.
Madhav National Park
Occupying an area of 156 square km, Madhav National Park, also known as Shivpuri National Park, is open throughout the year. Thanks to its varied terrain comprising wooded hills, dry, mixed and deciduous forests including sal, teak, and khair, and abundance of water bodies in the form of lakes in the Vindhya Range, the park offers abundant opportunities for sighting wildlife in their backyard.
The bounds of Madhav National Park provides natural habitat to a rich variety of fauna which include Chinkara, langurs, chital, leopard, mouse deer, Indian gazelle, our-horned antelope, jungle fowl, nilgai, charsingha, sambar, blackbuck, sloth bear etc.
The avian population in the Madhav National Park is also rich. The artificial lake Sakhya, or Chandpata attracts migratory birds like geese, pintail, pochard, teal, gadwall and mallard during winter.
Elephant rides are arranged by the forest department. There is a sailing club called Boat Club at Sakhya Sagar lake.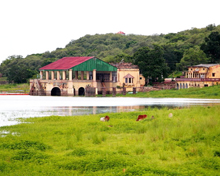 Shivpuri Forest
Places of Interest in Shivpuri
Chhatris
Set amidst the well preserved gardens, the cenotaphs erected by the Scindia rulers are the prime attraction of Shivpuri.
Side trips
Surwaya
21 Km from Shivpuri, Surwaya is home to the remains of a fort within the precincts of which are housed three Hindu shrines dedicated to Vishnu, a step-well and a monastery.
Narwar
41 Km from Shivpuri, Narwar is associated with king Nal whose legendary love for Damyanti is well known. The place is home to ort and palaces built in Rajput style of architecture.
Karera Bird Sanctuary
45 Km from Shivpuri is located the Karera Bird Sanctuary which is home to the Great Indian Bustard.
Pichhore
78 Km from Shivpuri, Pichhore is visited for its fort built by the Bundela ruler Rajaveer Vrashabh Dev Singh.
Kadwaha
100 Km from Shivpuri, Kadwaha is a scared place home to the ruins of fourteen shrines.
Gwalior
112 km from Shivpuri, Gwalior, the third largest city in Madhya Pradesh, is rich in historical past that witnessed various dynasties ruling the place including the Pratiharas, Kachwahas ,Tomars and finally the Scindias. The historical city brims with beautiful palaces, holy temples and amazing monuments.
Datia
121 km from Shivpuri, Datia is famous for a 7-storeyed fort-palace named Govind Mahal. Overlooking a small lake called the Karan Sagar, the palace was built by Bundela ruler Bir Singh. Datia is also known for its Gopeshwar Temple. Tourist Motel run by MPSTDC can be used for staying in Datia.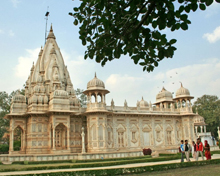 Shivpuri
Chanderi
127 Km from Shivpuri is the historical place of Chanderi is famous for its fort. The fort was captured by Ain-ul-mulk Multani, the general of Ala-uddin Khilji of Delhi Sultanate who had defeated the Malwa ruler Mahlak Dev who was killed in the battle in 1305. Set in a picturesque landscape comprising wooded hills, lakes and forests, Chanderi is dotted with several monuments including Choubisi Jain Mandir with 24 shikharas.
Best time to visit Madhav National Park
Madhav National Park is open throughout the year. However, the perfect time to spot wildlife from April to June because animals are prone to thronging the watering holes with the rise in temperature.
How to reach Madhav National Park
Madhav National Park is well connected by airways, rail and road, so getting here is not an issue at all.
Air: The closest airport, Gwalior is located a distance of 112 km. Gwalior is connected with regular flights from Delhi & Bhopal. Delhi is the convenient airport.
Rail: The nearest railheads are Gwalior and Jhansi which are 112 Km and 100 Km respectively from Shivpuri.
Road: Shivpuri is connected by good motorable roads with Jhansi (100 Km), Gwalior (112 Km), Datia (121 km), Chanderi (127 km) and Indore (375 km).
Where to stay in Shivpuri
Located near Bhadiya Kund, Tourist Village run by MPSTDC, can be used for staying while you are on a trip to Madhav National Park.