Bandhavgarh National Park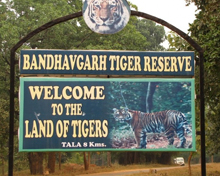 Bandhavgarh National Park
Set amongst the Vindhyas, Bandhavgarh National Park is wild and beautiful. Though occupying a small area, the park is known for the highest density of tiger in India. Needless to say, the par offers the greatest chance of spotting a tiger.
Once a royal hunting reserve of the Rewa rulers, Bandhavgarh National Park was declared as a National Park in 1968. A place of scenic grandeur and premier wilderness, the park is also home to Gaur or Indian Bison, Sambar, Barking Deer and Nilgai.
If you wish to club wildlife with history, Bandhavgarh in the Umaria district of Madhya Pradesh is the place to be. At the centre of the park is located the Bandhavgarh Fort, which adds to the charm of the park. This historical fort for speaks volumes for the past glory of the region.
Steeped in history, Bandhavgarh Fort is one of the principal visitor attractions in Madhya Pradesh. The fort casts its historical shadow against the natural surroundings, and both history and nature blend into a rich, seamless harmony.
Flora and Fauna in Bandhavgarh
Bandhavgarh is home to a large species of fauna that include chital, barking deer, sambhar, leopard, wild dog, wolf, jackal, wild pig, sloth bear, langur and monkey.
Reptiles found in the park include cobra, viper, krait, python, chameleon etc. Bandhavgarh boasts one of the largest concentrations and varieties of avian life with about 250 species of birds. Prominent among them are Brown Fish Owl, jungle crow, crested serpent eagle, owls, egret, owls, parakeets and quails.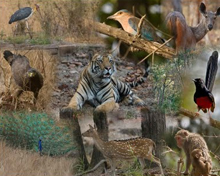 Flora and Fauna in Bandhavgarh
Where to stay
Accommodation of various types is available at Bandhavgarh National Park catering to the needs of visitors coming to explore wildlife or interesting in marvel at the stunning scenic beauty. There are luxury resorts, forest guest houses, budget hotels and rest houses that make your staying here absolutely entertaining. Bandhav Vilas is a right place to stay. It would be a right step in the right direction if you make your bookings in advance to ensure a good accommodation that would let you enjoy your beautiful tour to Bandhavgarh National Park.
How to reach Bandhavgarh National Park
Bandhavgarh National Park is well connected by airways, rail and road, so getting here is not an issue at all.
Air: The closest airport, Jabalpur is located a distance of 199 km. Jabalpur airport to Bandhavgarh National Park is well connected by buses of the state government, and private taxi and buses run by private tour operators. Khajuraho, 250 km from the park, is another convenient airport.
The Taj Mahua Kothi Resort
Rail: Umaria, located at a distance of 35km, is the closest railway station to Bandhavgarh national park. Katni, 102 km away, is a major railway junction. Satna and Jabalpur railway stations are 112 and 170 km from Bandhavgarh. A bus or taxi from these places would get you easily to the Bandhavgarh national park.
Road: Bandhavgarh National Park is located at a distance of 170 km from Jabalpur, an important city inn Madhya Pradesh. Some of the cities and places easily accessible by road from Bandhavgarh National Park are Kanha National Park (250 km), Varanasi (350 KM) and Nagpur 490 (Km).
Best Time to visit Bandhavgarh National Park
Bandhavgarh National Park is open from October to June. However, the perfect time to spot tigers is from April to June because animals are prone to thronging the watering holes with the rise in temperature. Rest of the Time Park remains closed for the tourist.