Employment Level in Madhya Pradesh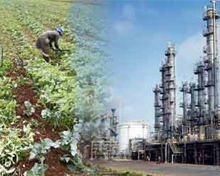 Under the leadership of chief minister Shivraj Chouhan, MP has achieved note worthy progress in industrial and agricultural sectors from 2005.
The economic progress was robust with 9% GDP growth rate as against the national average of about 8% during 2004-05 and 2012-13.
The state has clocked highest growth rate of about 7% in the agriculture sector which is almost double the national average of about 3.7% during the same period.
In the industrial sector, MP registered the fourth highest growth rate of 10.1% higher than national growth rate of 7.9% during the period from 2004-05 to 2012-13.
But the BJP government is facing a daunting task as creating incremental jobs for the educated youth of MP is proving next to impossible.
There are over 16 lakh educated unemployed in Madhya Pradesh, according to the economic survey report 2014-15.
According to the report, over 17.5 lakh educated unemployed youth were registered in the employment exchanges across the state at the end of 2013, which declined to 16.5 lakh by November 2014.
Employment was provided to 300 people in 2014-15 (till November 2014), while in 2013, 5000 people were provided employment through 48 employment exchange offices.
Many youngsters in Madhya Pradesh directly try to get jobs in the private sector.
With the Vyapam recruitment scam hogging the headlines for a long time, youngsters are feeling disillusioned with the government's intention to provide jobs to the deserving youth in the state, according to observers.
The Vyapam scam has made it clear that the deserving youth should not have any expectations from the state government that it will provide jobs to the meritorious students, say the affected parties.
In MP, having the right political connections and theability to pull the wires of high-level recommendations are vital to secure a good job, both in the private and government sectors.
Need rapid growth for jobs in Madhya Pradesh
Much needs to be done in the areas of good governance and employment creation, pointed out a study paper conducted by a special task force of trade boy Assocham on MP.
The government needs to address a set of growing concerns like sickness of MSME units, environmental degradation, Naxalism and infrastructure woes to push up employment generation in MP.
The unemployment rate per 1,000 persons aged more than 15 years was at 22 in Madhya Pradesh.
The rural unemployment rate in Madhya Pradesh was among the lowest in 2011-12.
As part of the long-term measures, it was suggested the MP government must create favourable conditions for the private sector to expand into rural areas for job creation in the backward regions of the state.
School education and vocational studies have to be promoted among the backward castes and minorities to enhance their employability.
Moreover, the state government has to facilitate a close co-operation between large, medium, small and marginal enterprises and set up a panel to reform the existing labour laws.
Huge potential for new jobs in Madhya Pradesh
There is a scope to create 11 lakh new jobs in both organised and unorganised sectors in MP during the course of next five years (2014-19).
It may be noted that about 30% of the state's total population is in the age group of 15-30 years and the employment rate had declined from about 39.5% to about 36.3% during 2009-10 and 2011-12.
Hence, there is huge potential for employment growth across industrial sectors in MP as growth momentum picks up.
In a note submitted to the MP government, trade body Assocham has suggested a 10-point detailed 'action agenda' towards a double-digit growth.
The combined workforce engaged in both industry and services sectors has increased from 1.03 crore to 1.2 crore during 2004-05 and 2011-12 in MP.
With just a marginal rise in employment, there is tremendous scope to create more jobs in the industrial and services sectors as major chunk (73%) of the total workforce in MP is engaged in agriculture and allied activities alone.
Leaving out those engaged in agriculture and allied vocations (73%), theindustrial sector accounts for just about 18% of the total workforce participation and the services sector accounts for the remaining share.
With a view to spur job creation in MP, Assocham has recommended the state government to promote non-crop activities like poultry, dairying, fisheries, horticulture, floriculture, animal husbandry and others in the agriculture and allied activities' sector.
The state was urged to ensure adequate and timely credit supply at reasonable cost and ensure social security on a short-term basis for those involved in agriculture-related activities.
Skill development of Madhya Pradesh
MP government has realised that one of the major impetus towards achieving sustainable industrial growth is ensuring availability of skilled manpower.
Hence, state has taken up skill development as its key focus area andestablished a nodal agency Madhya Pradesh Council for Vocational Education and Training (MPCVET).
The government has undertaken following steps to ensure expansion of training infrastructure in the state:
Establishment of government ITIs and polytechnic colleges.
Establishment of Mega ITI in major industrial hubs.
Formulation of skill development policy with incentives to promote private sector in the realm of skill development resulting in increase in number of private ITIs and polytechnic.
In order to harness the social capital in rural areas, block leveltraining centres have been established.
Establishment of Rural Self Employment training Institutes (RSETIs) in all the districts in collaboration with district lead bank.
Targeted skill development programmes towards meeting the industryneeds.