Pench National Park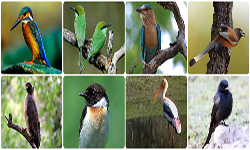 Pench National Park
Pench National Park, which borders Maharashtra and is located in the districts of Chhindwara and Seoni of Madhya Pradesh, is a beautiful land that is home to large number of varieties of flora and fauna in the Satpura hills.
Occupying an area of 758 sq km, Pench National Park, which inspired Rudyard Kipling's Jungle Book, is a wildlife enthusiast's delight. A great holiday destination, Pench National Park is a beautiful place to view wildlife in their backyard. You can explore the premier wilderness and scenic beauty of Pench National Park either on an elephant back or the four wheelers.
Fauna in Pench National Park
The park is also home to Tiger, leopard, Indian Bison, cheetal, sambar, nilgai, wolf, wild sloth bear, chinkara, chousingha, barking deer, fox, jackal, palm civet, jungle cat, small Indian civet, porcupine, hyena etc.
Pench National Park is a haven for birds. Rich in avian population, Pench National Park is home to more than 280 species of birds resident and migratory birds that include Indian Pitta, Malabar Pied Hornbill, Grey-headed Fishing Eagle, Osprey and White-eyed Buzzard. The pools and the reservoir and other bodies located within the precincts of the park attract thousands of migratory birds during winter. Prominent among them are Brahmini Duck, Barheaded Geese, Pochards, Coots, etc. Endangered vultures including white-rumped, white scavenger, longbilled and king vulture can also be spotted in the park.
The confines of the Pench National Park support 10 species of amphibians, 30 species of reptiles, 45 species of butterflies, 54 species of moths and several other insects.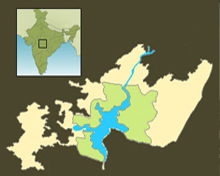 Map of Pench National Park
Site trips
Ramtek
35 km from the Pench National Park, Ramtek is deeply associated with the life of Lord Rama and greatest Indian dramatist and poet in Sanskrit Kalidasa. Tradition has it that he passed through Ramtek during his period of exile. Various shrines dedicated Lord Rama and his borther Lakshmana are found here. The enchanting inland lake of Ramsagar is a fast for the eyes. It was at Ramtek that Kalidas wrote his epic 'Meghdoota'.
How to reach Pench National Park
Pench National Park remains closed during the months of July, August and September. The park is well connected by airways, rail and road, so getting here is not an issue at all.
Air: The closest airport, Nagpur is located a distance of 70 km. Nagpur is connected with regular flights from different cities in India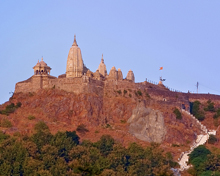 Ramtek Temple
Rail: The nearest railhead is Nagpur which is connected by rail with different cites and places in India
Road: Pench National Park is connected by good motorable roads with different places. Ramtek, 35 km from the park, has a regular bus service to this destination for wildlife buffs and naturalists.
Where to stay in Pench National Park
Pench National Park offers a variety of accommodations, enhanced by facilities that allow the visitors to unwind, relax and enjoy the amazing surroundings of one of India's most popular national parks.
Tuli Tiger Corridor Resort, Pench Jungle Camp, Baghvan Wildlife Resort, Mahua Vann Resort, Tiger Valley Resort, Jungle Home Pench, Village Resort, Tiger N Wood Resort, Tribal Camp Resort and Nagzira Nature Camp are some of the staying options near Pench National Park.