Gwalior
Rich in historical past that witnessed various dynasties ruling the place including the Pratiharas, Kachwahas,Tomars and finally the Scindias, Gwalior, the third largest city in Madhya Pradesh, is steeped in history and brims with beautiful palaces, holy temples and amazing monuments.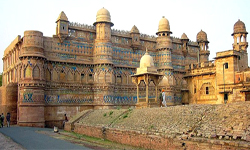 Gwalior Fort
Gwalior Fort
The Gwalior Fort is the prime attraction of Gwalior. You will find the rock-cut sculptures of the Jain thirthankars (ford makers) as you approach the fort.
The piece de resistance of Gwalior is its formidable fort, whose 35 feet thick walls built atop steep cliff have made it one of most sought after forts for the invaders. Built by Tomar ruler Raja Man Singh Tomar, the fort is home to palaces, step wells, temples and underground pools. A historical fort, it was the place where Murad Bakhsh, youngest brother of Mughal emperor Aurangzeb, was executed on latter's orders in 1661.
Man Mandir Palace
Within the fort you will find the massive Man Mandir Palace built by Raja Man Singh Tomar in the fifteenth century. A sound and light show is held here every evening. Gujari Mahal, also built by Man Singh for his favourite Gujar Queen, now houses Archaeological Museum. Built in the Dravidian style, Teli-ka Mandir is the oldest temple in the Gwalior fort.
North of the Teli-ka Mandir is a large pond known as Suraj Kund. It is believed that this was the place where hermit-saint Galav, after whom the city and the fort is named, had cured Suraj Sen or Surya Sen of the Kachwaha clan of leprosy.
Other important shrines in the Gwalior fort are the11th-century Sas Bahu Ka Mandir (Temple of the Mother-in-law and the Daughter-in-law).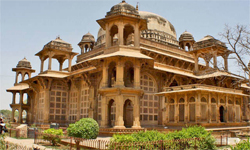 Ghaus Mohammed's Tomb
Ghaus Mohammed's Tomb
The sandstone mausoleum of Ghaus Mohammed is another landmark of Gwalior. This stunningly beautiful tomb is believed to be the spiritual master of Miyan Tansen, the greatest musician in the court of greatest Mughal emperor Akbar. The white tomb of Tansen is also a famous highlight of Gwalior where an annual music festival, called the Tansen Samaroh is held in November-December.
Jai Vilas Palace and Museum
Built by Maharaja Jiyajoroa in 1874, the palace is known for world's heaviest chandeliers and the largest handmade carpet in Asia. The Jivaji Rao Scindia Museum is a treasure-trove of artifacts.
Sun Temple
A replica of the UNESCO listed world heritage monument of Konark Sun Temple near Bhubaneshwar in Odisha attracts the visitors in good numbers.
Gwalior Zoo (Zoological Gardens)
The Gwalior Zoo is home to many animals that include white tiger, golden pheasants, serpents, hyena, sambhar and bison.
Side trips
Tigra Dam
23 Km from Gwalior, Tigra Dam, located in the scenic surroundings, is a famous travel attraction. The picturesque landscape with an air of freshness provides visitors a memorable experience.
Ghategaon Sanctuary
30 Km from Gwalior Ghategaon Sanctuary is spread over an area of 512 square kilometers and is home to Chinkara, Sambar, Blue Bull and the Great Indian Bustard.
Datia
69 Km from Gwalior and 34 Km. from Jhansi is located the town of Datia where a 7-storeyed fort-palace named Govind Mahal is worth a visit. Overlooking a small lake called the Karan Sagar, the palace was built by Bundela ruler Bir Singh. Datia is also known for its Gopeshwar Temple. Tourist Motel run by MPSTDC can be used for staying in Datia.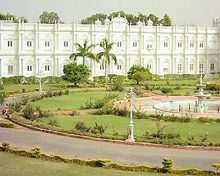 Datia
Sonagiri
3 km from Datia, Sonagiri is a sacred place for its massive complex of Jaina shrines. Straddling a hill some 77 Jain temples, all built in white marble, have been constructed here in rows
Pawaya
68 Km from Gwalior is the famous excursion site of Pawaya visited by the history buffs. Archeological remains dating back to the ancient period can be seen here.
Orchha
A travel to the medieval town of Orchha, 120 km from Gwalior, is a perfect place to travel back in time. Founded in 1531 and the capital of the Bundela rulers till 1738 Orchha, boasts an exciting array of architectural wonders such as the exquisite Jehangir Mahal.
Narwar
Narwar is associated with king Nal whose legendary love for Damyanti is well known. The place is home to ort and palaces built in Rajput style of architecture.
Sonagiri
How to reach Gwalior
How to reach Gwalior by air: Gwalior is connected with regular flights from Delhi & Bhopal. Delhi is the convenient airport.
How to reach Gwalior by Rail: Gwalior is a major railway station connected with all the main places in India. Punjab Mail connects Mumbai with Gwalior.
How To Reach Gwalior By Road: Gwalior is well connected by road to different places in India. Some of the cities and places connected with Gwalior by road are Jhansi (97 km), Shivpuri (112 km), Agra (118 km), Chanderi (239 km), Khajuraho (280 km), Delhi (318 km), Sanchi (344 km), Lucknow (353 Km), Bhopal (420 Km), Indore (486 Km) and Mumbai (1086 Km).
Where to Stay in Gwalior
If one is visiting on a budget and looking for a cheap hotel or if one wants to enjoy the comforts of a luxury hotel with wonderful service, Mathura can offer accommodation options to suit their taste. If you want experience a royal ambience, Usha Kiran Palace Hotel located adjacent to the Jai Vilas Palace is the right hotel.
Central Park, Hotel Landmark, Hotel Gwalior Regency, Hotel Shelter, Regency Square, Hotel Shivalaya, Hotel Ambassador, Hotel Amar Palace, Hotel Banjara, Hotel Grace, G. R. International, Hotel Mayur, Metro Hotel, Regal Hotel, Hotel Shubham Continental, Hotel Sonalika, Hotel Swagat, Hotel Surya Regency, Hotel Vivek Continental and Hotel Tansen Residency (MPSTDC) are some of the hotels in Gwalior.