Culture of Tripura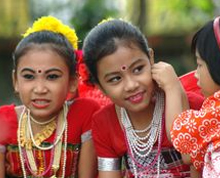 Tripura has affluent cultural tradition which include 19 different tribal communities, Bengali and Manipuri communities. Each community performed unique dance forms which are famous in the country.
The main folk dances are Hozagiri dance of Reang community, Garia , Jhum, Maimita, Masak Sumani and Lebang boomani dances of Tripuri community, Bizu dance of Chakma community, Cheraw and Welcome dances of Lusai community, Hai-Hak dance of Malsum community, Wangala dance of Garo Community, Sangraiaka, Chimithang, Padisha and abhangma dances of Mog community, Garia dances of Kalai and Jamatia communities, Gajan, Dhamail, Sari and Rabindra dances of Bengali community and Basanta Rash and Pung chalam dances of Manipuri community. It is to note that each community has its own traditional musical instruments. The important musical instruments are' Khamb( Drum)', Bamboo flute, 'Lebang,', 'Sarinda', 'Do- Tara', and 'Khengrong', etc.
Many famous musicians such as Sachin Dev Barman and Rahul Dev Barman belonged to this state. There are exceptional variety of handicrafts using bamboo and cane made by different ethnic groups gain reputation throughout the country. The most well-known handicraft products are Room Divider, Decorated wall panels, Attractive furniture of cane , different decorative pieces using Bamboo roots, Bamboo Dining table mats, Floor mats and various other gift items. The talented artisans produce superb objects of crafts from simple material like cane, bamboo & wood.
Three different cultures Hinduism, Buddhism and Islam have joined together to give shape and content to a exceptional tradition that found fluent expression through great work of art & crafts which are made out of very simple materials like cane, bamboo, clay, wood, palm leaf etc. Ass the time passed, the demographic character of the state has been changed.
In each period of history, Tripura has revealed extraordinary inner strength of assimilation of synthesis, while retaining her own traditional heritage. Manipuri and Bengali artisans who came afterward to settle in this state produced highly traditional unique tribal motifs through their skills. Cane & Bamboo products leave a distinct impression on customer.
Today highly skilled artisans are involved in producing of a wide range of more than 200 exquisite products. Presently, more than10, 000 skilled artisans are busy in production of various handicrafts in the state. Though there is a need to organize the industry in order to build up a proper production base capable of fulfilling the market requirements and to introduce the modern techniques. The state government has already taken effective steps to grow, both in domestic as well as international markets by identifying the potential of the industry. Handicrafts made in Tripura are also being exported to various countries.
For interior decoration Tripura Handicrafts offer a wide range of false ceilings, paneling, plaques, Pot containers (Planters) etc. made of Gossamer thin bamboo mattress. The household items have blended utility with artistic beauty. Panels and partitions provide another wide range of utility items made out of solid bamboo pasted on plywood. Lamp shades made of fine strips of cane & bamboo adds beauty to the living room. Furniture of Tripura once fashionable to royal palaces still has its distinction and exquisite workmanship.
Varieities of baskets and baskets with divisions are being used for making gift packages with some traditional artistic touches by the consumers. There is huge demand of mat and mat articles, bamboo chatai in the market. There are different types of roll mats weaved in multicolored designs which are familiar for making door & window screen, and also have various uses for room decoration. Ladies bags, Hand fans, Portfolio bag (for seminar) are the most popular items. Bamboo and cane Ornaments are also very traditional and beautiful in nature. These are unique to this state as Bamboo and cane ornaments are not available in the country and whole world.