Telangana Culture
In Deccan region one can witness the vibrant blend of Telugu culture existing from the times of Satavahanas (230 BCE - 220 CE) and Kakatiyas (1175-1324 CE) and Persian traditions from the Mughals and Nizams (1724-1948)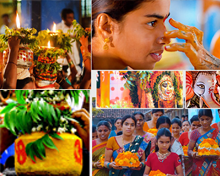 who ruled before and during the reign of British imperialism respectively.
While Telugu is the predominant language with 76% of the people speaking it, Urdu (12%) and other languages (12%) are also quite common in this region Before 1948, Urdu was the official language of the princely state of Hyderabad and it was the common dialect among the elite of Telangana.
However, Telugu became the official language and was introduced as the medium of instruction in schools and colleges after Hyderabad joined the Indian Union, following which the use of Urdu among non-Muslim was reduced.
Clothing and fabrics
The new state inherits one of the finest traditions in weaving and dying techniques as its cotton producing units (along with dye extraction) are famous in the world.
Saree is the most common clothing for women in Telangana even as langa voni, salwar kameez and churidaar are quite popular among unmarried women in the state.
Pochampally and Gadwal sarees are famous for their unique design, texture even as traders on the ancient silk route used to buy these merchandise as they were symbols of luxury and elegance at that time.
For men, dhoti (aka Pancha) is the traditional attire. But the Hyderabadi sherwani, the dress worn by the Nizams, is a ready fit on occasions like family ceremonies and gala functions.
Two types of cuisines in Telangana
Telangana has two types of food preparation - Telugu and Hyderabadi.
An extension of South Indian recipe, Telugu cuisine is made up of spicy food ingredients. Millet and roti dominate the meal variety along with jowar and bajra which feature most in the regular menu of a Telangana family.
Due to its proximity with Maharashtra, Chhattisgarh and northwest Karnataka, Deccan plateau foods have made inroads in Telangana menu table.
Telangana has some unique dishes such as jonna rotte (sorghum), sajja rotte (penisetum), or uppudi pindi (broken rice). A gravy or curry is called koora and pulusu (sour) in based on Tamarind. A deep fry reduction of the same is called vepudu. Kodi pulusu and mamsam (meat) vepudu are popular dishes in meat.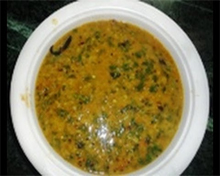 Telangana palakoora is a spinach dish cooked with lentils and eaten with steamed rice and rotis. Peanuts are added as special attraction and in Karimnagar district cashew nuts are added.
Sakinalu (aka Chakinalu), one of the most popular savouries in Telangana, is cooked during Makara Sankranti festival. This is a deep-fried snack made of rice flour, sesame seeds and flavoured with ajwain (carom seeds or vaamu in Telugu). These savouries are harder and spicier than the Telangana varieties.
An amalgamation of Persian, Mughlai, Telugu and Turkish cuisines, the Hyderabadi menu was developed by the Qutb Shahi dynasty and the Nizams. It has a mix of rice, wheat and meat dishes peppered with spices and herbs.
The Hyderabadi cuisine has city specific specialties like Hyderabad (biryani and haleem), Aurangabad (Naan Qalia), Gulbarga (Tahari) and Bidar (Kalyani Biryani).
Dry coconut, tamarind and red chillies, besides spices, are the main ingredients that make Hyderabadi cuisine stand apart from north Indian recipes.
Architecture of Talangana
Kakatiyas built Thousand Pillar temple achieved new heights in architectural splendour.
Constructed by King Rudra Deva in 1163 CE, Thousand Pillar is a specimen of Kakatiyan style of the 12th century.
However, this majestic temple was destroyed by the invading Tughlaq dynasty from the north. Despite having thousand pillars, a devotee can have clear view of the god from any part of the temple without any hindrance.
Alampur style: All the nine temples in Alampur are dedicated to Lord Shiva and these structures dating back to 7th century CE were built by Badami Chalukyas who patronised art and architecture.
Despite the passage of centuries, these majestic temples exemplify the rich architecture of Telangana which amalgamated northern and western styles in temple construction.
However, they do not reflect the Dravidian style as is the case with Telangana state comprising coastal Telangana and Rayalaseema. The shikharas of these temples have a curvilinear form and are adorned with the miniature architectural devices. The plans and decoration similar to that of the rock cut temples.
The Alampur Navabhrama temples reflect adept skills in architecture and sculptural carvings.
Classical dance in Telangana
Called the 'dance of warriors', Perini Sivatandavam or just Perini Thandavam is an ancient dance form performed by males and has been revived in recent years.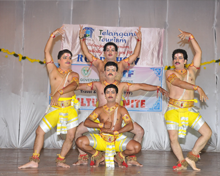 It is said that warriors used to enact this dance before the idol of Lord Siva while going to the battlefield during the rule of Kakatiyas.
The Kakatiya dynasty ruled Telangana and parts of Telangana for nearly two centuries with their capital in Warangal. This classical dance invokes 'Prerana' (inspiration) and is dedicated to Lord Shiva.
Carnatic music, folk arts
Kancherla Gopanna, popular as Bhakta Ramadasu or Bhadrachala Ramadasu, was a 17th century devotee of Lord Rama and a pioneer in composing ragas for the Carnatic music. He is one of the earliest vaggeyakaras (who compose both lyrics and sets them into musical style rendition) in Telugu language.
A number of folk songs had played vital role in the Telangana movement especially during the conduct of Dhoom Dham, a cultural event held as part of year-long statehood agitation. The state has a rich tradition in classical music, painting and folk arts such as burrakatha, shadow puppet show, and perini shiva tandavam, gusadi dance and kolatam.
Oggu Katha
A traditional folklore that renders songs in praise of Hindu gods Mallana, Beerappa and Yellamma by narrating their valiant deeds.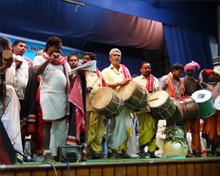 This folklore is common among the Yadav and Karuma Golla communities who have dedicated themselves to singing ballads in praise of Lord Shiva, more popular as Mallikarjuna in Telangana regions.
Always on a journey, the community people narrate the stories of their caste gods in a ballad-style presentation earning the kudos of the audience. Two narrators transform themselves as mythological and legendary characters to enact a play-like rendition which makes Oggu Katha a lively ballad in Telangana.
Most of the singers worship Komrelly Mallanna temple as the presiding deity is their favourite and inspires them to carry on with their vocation.
Cultural treasure house
Museums in Hyderabad showcase the kingdoms of bygone era throwing light on some of the hidden facets of ancient civilisation of the Telangana region.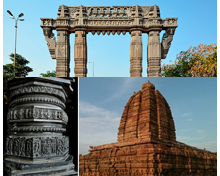 The Salar Jung Museum with collections from the huge property of the Salar Jung family is one of the three largest national museums of the country. Located at Darushifa on the southern banks of Musi river in Hyderabad, Salar Jung houses the biggest one-man collections of antiques in the world.
It is a well-known museum throughout India for its rare collections of artefacts, numismatics and invaluable objects of bygone eras that shed much light on the greatness of Indian civilisations.
The other museums are Nizam Museum, City Museum in Hyderabad and Birla Science Museum.
Tollywood
In terms of industry size and box office collections, Telugu films more popular as Tollywood are next only to Bollywood.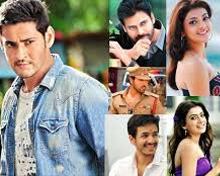 But Hyderabad has Ramoji Film City which is the world's largest production base for motion pictures. Also, with adoption of new techniques in film making, Telugu films are reaching out beyond their traditional markets.
Now overseas rights of Telugu films are being sold at exorbitant prices in the US, England, Malaysia and Singapore. At Ramoji Film City, a whole range of facilities for film shooting with a number of custom-built studios, production and film labs, among others, are offered under one integrated provider cutting down cost without compromising on quality.
Most of the south Indian language films are shot at this picturesque locale as the Film City goes the extra mile to woo producers and filmmakers for patronage.
Festivals of Telangana
Much grandeur and joy accompany festivals which are eagerly awaited by Telanganites. People visit temples, follow rituals at home and worship their favourite deities on religious occasions.
Some of the popular festivals are Ugadi, Dasara, Makara Sankranti, Guru Purnima, Sri Rama Navami, Hanuman Jayanti, Raakhi Pournami, Vinayaka Chaviti, Nagula Panchami, Krishnashtami, Deepavali, Mukkoti Ekadasi, Karthika Purnima and Ratha Saptami.
Regional festivals like Bonalu in Hyderabad, Batukamma (all over Telangana), Yedupayala Jatara in Medak and Sammakka Saralamma in Warangal district have thousands of followers with many flocking to these places on such occasion from neighbouring districts.