Telangana Economy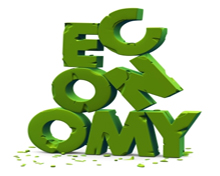 In tune with with the new objective of reinventing Telangana by adopting a vision of "progress with distributive justice" and taking into account the aspirations of the people, the government led by its charismatic CM K. Chandrasekhar Rao has formulated a number of welfare schemes especially targeting the SC, ST, backward classes and the minorities.
As per the advanced estimates, the GSDP grew at 5.3% in 2014-15 as compared to 4.8% recorded in 2013-14 at constant prices of 2004-05, thus reversing the declining trend seen in the previous years.
Though agricultural growth suffered a decline in 2014-15, due to adverse seasonal conditions, allied sectors like livestock, forestry and fisheries sectors have shown positive growth rates of 6.5, 2.7 and 11.4% respectively.
An industrial growth of 4.1% and healthy services at 9.7% have made a major contribution to the overall increase in the GSDP growth of Telangana in 2014-15.
Total GSDP of Telangana at current prices has crossed Rs 4 lakh crore in 2014-15 which has increased the per capita income of the state to Rs 1,03,889 as compared to Rs 95,361 registered in 2013-14. This is much higher than all India per capita income of Rs 88,533.
The GSDP at current prices for 2014-15 is estimated at Rs 4.30 lakh crore as against Rs 3.91 lakh crore for 2013-14 with a growth rate of 9.9 per cent.
The anticipated GSDP at constant (2004-05) prices for 2014-15 is estimated at Rs 2.17 lakh crore as against Rs 2.06 lakh crore for 2013-14, thus registering a growth of 5.3%.
Sectoral growth drivers
The sectoral analysis shows the growth is highest in the services sector at 9.7% for 2014-15, followed by industry (4.1%) and a negative growth of (-) 10.3% in the agriculture sector.
The growth estimate of 5.3% would have been higher but for the agriculture and allied activities which recorded a negative growth due to poor seasonal conditions.
It may be noted that agriculture was badly hit and recorded negative growth of -21.3%, which was partially compensated by the positive growth trends in livestock (6.5%), forestry and logging (2.7%) and fisheries (11.4%).
Due to many hiccups, the contribution of agriculture sector to GSDP declined to 12.8% in 2014-15 from 15.1% in the previous year. The contribution of Industry sector is estimated to be 24.3% without much variation compared to the past year, while services had chipped in with a higher percentage of 62.9% (2014-15) as against 60.3% in 2013-14.
Shifting trend in economy
However, it is to be noted that the declining share of agriculture sector in GSDP is consistent with normal development path of an economy.
But the government is committed to revive agricultural growth which is very critical for creating employment, generating revenue and thus ensure food security to all.
The decline in the share of agriculture is compensated by the services sector, which increased its share from 51% to 57% during the period from 2004-05 to 2014-15. Also, the share of industry sector is hovering between 25-30% over this same period.
Gross District Domestic Product (GDDP)
The estimates of GDDP reveal the size of the district economy and help to assess how the district is progressing over a period of time.
As per the GDDP estimates for 2013-14 at current prices, Hyderabad occupies the highest position followed by Rangareddy and Medak districts.
These three districts account for about 45% of state GDP. On the other hand, the rest of seven districts together account for about 55% of the state GDP. The GDDP of the three major districts grew at the average rate of more than 10% from 2004-05 to 2013-14.
Hyderabad-centric industries
At present most of the industries like pharmaceuticals, textiles, automobiles, minerals and agro-based activities like horticulture and poultry are all based in and around Hyderabad which is foremost in the growth of IT and IT-enabled services contributing more than 50% of services revenue for the united telangana.
But regional disparities in other districts of Telangana have to be addressed by CM Chandrasekhar Rao by devising policies and welfare schemes that reach out to the marginalised poor of the state.
Hyderabad boasts of Hitec City, one of the largest hubs for software and IT enabled industries in Asia, that employs millions of skilled professionals drawn from all parts of the world and working in top MNCs of the world.