Traffic in Telangana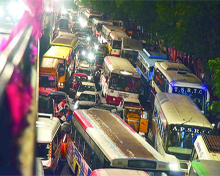 Constant migration of people to Hyderabad in search of jobs and livelihood has led to explosion of vehicles on city roads which despite the construction of flyovers are unable to cope up with the huge traffic flow during peak hours.
Hence, traffic police and NGOs have taken up a number of campaigns to sensitise the motorists on safe driving with precautions to avoid mishaps on the roads.
The most affected are hapless pedestrians whose space are encroached upon by hawkers and street vendors as they have spread their wares literally on the footpath without any regard to the need for free space for walking.
While signal jumping and over-speeding are common violations, Cyberabad police are strict in enforcing traffic rules and have brought down the fatal road accidents to 358 in 2014 from 447 in 2013.
However, the total number of road mishaps had increased from 2,409 in 2013 to 2,585 in 2014. And the number of injured in accidents too has gone up from 2,294 in 2013 to 2,540 in the next year.
High-tech campaign on road safety
Hyderabad police officials have launched a number of video campaigns with sustained drive to curb road violations like drunken driving, using mobile while riding two-wheelers and disobeying the traffic signals while on the road.
With a sustained campaign in partnership with NGOs the city police is able to instil a sense of road discipline among the motorists and pedestrians alike in Hyderabad. But much needs to be done to curtail fatalities and avoidable mishaps on the roads.
GPS-enabled cameras
In tune with latest advancement in policing, sub-inspectors in Hyderabad are wearing 100 body-worn cameras during enforcement and spotting traffic violations on the busy roads and intersections of this metropolis.
A high-resolution video camera records the audio-visuals which can be seen live from a police control room through 4G technology and will be further stored in memory cards.
The use of GPS-enabled video cameras by Hyderabad traffic police (HTP) is expected to bring in measurable change in the movement of vehicles with strict adherence to road norms even as it will help improve relations between the civilians and police.
Cashless spot fine system
Under the 'cashless enforcement' initiative, HTP has discontinued the practice of collecting cash on the spot for traffic violations while issuing challans (payment receipt). Instead, violators are asked to pay penalties online and through other modern modes.
An amount of Rs 21 crore has been sanctioned for modernisation of HTP and a part of this would be used for setting up an Automatic Integrated Traffic Management System.
The proposed traffic system would have strict enforcement against stop-line violation, red-signal jumping, wrong-side movement and detect over-speeding and issue e-challans to the violators.
Modern signage boards warning motorists and interceptor vehicles with 360-degree-vision cameras to detect the road violations are among the new initiatives planned.
As part of citizen-friendly moves, only officers above the sub-inspector rank are authorised to stop vehicles for checking documents during enforcement work, while lower-rank officers are only allowed to record traffic violations through electronic evidence.
Menace of obstructive parking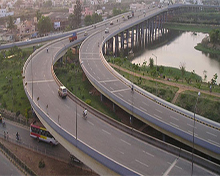 The haphazard parking on main roads have led to traffic jams and needles chaos on the roads of Hyderabad.
The city police have given strict instructions to business outlets and commercial centres not to allow such obstructive parking outside their premises leading to traffic hold ups on the roads.
It has been urged to keep the main roads, lanes and streets free from such irregular parking which will go a long way in regulating the movement of vehicles in Hyderabad. Strategic Road Development Project (SRDP)
This mega project intends at easing the present and the potential traffic congestion in the years to come.
The construction of skyways, major corridors and roads and flyovers at an estimated budget of Rs. 21,684 crore are being planned under SRDP which is bound to decongest arterial roads of Hyderabad from perennial traffic snarls.