Telangana Geography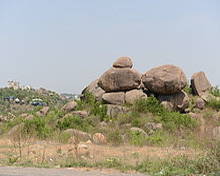 Situated on the Deccan plateau, Telangana state occupies 1.14 lakh sq km on the central stretch of the eastern seaboard of the Indian peninsula.
Despite the region drained by two major rivers - 69% of Krishna's catchment areas and 79% of Godavari - most of the land is dry and arid. There are also minor rivers like Bhima, Manjira and Musi that crisscross the state comprising 10 districts in all.
The annual rainfall ranges from 900 to 1,500 mm in northern Telangana and 700 to 900 mm in southern Telangana, mostly getting the precipitation from the southwest monsoon.
Various soil types are found in Telangana - chalkas, red sandy soils, dubbas, deep red loamy soils, and very deep b.c.soils - that facilitate planting mangoes, oranges and flowers.
It is noteworthy that 45% of forest cover of undivided Andhra is now located in the five districts of Telangana.
Much of its area is occupied by the Telangana plateau in the north and the Golconda plateau in the south and is composed of gneissic rock.
The plateau's average elevation is about 1,600 feet with its peaks in the west and southwest and gradually sloping down towards the east and northeast, where it meets the disjointed ridges of the Eastern Ghats ranges.
Climate in Telangana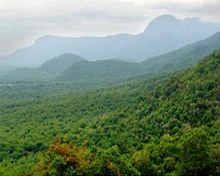 The summer begins from March to end in June, followed by a period of tropical rains from July to September; and finally, winter occurs from October to February.
Summers are very warm to extreme hot and dry, with temperatures often crossing 42-43 degree Celsius.
The annual precipitation mostly from the rainy southwest monsoon winds varies across the state. It averages about 35 inches (900 mm) per year, although the annual total often varies considerably from the average and can be as little as 20 inches (500 mm) in drier areas.
The average minimum temperatures in Hyderabad reach about 15 degree Celsius in January and February, while in the elevated areas it falls between 10 and 12 degree Celsius in the winter.
Vegetation in Telangana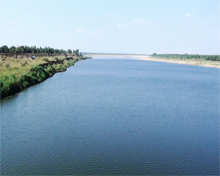 While thorny vegetation is spread across the hills of the plateau region, thick jungles are common in the northeast along and near the Godavari river.
Comprising one-fourth of land area, the forests are both moist deciduous and dry savannah in nature with teak, rosewood, wild fruit trees and bamboos found in plenty.
Generally, neem, banyan, mango and papal trees are quite common across Telangana districts.
Some of the wildlife spotted in the reserve forests are tigers, blackbucks, hyenas, sloth bears, gaurs and chital which thrive in a symbiotic ecology prevalent in the Telangana forests.
Home to two dozen national parks, wildlife sanctuaries and reserve forests, Telangana has thousands of bird species including flamingos and pelicans.