Telangana Tourism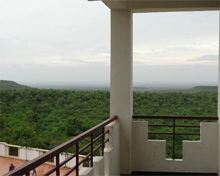 In order to reinvent Telangana as an important socio-cultural landscape, tourism is given much emphasis for it has the potential to expose the cultural heritage and ecological sites to visitors from within and outside the state in addition to earning revenues and creating jobs.
All the cultural, religious and natural sites are given a facelift to promote tourism. The capital outlays for infrastructure growth in tourist spots and circuits are being set aside.
The scenic Hussain Sagar Lake in Hyderabad is cleaned up under an ambitious project aimed to improve the environs and safeguard this precious water body from misuse. Once investment is channelised for the lake clean up, it will boost the tourist arrivals to this popular spot in the city.
In order to promote the cultural heritage, Yadagirigutta, a holy place near Hyderabad and much revered in this state, is developed as a global religious centre and funds were allocated for the celebration of 'Godavari Pushkaralu' with the usual pomp and grandeur.
Showcasing Hyderabad
This high tech city was ranked the second among the "Best of the World - 20 Places You Should see in 2015" list, published in the annual guide of National Geographic Traveller magazine.
The heritage sites in Hyderabad offer cultural diversity and tailor-made tour packages take visitors - both domestic and foreign travellers - to places in and around Hyderabad.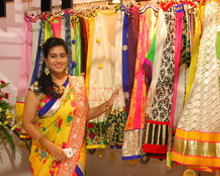 Telangana State Tourism Development Corporation (TSTDC) has a Nizam palaces package covering Falaknuma and Chowmahalla palaces, a Hyderabad by night daily tour that includes a sound and light show at Golconda Fort and Taramati Baradari, a historical sarai (caravan inn) as part of Ibrahim Bagh, a Persian style garden built during the reign of Ibrahim Quli Qutub Shah, the second Sultan of Golconda.
Qutub Shahi tombs are being conserved with the Centre's assistance, even as Aga Khan Trust is collaborating with the government in a big project to restore and beautify tombs.
Funds for tourist infrastructure
Suitable packages and developing amenities to attract tourists to lesser known destinations spread across the districts have been taken up the government with necessary funding.
Niti Aayog of the Centre has sanctioned a grant of Rs 33 crore to develop infrastructure at Nagarjuna Sagar, Karimnagar, Ramappa, Kinnerasani, Kothagudem and Gajwel.
Exclusive district plans for the development of tourism spots in all the 10 districts of Telangana are being drafted and expected to be approved shortly.
Telangana is gifted with a number of beautiful temples and ancient places of worship that have turned out to be busy pilgrim centres attracting millions of devotees throughout the year.
One such circuit started by TSTDC covers Chilkur Balaji temple on the banks of Osman Sagar Lake near Hyderabad.
Telangana Tourism is offering similar packages to visit Sitaramachandra Swamy temple at Bhadrachalam (Khammam), Saraswati temple at Basara (Adilabad) and Laxmi Narasimha Swamy Temple at Yadagirigutta (Nalgonda).
A number of amenities for tourists are put in place at Vemulawada Sri Raja Rajeshwara Swamy temple , Hanuman temple at Kondagattu and Narasimha Swamy temple at Dharmapuri in Karimnagar district, Ramappa temple at Palampet in Warangal district and Jogulamba temple at Alampur in Mahabubnagar district.
Rural Tourism of Telangana
As Telangana is rich in rural handicrafts and customs, the union ministry at the Centre has identified a number of tourism projects in consonance with the living traditions of the region - Pochampally (Nalgonda), Nirmal (Adilabad), Cheriyal and Pembarthi (Warangal) - all of which have their unique art of fabric weaving being passed on to generations through the force of habit.
Handicrafts, perhaps, represent the oldest living culture of Telanganites who still depend on these ancient vocations for their livelihood.
Wildlife and Eco Tourism
Blessed with forests and wildlife sanctuaries, the state offers much scope for wildlife tourism for nature lovers.
Some of the most visited places are: Alisagar Deer park in Nizamabad; Eturunagaram sanctuary and Pakhal wildlife sanctuary in Warangal; Kawal wildlife sanctuary in Jannaram;
Pranahitha wildlife sanctuary and Sivaram wildlife sanctuary in Adilabad; Mahavir Harina Vanasthali National Park, Vansthalipuram; Nehru Zoological park in Hyderabad; Manjira Bird Sanctuary in Sangareddy; Pocharam sanctuary in Medak and Shamirpet deer park in Rangareddy.
Heritage Tourism of Telangana
A land dotted with forts, heritage sites and monuments, Telangana is developing amenities and other facilities at a number of places to facilitate tourist flow.
Tourism department has undertaken projects at forts in Golconda, Medak, Khammam, Nizamabad, Elagandula (Karimnagar) and Bhongir (Nalgonda).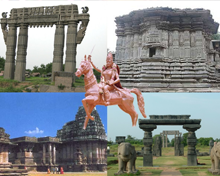 It is to be noted that Warangal and Golconda forts host a sound and light show that recreate the magnificent past of bygone eras for the benefit of tourists.
TSTDC has proposed to uplift a number of heritage sites with sound and light shows which will amplify the rich historical moorings of these places. Moreover, travel packages are being organised that also connect to neighbouring states.
As part of tourism promotion, TSTDC runs Harita hotel chains, roadside amenities, river cruises and majestic waterfalls at scenic locations.
However, a visit to Telangana is never complete without tasting its cuisine, notably Hyderabadi Biryani, Qubani-ka-Meetha, Haleem, and Irani Chai.
Medical Tourism of Telangana
A range of world-class healthcare treatments at affordable prices are being offered at elite hospitals in Hyderabad which get a steady stream of foreign patients for availing medical services.
With a huge untapped potential to emerge as global hub for medical tourism, steps are being finalised to prepare a comprehensive policy for this sub-sector and road shows will also be conducted to woo foreign patients to Telangana.
Bathukamma of Telangana
An annual floral festival enjoying state patronage, Bathukamma gets tourists from all over the country to appreciate the cultural heritage of Telanganites.
The government has released Rs 10 crore for conduct of this festival in 2014 and has plans to conduct Bathukamma on a grand scale each year.
On the eve of this floral event, tour packages are organised by TSTDC to facilitate visitors eager to witness floral decorations and cultural events associated with Bathukamma.
Bonalu in Telangana
Telangana tourism is planning to organise Bonalu weekend package tours to Ujjaini Mahankali temple in Secunderabad and Maisamma temple at Lal Darwaza.
The tableau of Telangana state which was displayed for the first time at Rajpath in New Delhi during the Republic Day 2014 parade depicted Bonalu festival in a colorful manner.
Sammakka Saralamma Jatara
Also known as Medaram Jatara, this festival is celebrated in a remote area of Warangal district. It is said that after Kumbha Mela, the Medaram Jatara attracts the largest number of devotees in the country.
More than one crore devotees visited Medaram during the Jatara in 2014. This festival is celebrated once in every two years at the same location with one of the largest gatherings of devotees.