Economy of Gujarat
A jewel in India's industrial crown
A pioneer in the industrial sector, Gujarat is one of the most advanced and prosperous states of the country.
Gujarat is located on the western coast of India and has the longest coastline of 1,600 km in the country.
The state shares its borders with Rajasthan, Madhya Pradesh, Maharashtra and the Union territories of Daman and Diu and Dadra and Nagar Haveli.
The Arabian Sea borders the state both to the west and the south-west.
A towering leader in key sectors of manufacturing (electricals, tools, engineering), petrochemicals, fertilisers, specialty chemicals, textiles, vegetable oils, dairy products, pharmaceuticals, ceramics, gems and jewellery and cement, Gujarat is also rich in specific minerals which are mined at different places of the state.
The state has rich deposits of calcite, gypsum, manganese, lignite, bauxite, limestone, agate, feldspar and quartz sand.
Moreover, the region is popular for cotton, peanuts, dates, sugarcane and petrol. Gujarat produces about 91% of India's required amount of soda ash and accounts for 66% of total salt produced in the country.
Chemical industries in Gujarat account for more than 35% of total production in the country. It is one of India's most prosperous states, having a per-capita GDP of Rs 1,06,831 which is significantly above India's average of Rs 98,983 for 2014-15.
Core strengths of Gujarat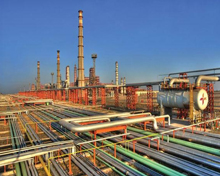 The state has a very strong presence in the petroleum sector and is considered the petro capital of India.
The state attracted cumulative FDI worth $9.6 billion from April 2000 till May 2014 and is the second highest recipient of FDI in India after Maharashtra.
At current prices, the gross state domestic product (GSDP) was estimated at $120.8 billion in 2013-14. During 2013-14, the outstanding investments in the state were around $225.6 billion.
Gujarat exports nearly 60% of cotton produced in the country. Overall, the state contributes around 25% to India's total export of goods.
The state has world-class infrastructure with 42 major, minorports, 13 domestic airports and one international airport catering to global travellers.
There are 83 product clusters, 257 industrial estates, 32 notified special economic zones (SEZs) and an upcoming mega park on the Delhi-Mumbai Industrial Corridor (DMIC).
Gujarat is the only state in the country which has exclusive policies in all the key sectors such as industry, power, ports, roads, agriculture and minerals.
The industrial policy offers a host of incentives and concessions for the investors.
Statistical highlights of Gujarat
Gujarat GDP was Rs 7.65 lakh crore in 2013-14. It was the 4th wealthiest state in India.

Gujarat is at 10th place with per capita income of Rs 1,06,831 for 2014-15.

Gujarat contributes around 17.25% to the country's industrial output.

With just 5% of India's population and 6% of its land mass, Gujarat accounts for 7.6% of its GDP, almost a tenth of its workforce, and 22% of its exports.

There are 13 major industry groups that together account for around 82% of total factories, 95.85% of total fixed capital investment, 90% of the output value and 93.21% of value addition in Gujarat's industrial economy.

The industrial sector comprises over 800 large industries and more than 4,53,339 micro, small and medium industries.

The National Dairy Development Board in Anand is involved in promoting, financing and supporting milk-distribution organisations across India.

Plan outlay of $589 million for agriculture, animal husbandry, dairy and fisheries industries.

Allocation of $121 million for farmers against the impact of poor monsoon.

Allocation of $615 million with an aim to bring an additional 0.3 million hectares under irrigation by Narmada waters in 2013-14.
Sustaining rapid growth
Plans are on the anvil for the setting up of brown and green fieldprojects with environment-friendly processing standards in the textiles sector.
The state government is keen to attract Japanese investment to develop railway lines from the rear ends of automobile plants to ports like Mundra and Pipavav for exports.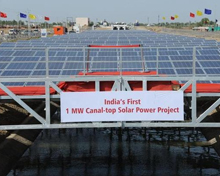 With a dry tropical climate and a soil not conducive for the cultivation of staplecrops like rice and wheat, the state has instead built up its global trade networks earning precious foreign exchange.
At present, nearly 25-30% of sea cargo of India passes through Gujarat ports.
Gujarat's GDP growth under Narendra Modi's tenures as CM from 2001 to 2012 averaged almost 10%, a much faster rate than India as awhole.
Sustaining high growth by a richer state like Gujarat (others being Maharashtra and Tamil Nadu) is no mean achievement.
In fact, Gujarat has moved from a deficit in electricity generation in 2002, to a surplus despite the huge energy demands of a fast growing economy.
As a matter of fact Gujarat is one of the few states in India to have invited private sector in the energy sector and these firms are already into operating power plants.
All its 18,000 rural villages are well-connected to the state power grid and there is no paucity of drinking water.
Ready allotment of land
The emphasis on providing basic amenities like food, clothing and shelter has been the notable feature of Gujarat development model.
Extending this concept to the industrial front, the state government made vast tracts of land readily available for industrial development.
In 2008 Tata Motors shifted the site of its upcoming plant to make the small car Nano from West Bengal to Sanand in Gujarat after controversy broke out over its original site.
Tata Sons chairman Rata Tata got an SMS from then Chief Minister Modi assuring a ready plot for his car factory and its vendor suppliers.
Caught in land disputes in West Bengal over the proposed factory, Tatas swiftly changed the location to Sanand.
Following Tata Motors, other companies including MNCs have started operations from various sites in Gujarat.
Ford has drawn up plans to open a production unit in Sanand in later half of 2015.
Factories and industrial clusters mushroom in Gujarat becausepermits and clearances are given without delay as the bureaucracy too chips in with its efficient work to implement the policies.
Using IT to woo investors of Gujarat
While the eco-system for speedy growth was there even before the arrival of Modi, the latter is quite successful in leveraging the potential of IT sector to speed up industrialisation.
Modi was the first to adopt IT systems in the country to offer a range of government services that cut down corruption and made officials accountable to the public.
Tata Consultancy Services had designed the network systems for managing the state finances, tracking documents shuffling betweengovernment offices and in streamlining the revenue departments.
Unique features
The world's largest ship breaking yard is at Alang nearBhavnagar in Gujarat.

Reliance Petroleum, a group company of Reliance Industries Ltd owned by Mukesh Ambani, operates the world's largest oil refinery at grassroots level in Jamnagar.
The company has plans to set up another special economic zone (SEZ) in Jamnagar.

Gujarat ranks second in gas-based thermal electricity generation with national market share of over 8% and second in nuclear power generation with national market share of over 1%.

Legatum Institute's Global Prosperity Index 2012 has recognised Gujarat as the highest-scoring state in India with regard social capital and related assets.
In this Prosperity Index, Gujarat was ranked 15th in a list of 142 nations and was much ahead of many developed countries.
Important places in Gujarat
Kalol Khambat and Ankaleshwar are known for their oil and natural gas production.

Jamnagar has the world's largest refinery complex in ReliancePetroleum Limited.
This refinery hub has an aggregate refining capacity of 1.24 million barrels of oil per day, more than any other single location in the world.

Dhuvaran has a thermal power station which uses coal, oil and gas for electricity generation.

On the Gulf of Khambat, 50 km southeast of Bhavnagar, is the world's largest ship breaking yard in Alang.

Halol near Vadodra has General Motors which produces both compact and luxury cars.

Jalalpur is a large town where several small and large textile units are present.

Surat is the hub of the global diamond trade.

Ahmedabad, Ankleshwar and Vapi are the hub of chemical industries with both private and state-owned units producing a range of specialitychemicals.

Rajkot city is the hub of manufacturing especially in auto components, auto engines, CNC machines, forging and casting parts.

Dahej has a first-of-its-kind liquid cargo (chemicals) handling port which was set up as a joint venture with government.