Tourism in Gujarat
There are numerous tourist places which attract tourists to visit again and again. Jami Masjid is located at Malan, Palanpur Taluka in Banaskantha (Gujarat).
It was built during the Sultanate period, the Mosque stands with its stately structure on a high pedestal with 260 pillars supporting 15 domes. Sidi Said Mosque was constructed in 1572-73. The mosque is a symbol of Indo-Islamic architecture. The mosque has ravishingly beautiful twin windows carved out from white stone.
The stone is carved out in the shape of a tree with entangled boughs of palm leaves. Eight windows have squire grid pattern. Maharaja Fateh Singh Museum was originally constructed as a school for the Maharaja's childern Maharaja Fateh Singh. Museum has become a centre of attraction for tourists these days. Buddhist Cave Monastery was constructed in about 300 A.D. in Uparkot.
There is a meandering staircase to an upper chamber. The Khapara Kodhia cave and Baba Pyara Cave are complex yet fascinating structures with beautiful carvings of Buddhist sculptures.
Gujarat has the most ancient holy places. Palitana Temples is a complex of Jain temples situated 51 km south west of Bhavnagar. There are 863 temples from base to the peak of the Shatrunjaya hill, where the Palitana temples are located. Dwarkanath Temple is located at Dwarka and is one of the important temples dedicated to lord Krishna. The Somnath Temple located in the Prabhas Kshetra near Veraval in Saurashtra, on the western coast of Gujarat, India is one of the twelve Jyotirlings (golden lingas) symbols of the God Shiva.
The Swaminarayan Temple in Kalupur, Ahmedabad is the first built Swaminarayan Temple in the world. The Modhera Sun Temple is famous for its rare position as specifically and uniquely designed for the worship of the Sun, Lord Surya.
Gujarat provides excellent educational facilities for students to develop their talent and make bright future. Gujarat has 13 universities and 4 agricultural universities. Gujarat also has an Indian Institute of Management, at Ahmedabad, National Institute of Design, at Ahmedabad and a National Institute of Technology at Surat.
Architecture of Gujarat
Lothal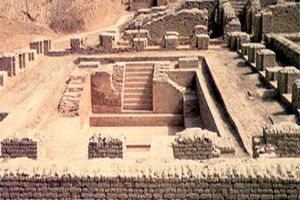 Lothal is considered as one of the oldest ancient and organized city in India which is presently located in modern state of Gujarat in India. It was assumed that city was established in 2400 BCE.
The Archaeological Survey of India (ASI) discovered this site in 1954. It is also rare city in the World which have town planning.
Bathroom-toilet structure is one of the wonderful architecture in the history. Lothal was also one of the financial and trade centre of the district. It is also ideal destination for ancient sites trip in India.
It is situated near Dholka Taluka of Ahmedabad district near village of Saragwala. This site is also accessible for public and tourists. It is managed by ASI.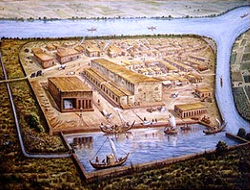 Lothal is supposed to be the last town on the Saraswati River's tributary lavanavati or bhogavo which comes from the north. The beads and gems of Lothal had high demand in the west.
They seem to have worshipped the fire God and also another sea goddess and people today worship as per their tradition. A coastal route existed linking sites such as Lothal and Dholavira to SutkaganDor on the Makran coast.
It is revealed in reports that Lothalis the third largest collection of seals and sealings, engraved on steatite, with animal and human figurines and letters from Indus script, but these remain deciphered, so they do not provide as much awareness into the material culture as the other findings.
They do demonstrate aspects of the spiritual culture. There are signs of worship of fire, and of the sea goddess, but not of the mother goddess.
Lothal was supposed to be Dravidian, but current reports of association with Vedas and other Sanskrit scriptures showed that this was the support of Aryan civilization in the sub-continent.
There is enough evidence to suggest non-Aryan origin, and strong Aryan influence, as well as a meeting of the cultures, both violent and peaceful. Lothal is very well connected to the Ahmedabad city via road and railways.
The archaeological excavations that were carried out led to the finding of a township, dock, mound and a marketplace. Areas lying nearby the excavated sites consist of an archaeological museum, where tourists can enjoy the scenery of the various Indus-era antiquities. Therefore, Lothal is good destination that can be included in tourism trip of Ahmedabad.
Dholavira
It is famous archaeological place at Khadirbet in Bhachau Taluka of Kutch District, in the state of Gujarat in western India. Dholavira is named from a modern village 1 km south of it.
This village is also known locally as Kotadatimba which contains remnants of a prehistoric Indus Valley Civilization/Harappan city. J. P. Joshi discovered this archaeological place in 1967-68.
This place is one of the five largest Harappan sites and most outstanding archaeological sites in India that is associated with the Indus Valley Civilization
It has been under excavation since 1990 by the Archaeological Survey of India, which opines that "Dholavira has indeed added new dimensions to character of Indus Valley Civilisation."