Gujarat Business
Can I start business in Gujarat
Everything is going right for Gujarat with a new industrial policy (2015) promising steps to further ease the process of doing business in the state.
While the PM Modi has called for increasing the 'Ease of Doing Business' in the country, the Gujarat government has come out with the 'Ease of Doing Plan' covering 98 areas that directly affect small and large industries.
After holding extensive talks with industry and trade bodies like CII, FICCI and GCCI, the state has set up facilities that would help entrepreneurs in setting up operations within shortest time.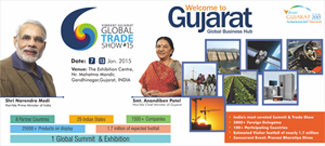 The Industry and Mines department has started offering a range of services through its investment facilitation portal.
An 'Ease of Doing Business' centre has been opened in all districts and at industries commissioner's office to reach out to potential investors looking for policy and critical guidelines.
More than 98 key issues that directly affect business efficiency have been eased with procedures being simplified further for expeditious clearances.
Rs 562 crore for MSME sector
A sum of Rs 562 crore for the micro, small and medium enterprises(MSME) was announced in the Gujarat budget (2015-16).
The state government is paying special attention to each dimension of 'ease of doing business' in Gujarat.
Moreover, a total outlay of Rs 3,623 crore was made for the industry and mines department in the Budget 2015.
The Gujarat government has allocated Rs 320 crore for textile sector development in the Budget 2015.
Further, an amount of Rs 270 crore was set aside for a critical infrastructure scheme; Rs 32 crore for the development of logistics park and defence manufacturing park.
Making land acquisition easier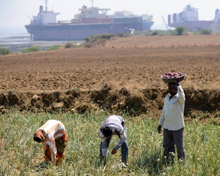 Even as the Land Acquisition Bill is facing stiff opposition in Parliament, the Gujarat government has proposed joint ventures (JVs) with farmers under the new Industrial Policy 2015.
In this Gujarat model, farmer groups give up their lands to Gujarat Industrial Development Corporation (GIDC) voluntarily for developing industrial parks under a JV with GIDC.
The officials expressed confidence that this land acquisition model would work well in Gujarat as it would solve the growing discontentover the purchase of agricultural land for industrial purposes.
The 'Financial Assistance to Industrial Park' (FAIP) scheme introduced under the new industrial policy (2015) promotes JVs with farmers to develop industrial parks ranging from 20 to 100 hectares.
Farmers will be made equity and profit partners in proportion of their land holding.
Under the JV, farmers may continue to be the owners of the land but would have to sacrifice their right in lieu of equity and profit rights in the industrial park.
A win-win model for all
The new land acquisition model is a win-win formula for all stakeholders including the farmers.
GIDC has been facing a lot of challenges in acquiring private and agricultural land for industrial development.
It is expected that the new plan of farmers being a stakeholder in industrial growth will motivate them to facilitate the overall economic growth of Gujarat.
New industrial parks under FAIP will be given financial assistance of 25% of eligible fixed capital investment in building and infrastructure facilities up to Rs 30 crore excluding the land cost.
Additional Rs 20 crore will be provided if the park developer (JV also) develop hostel and dormitory facility for the workers.
The private developer or the JV of farmers and GIDC will get 100% reimbursement of stamp duty paid. Also, the individual units will get 50% stamp duty waiver.
WB chief bats for Gujarat model
India will be a 'far easier place' to do business if the country adopted the practices and processes that Gujarat is following, according to World Bank president Jim Yong Kim.
India has the ability to jump at least 50 notches from its current 134th position in the bank's 'Ease of Doing Business' survey if all states followed the Gujarat model.
Gujarat emerged as India's top business destination that has earned praise from business leaders for easy norms, transparent procedures and speedy approvals.
In India, government approvals and administrative processes often delay start of business and push up costs, according to World Bank.
For example, Indian businesses have to pay a total number of 33 taxes on an average compared to seven in China.