Current scenario of Gujarat
Much has been discussed and debated on the so called 'Gujarat model of development' which has been showcased by the BJP led by its PM candidate Narendra Modi in the 2014 general elections.
After coming to power, the ruling party and the Prime Minister Modi have come under critical lens over the issue of Gujarat's real progress in social and economic parameters.
But even foreign media along with World Bank experts have acknowledged the robust growth of Gujarat in economy and agriculture during Modi's tenure as chief ministership.
On the debatable issue of human development, the western state has been on a steady growth but trails behind advanced states (like Kerala, Tamil Nadu and Maharashtra) oncritical issues like maternal health, gender sex ratio, infant mortality, education, integrated child growth and nutrition.
Sustaining GDP progress in Gujarat
With just 5% of India's population and 6% of its land mass, Gujarat accounts for 7.6% of its GDP, almost a tenth of its workforce, and 22% of exports from India.
In fact, its tropical climate and geography pushed it towards commerce.
Poor rainfall made it tough to reap a bounty in agriculture.
Whereas its long coastline of 1,600 km opened up global markets in trade and commerce.
At present, a little above 25% of India's sea cargo passes through its ports.
Even if Modi cannot claim much credit for Gujarat's natural endowments, the state's annual GDP growth during his reign from 2001 until 2012 averaged almost 10%, a faster rate than India as a whole.
Other exporting states like Maharashtra and Tamil Nadu also did well to compete with Gujarat.
But sustaining rapid growth in any of India's richer states is not an ordinary task.
Poverty, a deadly scourge
Where Gujarat noticeably came up short is in poverty reduction, according to the IDFC Institute, a think-tank.
Other states of similar rank made greater inroads into cutting poverty rates between 1993 and 2012.
But only three states achieved success in lowering the absolutepoverty level.
Modi's biggest feats were easily noticeable.The road infrastructure in cities is excellent.
Gujarat has moved from a deficit in electricity generation in 2002 to a surplus, despite the energy demands of a booming economy.
Its 18,000 rural villages are connected to the power grid. Water supply is abundant across the districts.
Fast-track industrial growth in Gujarat
This focus on basic infrastructure was extended to making land easily available for the industrial development of Gujarat.
In 2008 Tata Motors dumped West Bengal and moved over to Sanand in Gujarat to set up his Nano small car factory after land controversy broke out in the former state.
Then Gujarat CM Modi sent an SMS message to Tata group chief RatanTata that his state was ready to offer a factory-ready plot for him to start operations immediately.
Many top companies including MNCs followed suit and Gujarat became the sought after destination for car manufacturers in the country.
India scores a lowly 142nd out of 189 countries in the World Bank's "ease of doing business" rankings.
But in Gujarat factories spring up more readily because permits, licences and environmental clearances are granted quickly.
E-governance pays off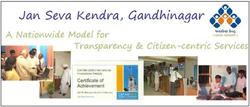 The implementation of e-governance schemes has cut red tape at the ground level.
Each tehsil headquarters has a Jan Vikas Kendra where more than 100 certificates are available in a matter of minutes on nominal payment.
Many of personal and identification certificates are now available to the rural people at the village E-Gram Vishwagram Centre, a part of the network connecting all the 13,700 panchayat villages in the state.
The E-Jamin project of the revenue department has digitised the land record data of almost half of Gujarat's landowners, significantly cutting down cases of fraud in land ownership.
Perhaps the most innovative scheme is the Swagat Online Grievance RedressSystem run by the CM's office.
In this public service, the CM goes online to solve the problems in villages by talking to the complainants directly for almost four hours every fourth Saturday.
The cost for implementing these e-governance schemes has been kept low.
Eight big projects in the state and about a dozen small ones that were implemented from 2003 to 2014 have been at a cost of about Rs 1,200 crore.
If a nodal agency takes it up, it can be easily implemented across India at a cost of just over Rs 20,000 crore.
Healthcare - a mixed trend
Despite the success of e-governance and area-specific schemes, social indicators in health and education do not evoke much enthusiasm in Gujarat.
According to figures from the Union ministry of health for 2012, the shortage of doctors at public health centres in Gujarat was 34% while the national figure is 10%.
The state's answer to overcoming the manpower problem is giving people the choice to go to private health providers.
The Mukhya Mantri Amrutam Yojana allows up to five members of a BPL family to be treated in a government-approved private centre for up to Rs 2 lakh while the Chiranjeevi Yojana encourages women to deliver children in private hospitals.
The 108 ambulance service, run by the GVK group, has a fleet of 450 ambulances that it dispatches even to rural areas.
However, the introduction of private healthcare in medical services did not seem to yield positive results.
Gujarat's infant mortality rate (IMR) was 38 in 2012, lower than the national average of 42 but much higher than states such as Tamil Nadu (21) and Maharashtra (25).
Maternal mortality rate (MMR), or the number of women dying from childbirth per 10,000 births, is 122 for Gujarat, well behind Kerala (66) and Maharashtra (87).
One reason for this, however, is the 15% tribal population in far-flung areas of Gujarat.
Till recently, doctors in rural areas were free to practice in private hospitals after paying a bond of Rs 1.5 lakh.
The government has now increased the bond to Rs 5 lakh and has brought in a further 2,000 MBBS seats in the state.
The plan allocation under health has been increased by 24% in the state budget for 2013-14 to address some of these glaring shortfalls in maternity and child care.
Education - lot to be covered
Figures from the District Information System for Education (DISE), an arm of the Sarva Shiksha Abhiyan, confirms a problem beyond the primary education level.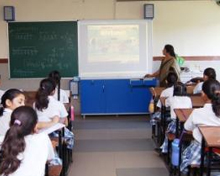 In a 2011-12 survey, the DISE found that the student-teacher ratio for higher secondary and intermediate education was 54, compared to the national average of 32.
And according to a 2013 DISE report, while Gujarat's enrolmentratio is 85.3% at primary level, it plummets to 48.77% at the secondary level.
Overall, the dropout rate in schools is 58% compared to the national average of 49%.
A variation of the manpower problem in healthcare exists in education as well.
In Navbhavnath village in north Gujarat, the government primary school has impressive infrastructure -- 10 classrooms, a computer room and separate toilets for boys and girls.
The teachers in this school are all part of the Vidya Sahayak Scheme under which they are paid a part-time salary of Rs 5,300 a month -- a fact admitted to by BJP president Amit Shah.
It was clarified that they were part-timers for four years, after which they were made permanent.
These poor salaries paid to teachers have a ripple effect.
A person qualified enough to be a secondary school teacher is more likely to look for other full-time employment, and it naturally follows that the teacher shortage is the worst at the college level.
According to a 2013 report, over 1,700 posts lay vacant in engineering colleges across Gujarat.
There is a commitment to improve the strength of teaching faculty in colleges.
The government has increased the number of universities in Gujarat from 15 to 52 since Modi came to power.
But so far the benefits have been limited due to shortage of teachers.
In 2013-14 government increased its plan allocation on education by 43%.
TN, Maharashtra edge out Gujarat
Experts have pointed out that Gujarat has the advantage of ideal conditions -- large tracts of government land that can be given to industrial houses and a terrain favourable for building roads.
Moreover, the Gujaratis are known for their business acumen and achieve success at the global markets through hard work.
However, it cannot be denied that Gujarat under Modi reign (2001-14) has developed its infrastructure which led to its agriculture reaping a big harvest.
This change in agricultural profile led to a big social transformation in Gujarat's villages.
According to economists, the Gujarat model of economic growth would be difficult to replicate in other states.
In the period that it experienced a growth rate of 10.1%, Gujarat was overtaken only by two states -- Maharashtra (10.8%) and Tamil Nadu (10.3%).
According to the 2011 Human Development Index published by the UNDP, both Maharashtra and TN have steadily taken their HDI parameters including life expectancy, education and income indices (per capita GDP) higher than the national average while Gujarat remains below it.
Government interventions in terms of taking health, education services to the villages and introducing technology can be easily implemented across India.
Need to develop skilled HR
But unless they are aligned with a commitment to skilled human resource like quality doctors, able teachers and skilled workers, social indices will remain weak as in Gujarat.
The government has taken steps by raising the bond for doctors and increasing the number of universities.
Social indicators take a long time to improve, and investments made now will only offer dividends in a decade or so.
Two things are clear have become apparent: Gujarat is yet to become the model state in India for others to emulate, despite tremendous progress in infrastructure.
But if the BJP government takes some bold steps in health, education and other social sub-sectors, then Gujarat can emerge as the modern Indian state with benchmarks that rival even developed world.