Traffic in Gujarat
Rising incidents of traffic violations, over-speeding, drunken driving and irregular parking are posing a series of problems for the residents of Ahmedabad.
While by and large the vehicular movement is smooth even during peak hours, the traffic police have modernised themselves with high-tech gadgets and installed cameras on busy junctions to curb violations.
There is an urgent need to regularise the parking of vehicles near busy junctions which further slowdown the traffic.
Another growing menace is the encroachment of pedestrian space by hawkers who occupy most of the footpath to sell their wares.
3rd highest traffic deaths in Gujarat
Gujarat has recorded the third highest number of deaths at 4,830 due to speeding in India during 2014, according to a report by the National Crime Records Bureau (NCRB).
Only Maharashtra (6,953) and Tamil Nadu (6,533) were ahead of Gujarat on the number of traffic-related deaths in 2014.
Speeding of motorists on highways is one of major problems faced by traffic police in Ahmedabad.
Moreover, a well-constructed network of highways and roads encourage motorists to shift to the top gears revving up the speed without considering the traffic flow and other hurdles on the way.
In fact, Gujarat has recorded 7,857 deaths in all in road mishaps in 2014 and of which the 4,830 were caused due to speeding, the NCRB report states.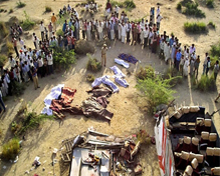 Gujarat is much ahead of states such as Madhya Pradesh (4,070), Karnataka (3,652), and Rajasthan (3,572) in registering deaths occurring due to speeding vehicles on the road.
The western state has also reported one of the highest death rates -- the number of deaths divided by the total speeding cases -- of 35.7 compared to 29.96 for Maharashtra and 24.43 for Tamil Nadu. The national death rate is 29.27.
Surat ranks top in the state with 167 speeding deaths followed by Rajkot (150), Vadodara (147), and Ahmedabad (122).
A diamond trading hub, Surat has the eighth highest number of accidental deaths among 52 Indian cities listed in the NCRB report.
Roads in Gujarat cities have its own speed limit as indicated by the signages.
According to senior policemen, motorists should not exceed 30 kmph on turnings, junctions and crossroads.
It was pointed out by traffic safety experts that speed has become a style statement on Gujarat roads.
Carried away by the TV commercials, people buy swanky cars that have great pick-up and speed.
These cars and SUVs then zip past the highways at terrific speed putting others' safety at risk, say policemen.
In Ahmedabad, Surat and Gandhinagar, good highways invite high speed vehicles on both directions.
Traffic police are now thinking over introducing speed breaks on highways (like road bumps) and better surveillance of speedsters to ensure a risk-free movement of vehicles.
Traffic police stations in Gujarat
The state government had given approval in June 2015 for setting up of traffic police stations for "smart management" of vehicular movement across the state.
The first 14 police stations for traffic management would come up in Ahmedabad. But soon all districts would be covered in a phased manner.
At present such facilities are there in Bengaluru, Hyderabad, Gurgaon and Mumbai.
The government has also sanctioned direct recruitment of 6,000 personnel for the traffic department.
The 14 new traffic police stations would come up in 14 divisions of Ahmedabad police and this new system would be supervised by a team led by the assistance police commissioner (ACP).
Each station would come under the overall direction of two regular police stations.
The mandate of each traffic police station is to curb reckless driving, road accidents and traffic glitches.
These traffic monitors would take up investigation into accidents, hit-and-run cases and other crimes related to road violations.
In the first phase, 1,012 applicants would be recruited directly by the traffic department of Gujarat police.
These traffic policemen would continue to work for their department throughout their service period.
Smart LED screens on road
In one-of-its-kind, Ahmedabad Municipal Corporation (AMC) has installed four large 7x3 metres LED boards that inform motorists of the impending snarls, construction works or traffic diversions on the road ahead for them to take timely decision.
The country's first intelligent traffic management system (ITS) went operational on the 132-Feet Ring Road in Ahmedabad in October 2014.
Based on Japanese technology, the network system has 10 camera-based traffic sensors across various locations on the road to help manage the traffic flow.
The sensors will relay information regarding traffic flow, including speed and density to a cloud-based traffic control centre.
This means that a traffic control centre in the city was not necessary.
The system is being funded by the Japan International Corporation Agency (JICA).
The four electronic screens were installed 200 metres ahead of a traffic signal for the motorists to take precautionary step to avoid hurdles on the road.
This real-time information will help motorists to avoid traffic and take alternate routes to reach their destinations.
Policemen were given tablets through which they can control the information flow that needs to be displayed on the LED boards for guiding the motorists.
A mobile app also helps guide those with smartphones on chalking out the best route for their travel.
Helmet cameras for police
High-definition helmet cameras for traffic cops have been pilot tested on Ahmedabad roads in June 2015.
Helmet cameras will give a big push to strict law enforcement as well as keeping an eye on police constabulary too who are on road.
The capital city has 320 cross roads and the police need about 500 helmet cameras which would be used by their personnel in shifts of about eight hours.
In addition, traffic police have installed 400 digital cameras (CCTVs) across city roads to monitor the vehicular movement.
Police personnel at the end of the duty will report to the traffic headquarters at Mithakali.
The footage in the memory card of the helmet cameras will be stored for evaluation.
e-challans for offenders
A total of 226 cameras are installed at 82 traffic junctions in Ahmedabad.
The high resolution cameras would capture images of the number plates of vehicles found violating traffic rules.
And within two days, e-challans would land on the doorstep of road violators.
Traffic department officials said they would analyse the footage from the CCTVs on a daily basis and extract clips showing registration number plates of the vehicles breaking traffic rules.
The details of the vehicle owner will be received from the RTO and traffic police would send an e-challan with the photograph of the vehicle in question.
If the vehicle was driven by someone other than its owner, then the latter would have to furnish details of the driver including his driving licence.