Quality level of Gujarat
Ahmedabad - the pride of India
Gujaratis are hardworking and fun loving people.
Most of them are endowed with entrepreneurial ability and they never shirk from competing with others to excel in their professional life.
People from Gujarat who had migrated to all parts of the world form a vibrant NRI community.
The Gujarat expatriates nurture their deep-rooted bonds with their motherland.
A number of social projects and outreach programmes in Gujarat by the NRIs act as a catalyst to improve the living standards in remote villages of the state.
Ever since Narendra Modi took over the reins of governance as CM from 2001 (till 2014), the state witnessed a meteoric rise in physical and social infrastructure.
All the major cities in Gujarat are well developed with efficient transport services.
Basic utilities like water, electricity, roads, housing, lighting and hygiene have developed much beyond national-level benchmarks.
In fact, cities are clean and the environment is kept free from pollution.
Most of the urban residents are prosperous and have come up hard in life either through business or as salaried class.
Ahmedabad and Surat have been ranked as top global cities in the recent surveys by independent bodies in terms of quality life and infrastructure space they could offer their residents.
Both these cities are fast emerging as global hubs of manufacturing in their own right with a plethora of facilities for businessmen and skilled professionals.
Ahmedabad, the commercial hub
A well-diversified city, one may call this as an industrial powerhouse of Gujarat.
A large numbers of MSMEs and start-up firms are located in the city doing a range of manufacturing activities.
Besides, traders and small-time vendors set up their units to cash in on the growing business potential in this small city located on the banks of Sabarmati River.
It has rich historical past. In the early 19th century, textile factories were present in large numbers producing fabrics for exports.
Even today, Ahmedabad houses India's top brands in textiles like Mafatlal, Arvind, Ashima and Chiripal group.
It is called the denim city for its top ranking in the garment sector.
One of the most cosmopolitan cities of the India, Ahmedabad has proven expertise in bullion trade, plastic manufacturing, metal forgings and pharma industries.
The state-owned corporation offers round-the-clock bus services linking major cities of Gujarat from Ahmedabad.
The public transport is known for their efficient, comfortable and affordable service round-the-clock.
Gujaratis are food connoisseurs and they are passionate about their traditional menus that are sold at Manek Chowk, Law Garden and CEPT lane.
City has ring road outside covering a loop of 80 km.
People in Ahmedabad celebrate festivals like Diwali, Holi and Navarathri in a grand, ostentatious manner.
Unlike metropolitan cities, there is very little traffic snarls on the main thoroughfares in Ahmedabad.
During weekends, there are lots of places for hangouts such as Sabarmti riverfront, Kankaria Lake, Thol Lake, Akshardham temple, Sarkhej Roja and Adalaj step well.
Gujaratis are travel freaks. During vacation anywhere in the world, one is sure to meet at least few Gujaratis.
Their addiction to travel makes them broaden their perspective on matters of the world.
The city of Ahmedabad has got a solid reputation for higher education with globally renowned colleges like Indian Institute of Management, National Institute of Design, Mudra Institute of Communications, National Institute of Fashion Technology, Centre for Environmental Planning and Technology and B.J. Medical College.
The cost of living in Ahmedabad is very affordable as compared to major cities like Mumbai, Delhi and Kolkata.
A fact-file on Ahmedabad:
Commercial and business hub of Gujarat.

Best city in the state in terms of job opportunities, business opportunities, living standards.

City is on the bank of SabarmatiRiver.

People are good and helpful. But they always have profit making mentality in everything and in all situations. They are highly practical.

In terms of education it is home to IIM-Ahmedabad, Nirma University, L D Engineering College. The quality of higher education is of global standards.

Some good attractions are Kankariya Lake, Sabarmati riverfront, Adalaj step well, Sarkhej Roja and Sidi Saiyad.

AMTS and BRTS offer bus services that are reliable and safe.

It is home to ISRO, Science City.

Safest city in India. Even at 2 am in night one can have hot, tasty dosa at Maneck Chowk.

Police patrol during night. Strict enforcement of law and order to prevent crimes
Gandhinagar, peaceful city:
Capital city of Gujarat. Clean, green and well-developed city.

One of the greenestcities of India with no pollution at all

People are friendly and ready to help outsiders.

Small, compact city with all infrastructure in place.

Clean city. Not so big but very well planned but has sector system.

For transportation VTCOS (Vallabhipur Transportation Cooperative Society) bus is there, if you are lucky enough, you'll have ride in double decker.

There will be one Suvidha centre (community or government facility) in each sector.

One will find only four kinds of people here. Student, politician, government servant and IT professional.

In terms of education, it has Dhirubhai Ambani Institute of Information and Communication Technology (DA-IICT), Pandit DeendayalPetroleum University (PDPU), National Institute of Fashion Technology (NIFT-Gandhinagar) and IIT-G, all four are finest colleges in the country.

Upcoming financial hub GIFT City is shaping besides Gandhinagar and Ahmedabad.

Living standard is very good and comfortable with calm surroundings.

Safest city in Gujarat. During night police patrolling will be too high to ensure safety of residents.
A Mumbai touch in Vadodara/Baroda
Educational and cultural capital of Gujarat.

It was capital city of Gaekwad dynasty and the city was developed by Sir Sayaji Rao Gaekwad.

Home to renowned M S University. Education level is very good.

People are good. Helpful, you can easily interact with them.

Baroda celebrates all festivals with pomp and fanfare

Home to some of the good mechanical industries.

City is on the bank of Vishwamitri River.

Transportation is good, it has VTCOS buses.

A good blend of Gujarati and Marathi people. At times it will be Mumbai type of atmosphere prevails in many parts of Vadodra.
Surat - the city of businessmen
Diamond business hub. Nearly 8 out of 10 diamonds of the world are cut and polished here.

People are very business minded and hard working in their chosen field of industry.

In spite of facing floods many times, the city will bounce back with renewed vigour.

City is on bank of Tapi River.

Textile business hub. You will find everything from Banarasi saris to Gujarati bandhani to Chennai and Mysore silk.

In fact, famous retail stores of Chennai like Pothis, Chennai Silk and Saravana Textiles import fabrics (clothings) from Surat.

Home to NIT Surat. Education is of high order.

For transportation Surat has BRTS like Ahmedabad and upcoming river front in the city too.

If you seriously want to do or learn business, then Surat is the right place to have your apprenticeship.

Surat is a unique city that motivates one to do business and work hard to live life king size.
Rajkot, enjoy Kathiawadi food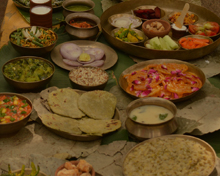 It is known as 'Rangilu Rajkot' which means colourful Rajkot.

People are keen to enjoy life to the fullest in Rajkot.

A lot of educational institutes. But can't be assured of good quality.

There is famous saying in Gujarat "Kathiyawadi (peninsular Gujarat) people have sweet tongue". Hence, Rajkot people are easy to interact with as they are amiable and friendly.

For transportation it has BRTS system.

You can enjoy Kathiyawadi food that is typical Gujarat cuisine and pure vegetarian in nature.

If you are in Rajkot in weekends, you will feel it's a weekend. People will be there on streets, grounds, gardens, hotels and fast food corners.