Employment Level in Gujarat
Creating jobs in industries for the skilled youth is a major challenge to Gujarat government.
For despite industrial progress, the state government is unable to create jobs for lakhs of youth coming out of colleges each year.
While the government is putting a bold face in spite of harsh criticism, it has been pointed out that skills of the youth have to be retooled to fit into the demands of the industries.
Around 2.45 lakh unemployed youths have registered in employment exchanges across Gujarat as on March 2015 and of them 88,750 are from Ahmedabad district.
Of the 88,750 unemployed youths in Ahmedabad district, 68,884 were in Ahmedabad city alone.
The government further clarified that of the 68,884 unemployed youths in Ahmedabad city, 62,724 were educated.
It was pointed out that in the two years (2013, '14), there has been an increase of 32,660 youths in Ahmedabad city and of these, 30,651 were educated.
Limited job openings in Gujarat
Only 64,629 unemployed youth registered at the exchanges were given jobs in the two years (2013, '14) in Gujarat despite the explosion of youth population in the state.
In Vadodara, there were 38,273 unemployed youths registered in the employment exchanges as on March 2015.
According to government, 81,378 youths were called for interview from various sectors in 2013 and only 11,938 were given jobs.
While 73,969 were called for interview and 13,031 were offered jobs in 2014 by the private firms.
Gujarat ranks 14th in generating employment in the small and medium enterprise (SMEs) sector, according to a survey report by trade body Assocham in 2012.
The state managed to create only 8,058 jobs between April 2011 and February 15, 2012 in the SME sector, the report said.
Call to improve employability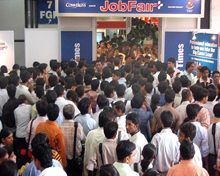 In the wake of low employment generation in the SME sector, the Assocham has appealed to the state government to strengthen and widen the base of this sector.
The industry body has proposed to collaborate with the Gujarat government to promote skill development through workshops at micro, small and medium enterprises (MSME) hubs to increase employability.
Gujarat government assisted about 1,494 SMEs which had utilised margin money subsidy of over Rs 52 crore in creating jobs through skill enhancement.
The state was ranked 14th in a state-wise analysis of the number of SMEs assisted, margin money utilised and estimated employment generation between April 2011 and February 15, 2012.
"Over 3.25 lakh jobs were generated in the SME sector by providing assistance to a total of 35,607 SME units across India by utilising margin money subsidy worth about Rs 700 crore, during the review period," according to the Assocham study.
The SME sector is estimated to employ about 59 million in over 26 million units which produce over 6,000 products ranging from traditional to high-tech items.
West Bengal emerged as number one state to facilitate growth in the SME sector by assisting about 5,290 SME units across the state, according to the field report.
Lowest unemployment rate in Gujarat
Gujarat had the lowest unemployment rate in the country in 2013-14, while Gujarat had the highest.
The country's overall unemployment rate was estimated to be 4.9% in 2013-14.
Gujarat had the lowest unemployment rate of 1.2%, as per the fourth Annual Employment and Unemployment Survey report for 2013-14 released by the Labour Bureau under Union ministry of labour and employment.
As per the study, the unemployment rate per 1,000 persons aged more than 15 years was lowest in Gujarat at 12, followed by Karnataka at 18, Maharashtra at 28, UT Chandigarh at 28, Madhya Pradesh at 29 and Telangana at 33.
However, the maximum unemployment was found in Gujarat at 158 persons, followed by Arunachal Pradesh at 140, Kerala at 118, Tripura at 116 and Goa at 106, as per survey report.
GIFT can create 10 lakh jobs
PM Narendra Modi's pet project Gujarat International Finance Tec-City (GIFT) has the potential to generate over 10 lakh jobs by 2022.
GIFT city, which is being developed by the Gujarat government, aspires to cater to India's large financial services potential by offering global firms a world-class infrastructure and facilities.
The employment potential in expanding the economy of the state through GIFT is about 10 lakh new jobs.
The Rs 65,000-crore project is being developed on the lines of global financial services centres spread over three phases of development to be completed by 2022.
GIFT city has two components of development - domestic financial centre and global financial hub.
It is being developed on 886 acres of land, of which 673 acres is in possession of GIFT.
It has multi-services SEZ of 250 acres, domestic finance centre along with its associated social infrastructure on 423 acres.
The state-of-the-art GIFT city will be supported by all basic urban infrastructure comprising external connectivity by roads, metro and BRTS.
GIFT is conceptualised as a global financial and IT services hub on the lines of globally benchmarked financial centres such as Shinjuku, Tokyo, Lujiazui, Shanghai, La Defense, Paris, and London Dockyards.
The project is located on the bank of Sabarmati River and is around 12 km from Ahmedabad International Airport.