Quality level of Chhattisgarh
Considered the 'rice bowl of India', the state of Chhattisgarh opens up a colourful world of tribals who live in forests and their fringes that occupy nearly 44% of its land area.
Due to a sound irrigation system with big dams and long canals on major rivers, hundreds of varieties of rice are grown in the state which supplies them to rest of the country.
Chhattisgarh is skilled in tribal art, Kosa silk, lost wax art and dotted with ancient monuments, wildlife and carved temples.
Tourist attractions like Chitrakot waterfalls, Kutumsar caves, Ramgarh and Sita Bengra, Bambleshwari temple at Dongrigarh, Danteshwari temple in Dantewada and a major Buddhist centre in Malhar village draw steady visitors to the state throughout the year.
Blessed with mineral deposits and surplus electricity, mining industry is the biggest source of employment for the Chhattisgarh people.
Also, a number of steel industries that have come up near themining sites offer much scope to improve the living standards of locals.
Need to push living standard
With human development index (HDI) at 0.358 as against the national average of 0.467, Chhattisgarh is ranked at the bottom most groupin the growth parameters.
The east-central state has an income index of 0.127, one of the lowest in India and clubbed along with states of Assam, Bihar, Jharkhand, Madhya Pradesh, Odisha and Rajasthan.
The per capita income of these states is below the national average.
But despite very low standards of living, Chhattisgarh has seen NSDP (net state domestic product) growth rates of over 10% per annum during the 10th Five Year Plan period (2002-07) Unlike other states, Chhattisgarh is facing a mix of grave problems like Naxalism, malnutrition and witchcraft being practised by tribals.
Education sector in Chhattisgarh
Chhattisgarh has an education index of 0.526 according to the latest National Human Development Report (NHDR 2011) which is lower than national average of 0.563.
The estimates from Census 2011 put the literacy rate at 71 per cent which is close to the all India rate of 74 per cent.
Among the marginalised people, the scheduled tribes are at the bottom of the ranking pointing to the need for channelising the social programmes to this most backward section.
Bastar and Dantewada in south Chhattisgarh are the most illiteratedistricts and the school dropout ratio is the highest among all the districts.
The reasons for poor school enrolment are poverty and Naxal violence.
Women enjoy freedom in Chhattisgarh
Chhattisgarh has a high sex ratio (991 female per 1,000 males)ranked at the 5th position among the Indian states.
The rural women, though poor, are independent, well organised and socially outspoken.
According to a local custom, women have freedom to terminate a marriage relationship through a custom called 'chudi pahanana', if she is not able to live with her husband.
Most of the temples, shrines and monuments reflect women power in Chhattisgarh giving insight to the social fabric of the state.
However, women by lineage are obedient to men as male authority is dominant in the society as witnessed in the cultural and social life of the Chhattisgarhi people.
Witchcraft in Chhattisgarh
Despite the enactment of Chhattisgarh Tonhi Atyachar (Niwaran) Act, 2005 to eradicate this social evil, large sections of tribals still practice witchcraft and sorcery.
As women are believed to have access to supernatural forces, they are persecuted for being witches ('tonhi'), mostly to settle personal vengeances.
Lax enforcement of law by the officials and local police has led to the continuous practice of witchcraft in the tribal society of Chhattisgarh.
Many innocent women were chased out of villages on flimsy charges made by male sorcerers who were paid to do so by people axing a grudge or having a personal animosity against the victims.
However, the state government is doing its best with the help of NGOs to put an end to witchcraft, a major hurdle in the socio-economic progress of the villagers.
Tribal lifestyle, customs of Chhattisgarh
Chhattisgarhi tribes are unique as they strictly follow their culture and tradition for centuries.
The womenfolk are colourful with their long, flowing attire and ornaments made of cowries, shells, bones, mixed metals, copper and bronze.
Most of their livelihood depends on forest collections, river, cultivation and rearing of goats.
Raut Nacha is a traditional folk dance of cowherds. Some of the other dance forms are Panthi, Karma, Pandwani and Soowa.
The indigenous people are used to locate their settlements near their food and water source. Bastar district of Chhattisgarh has the largest tribal population.
As many as 35 big and small tribes are present in Chhattisgarh. Some of the popular tribes are Agariya,Birhor, Baiga, Kharia, Pardhan and Gond.
Gonds are further divided into Asur, Korba, Abhuj Maria, Nagarchi,Gaiki and Badi Maria.
Festivals rejuvenate life in Chhattisgarh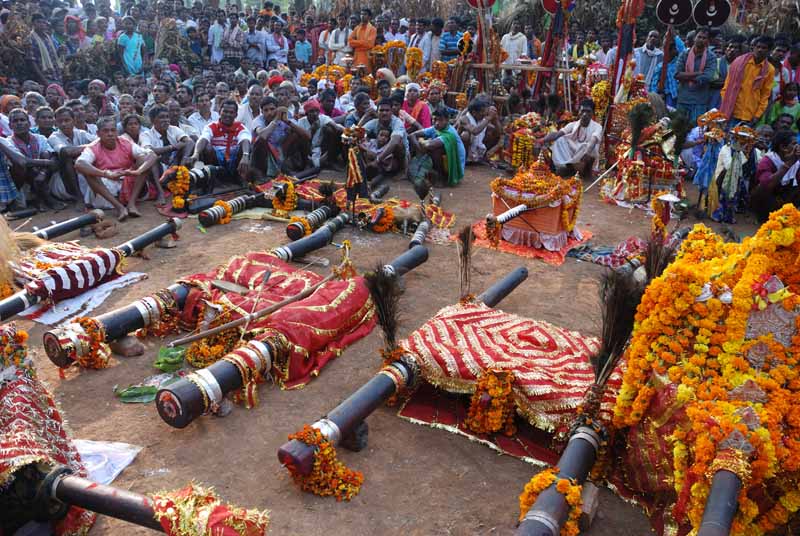 Religious festivals and events are celebrated with great passion in Chhattisgarh.
Some of the major festivals like Dussehra, Goncha, Hareli, Dantewada fair, Champaran Mela and Rajim Lochan Mahotsav create an air of conviviality and friendship in the society.
Hareli festival is one of the most important harvest festivals praying for good crops and is celebrated during the monsoon.
Poor connectivity isolates tribes in Chhattisgarh
There are nearly 15,000 villages in Chhattisgarh with 77% of the population living in them.
The tribes live in hill and forest areas of the state.
Their primitive shelters are called "Ghotul" and these huts are made of bamboo sticks and earthen (or wooden) walls.
Most of the tribal huts are located near a water body.
Hundreds of villages are not connected to any major town due to non-existence of proper road and the extreme remoteness of the place.
For travelling within a cluster of villages, locals use 'bailgadi' as the only mode of commuting.