Education of Chhattisgarh
A number of factors affect the school education in Chhattisgarh, most notably the Maoist violence which force the authorities to close down schools in Bastar district.
While poor enrolment in primary schools is a cause of concern, lack of supervision by government officials have resulted in non-functional schools with teachers keeping away from classes in total disregard to their official duty.
Most of the rural schools lack basic facilities and offer no incentives for children to attend classes on a daily basis, thus putting education a biggest challenge to Chhattisgarh government.
Rationalisation of schools in Chhattisgarh
On June 15, 2015, a day before the start of the academic year, a brief order from the Department of School Education had sealed the fate of 2,918 primary and middle schools in Chhattisgarh.
Among the 2,918 schools that were closed down, 782 were located in the Maoist infested region of Bastar.
The decision to close down nearly 3,000 schools was taken as part of school rationalisation policy to comply with the Right to Free and Compulsory Education Act (RTE), 2009.
According to the RTE Act, schools have to maintain a certain benchmark in education by adhering to parameters like the pupil-teacher ratio.
As per the District Information System for Education in 2012-13, the pupil-teacher ratio in Chhattisgarh for primary and upper-primary schools is 23:1.
That is, one teacher for 23 students, which is lower than the norm laid down under the RTE Act: a pupil-teacher ratio of 30:1 for the primary level and 35:1 for the upper primary level.
However, more teachers per student onlyreflect better standards in Chhattisgarh schools.
But the state government cited the RTE norm to begin the process of school rationalisation across the districts in May 2014.
First, it issued an order transferring teachers from overstaffed schools to understaffed ones. In March 2015, another circular sought to identify and close schools having just 10 students or less than that.
Wherever multiple schools existed within 300 metres or less, they were merged into a single unit.
The school merger was done to comply with the rules notified by the government under the RTE Act which permits only one primary school within a radius of 1 km, one middle school within 3 km and one high and higher secondary school within 5-7 km in Chhattisgarh.
While this RTE norm was created to ensure the easy reach of schools to rural students, in fact it has been used to make the schools distant to children who find it difficult to access them.
Poor enrolment ratio in Chhattisgarh
The rationalisation process of primary schools has made them inaccessible to rural children of Chhattisgarh.
The RTE Act has mentioned that the accessibility of schools as one of the main reasons for children being kept out of schools.
The 15th Joint Review Mission Report of Sarva Shiksha Abhiyan released in 2012 has praised Chhattisgarh for setting up primary schools within a radius of 1 km and middle schools within 3 km.
Despite this good record, the Review Mission report says 67.5% children from the age group of 6-11 years and 32.5% from the age group of 11-14 years have been kept out of school education.
The tribal children who remained out of the school education were found to be disproportionately high at 58.3% in the age group from 6-14 years.
Chhattisgarh at bottom 10 in education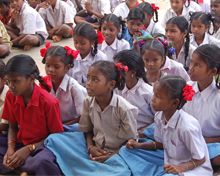 On the Education Development Index (EDI), Chhattisgarh ranks among the 10 bottom most states for primary (I-V classes) and middle schools (VI-VIII) with 28th position on a list of 35.
While there is a host of factors discouraging children to attend schools, Naxalism is the root cause for putting off young ones from going to schools.
It is surprising with an overall literacy rate of 70.28%, the state has a poor showing on EDI parameters, but is placed higher than bigger states like Bihar and Uttar Pradesh.
However, parent state Madhya Pradesh too is placed at 26th rank on the EDI scale.
It is found that Chhattisgarh has fallen behind in most of the 24 performance indicators for education sector that were broadly grouped under four segments -- access, teachers, outcome and infrastructure.
Higher, technical education in Chhattisgarh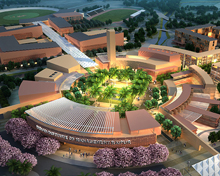 Raipur is the educational hub of Chhattisgarh offering UG, PG, PhD programmes across disciplines like arts and science, engineering,medical, management, humanities, environment and ecology, law and architecture, among others.
Nearly 50% of engineering seats in 48 technical institutions in the state are going vacant after counselling sessions for admissions each year.
More than 7,000 seats in engineering colleges remained vacant in 2015 like in the previous year because of decline in interest among students as the employment opportunities for technical graduates are dwindling.
According to officials, engineering courses being offered by various colleges in Chhattisgarh are finding it difficult to attract new students.
Once the first round of admissions is over, colleges with vacant seats relax the admission norms to fill up their engineering seats.
The popular branches like mechanical, electrical and electronics and telecom will get filled up even in remote colleges, whereas it is difficult to fill less popular branches like bio-technology or chemical engineering even in good colleges.
Most of the private colleges in Chhattisgarh find it difficult to fill the engineering eats due to poor infrastructure and low-paid faculty.
5 model colleges in Chhattisgarh
Five model residential colleges are being set up in Chhattisgarh under Rashtriya Uchhatray Shiksha Abhiyaan (RUSA).
At least Rs 60 crore has been sanctioned by the Centre for these 5 model colleges.
Employment-oriented syllabus will be designed for the colleges. Besides, the Centre has allocated Rs 20 crore each to developinfrastructure at Bastar University and Surguja University.
Similarly, Rs 54 crore has been allotted to develop infrastructure of leading colleges in every district of Chhattisgarh.
A new Durg University will come up soon. All state universities and colleges will have Wi-Fi facility as part of modernising higher education in Chhattisgarh.