Infrastructure of Chhattisgarh
Ensuring rural connectivity is the biggest challenge to the state government as private investors are reluctant to do business where thereare no assured returns.
Hence, Chhattisgarh has to rely on state and central funds tokick-start the process of setting up infrastructure including physical and social assets in the rural pockets of the state.
First, laying roads that connect the rural areas with towns and district headquarters have to be taken on a priority basis.
The villages in north and central parts of Chhattisgarh have very little amenities as they are mostly under thick forests with only tribal settlements being the prominent feature of human life.
But the government can speed up the process of industrialisation in and around Raipur and other major towns with the setting up of modern amenities, social infrastructure and high-speed roads for connectivity, all of which will ensure a seamless transport of labour and goods.
With the gradual development of major towns, one can expect the 'trickle-down' effect to benefit tribal settlements in remote areas which will in due course also fall in line with the growth momentum.
Roads in Chhattisgarh
Chhattisgarh has coverage of mostly 2-lane or 1-lane roads which provides connectivity to major cities. A total of 11 national highways criss-cross the state covering an overall distance of 3078.40 km.
However, most national highways are in poor condition and provide only 2 lanes for slow moving traffic.
Many national highways are on paper only and not fully converted into 4-lane motorway. The state highways and major district roads form a total network of 8,031 km reaching out to remote areas of Chhattisgarh.
Chhattisgarh has one of the lowest densities of National Highway in Central and South India (12.1 km per lakh population) which is similar to north-eastern states like Assam.
Rail network in Chhattisgarh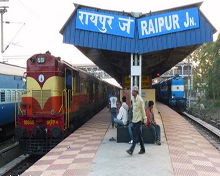 The entire railway network in the state comes under the jurisdiction of the South East Central Railway (SECR) zone with Bilaspur as its zonal headquarters.
The main railway junctions are Raipur, Durg and Bilaspur. These major towns are also the starting point of many long distance trains.
All the three junctions in Chhattisgarh are connected to major cities of India through a number of trains.
With largest mining activities, the state has the highest freight loading terminals in the country. Nearly one-sixth of railway's revenues is from Chhattisgarh.
Total rail network in the state is 1,108 km even as a number of new lines are under construction.
Construction of some new railway lines is under process.
These include Dalli-Rajhara-Jagdalpur rail line, Pendra Road-GevraRoad Rail Line, Raigarh-Mand Colliery to Bhupdeopur rail line and Barwadih-Chirmiri rail line.
Freight trains provide services mostly to coal and iron ore industries in east-west corridor (Mumbai-Howrah route).
There is lack of passenger services to north and south of Chhattisgarh where there is very little urban settlements as they come under deep forests.
At present, railway stations are over-crowded and not maintained well for passengers.
Major railway heads are Raipur, Bilaspur, Durg, Champa, Raigarh and Rajnandgaon
Airports in Chhattisgarh
Swami Vivekananda Airport in Raipur is the only airport offeringflight services to the people of Chhattisgarh.
The air infrastructure is very modest in the state which is yet to broadbase its commercial activities to attract major airlines.
A massive cut in sales tax on aviation turbine fuel (ATF) from 25 to 4% in Chhattisgarh in 2003 has led to a sharp rise in passenger flow.
The passenger flow has increased by an overwhelming 58% between 2011 and November 2012.
But major areas like industrial towns like Bilaspur, Korba and Raigarh are not serviced by any major airline.
The northern and southern regions of Chhattisgarh suffer from poor connectivity due to limited population in these areas.
Even road connectivity does not exist in remote areas of north and south as a result of which taxi and other private services demand high fares.
The state government has signed an MOU with the Airports Authority of India (AAI) to develop Raigarh airport as the second airport for domestic flights.
Rs 11k crore to infra projects in Chhattisgarh
The focus on infrastructure projects is a major highlight of the state budget (2015-16).
An outlay of over Rs 11,000 crore has been made for infrastructure, an increase of over 39% over the previous year (2014-15).
The allocation for the road sector alone is Rs 5,183 crore, an increase of 43% over 2014-15.
The government has plans to upgrade all state highways and roads connecting district and block headquarters to double-lane roads.
In addition, 2,000 km of existing roads will be upgraded in the PPP mode, with an estimated investment of Rs 10,000 crore.
Besides, Rs 700 crore has been allocated to ensure rural connectivity for roads not covered under Prime Minister's Rural Roads Scheme.
Chhattisgarh will develop a 300-km rail corridor through a joint-venture with SECL and IRCON at an estimated investment of Rs 5,000 crore.
The budget also provides for upgrading the Swami Vivekanand Airport at Raipur to global standards with an objective to attract investors and corporates to Chhattisgarh in a bid to woo high-net worth individuals (HNWI) to the state.