Tourism in Chhattisgarh
With nearly 42% of its land occupied by virgin forests, Chhattisgarh offers a medley of tribal tourism, historical sites, exotic nature, wildlife parks and scenic waterfalls.
Due to lack of promotional campaigns, most of the tourist attractions are unexplored in Chhattisgarh as the outside world is yet to hear of these beautiful spots and landscapes.
The dense forests with intermittent waterfalls, beautiful plateaus and meandering rivers provide breathtaking views and delight to camera lens.
Kawardha village is rich in tribal culture and its royal palace attracts people from the state throughout the year.
The region of Bastar opens up a new world in arts and crafts, even as tribal life with its heritage takes visitors to a new time zone.
Kawardha Palace: a heritage hotel in Chhattisgarh
It is located at 941 meters above sea level on Maikal ranges.
Built in 1930s on a huge 11 acre-land, the palace has a beautiful garden to spend the leisure time.
Italian marbles, stones were used in constructing the palace which is frequented mostly by foreigners and those keen to stay here for a while to enjoy the environment.
Kawardha palace reflects the local culture and is declared as a heritage hotel.
The lush greenery at the park makes one feel close to Mother Nature.
Achanakumar Wildlife Sanctuary in Chhattisgarh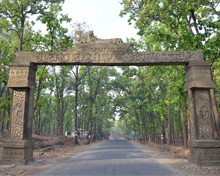 The wildlife park is situated at a distance of 60 km from Bilaspur.
It was set up in 1975 as the dense forest is home to various wild animals including tiger, bison, leopard, bear, sambar and hyena among others.
Watchtowers are erected to spot wild animals living in their natural habitats.
Moreover, the topography of this sanctuary is not conducive for a land safari. Hence, the wildlife is viewed from a distance at Achanakumar sanctuary.
Chitrakot waterfalls in Chhattisgarh
Known as Niagara Falls of India, Chitrakot waterfalls is located 38 km away from Jagdalpur district.
The waterfall is the broadest in India with a total height of 96 feet, and during the rainy season, the width is above 1,000 feet.
The horseshoe lookalike waterfall offers a picturesque view of the forest vicinity.
Kailash, Kutumsar Caves in Chhattisgarh
The caves are located near Tiratgarh waterfalls in dense forests, 40 km from Jagdalpur.
Ranked second in the list of longest natural caves in the world, Kutumsar caves are out of bounds after a certain point.
The restriction to the cave passage is due to paucity of oxygen at the far end of the 2 km deep tunnel.
Kailash Cave was discovered in 1993.
Located on a small hill, this cave is known for musical sounds created after the hand striking its hollow walls.
Maitri Bagh in Chhattisgarh
It means the 'Garden of Friendship', a result of cooperation between the Indian and Russian governments.
The zoo cum park was established by Bhillai Steel plant and is one of the most popular picnic spots in Chhattisgarh.
Considered the biggest zoo in the state, it has scenic lakes, gardens and musical fountains that attract people far and wide.
Bastar Palace in Chhattisgarh
An ancient structure built by the Bastar kings when they shifted their capital to Jagdalpur.
The palace radiates with local architecture and tells the bravery of rulers through graphic arts and murals on the walls.
Moreover, the wall carvings depict the historical incidents of the place.
A number of monuments on the palace grounds bear testimony to therich life of the Bastar kings.
A ride on horse carriage in Jagdalpur will give visitors a peek into various beautiful spots of this historic city.
Kanker Palace in Chhattisgarh
Earlier known as Radhanivas Bagicha, the palace was built in 20th century and rebuilt in 1937.
Built in colonial architecture, the palace is surrounded by a scenic landscape and gardens which create a lush environment.
One can go on a sightseeing trip in the neighbourhood through boat ride and jeep safari.
Gadiya Mountain in Chhattisgarh
This is a beautiful mountain in Kanker district.
Gadiya Mountain was the capital to King Dharma Dev of Kandradynasty after he emerged victorious in a battle here.
The cave on the Gadiya Mountain was the hideout for the royal family during war times.
There is another cave called Jogi Gufa on the southern part of the Gadiya Mountain
Jogi Gufa was once used by sages to meditate and take rest.
The pond near the cave is said to have perennial water as it never dries
Rajpuri Waterfall in Chhattisgarh
Rajpuri waterfall is located near Bagicha, which is 90km from thetown headquarters.
Tribal villages surround Rajpuri waterfall known for its hard rocks and rural beauty attracting domestic tourists throughout the year.
Bhoramdeo Temple in Chhattisgarh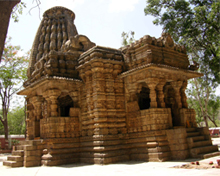 Constructed between 7th and 11th centuries, the temple is called the Khajuraho of Chhattisgarh.
Located in the middle of beautiful settings of Maikal Mountains, Bhoramdeo temple offers spectacular landscape from aerial view.
It consists of both religious and erotic sculptures on walls, besides a number of mural works.
Bhoramdeo temple is quite popular for its aesthetic beauty in architecture.