Punjab Business
Can I start business in Punjab
Starting an enterprise or expanding an existing unit is quite easy with the government simplifying the procedures as Punjab is badly in need of industrial clusters. The state government is striving hard to improve the employment scenario in Punjab which has to contend with declining industrial growth and stagnation in agriculture for some time.
The Bureau of Investment Promotion has earned the state 16th rank for effective implementation of business reforms in the country in a survey by the World Bank. Punjab scores 36.73% in undertaking business reforms and its key highlight is theease of setting up business with 75% results.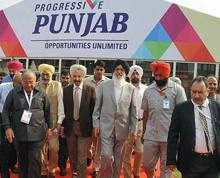 Punjab Business
However, the state still needs to work on tax-related reforms, property registration, electronic courts and inspection to ensure minimum wages. The 'Assessment of State Implementation of Business Reforms Report' lauds state for the setting of the Punjab Bureau of Investment Promotion (PBIP).
For the PBIP acts as a unified regulator and provides a one-stop system for all state regulatory and fiscal incentive approvals. The nodal agency also acts as a single point of contact for the investors and with senior government officials to act as relationship officers for corporate houses.
The bureau is headed by a chief executive officer empowered by all regulatory departments to provide approvals. The officers on deputation from all regulatory departments work together as part of the single window.
Further, to complement the single window structure, an online workflow based single window portal helps the investor to track approvals real time.
PBIP was set up in 2013 as the single point of contact for regulatory clearances and fiscal incentives approvals to facilitate investors looking to set up a business in the state. As a nodal agency, it has been entrusted with the responsibility to ensure a smooth transition of a project from proposal stage up to the implementation stage.
The lowest point in Punjab's assessment is carrying out inspections, including those to check status of contracts awarded for various schemes. The existing process for businesses to obtain utility connections is another area the state needs to work on. Inspections at shops and establishments, checks for implementation of the Factory Act are also future areas of improvement.
3-tier single window clearance
The single-window clearance mechanism (SWM) has been established under the Punjab Industrial Facilitation Act, 2005, with the following three-tier structure to grantexemption or relaxation from any of the provisions or rules of the Act:
District Single-Window Clearance Committee: This body is instituted in each district of the state, the committee is chaired by the deputy commissioner and has the senior-most officers of district departments as its members.
Empowered Committee: This committee is chaired by the chief secretary to the Punjab government and has the principal secretaries of state departments as its members.
State Board: The board has Punjab Chief Minister as its chairman and ministers of state departments as its members.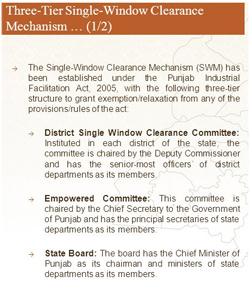 3-tier single window clearance
At the state-level, the nodal agency Udyog Sahayak handles the composite application forms received from entrepreneurs and assists in obtaining clearances from various departments within the stipulated time period.
It also provides guidance and information to investors about policies and programmes. The work of Udyog Sahayak is monitored by an empowered committee.
At the district-level, the DIC provides sanctions and clearances for setting up small scale industrial units in the state.
Key investment promotion offices
Punjab Small Industry and Export Corporation Ltd (PSIEC):
Focuses on the development of SSI units and promotion of exports.
Responsible for setting up industrial focal points.
Punjab Finance Corporation (PFC):
Provides medium and long-term loans for setting up new industrial units, expanding existing units and reviving sick units in the state (loan limits set bythe State Financial Corporation Act, 1951).
Punjab Agro Industries Corporation (PAIC):
Acts as the promoter for agro-based industries in Punjab and provides inputssuch as fertilisers, machinery, seeds and pesticides to farmers.
Assists investors in obtaining all necessary approvals for new projects andfacilitates contract farming.
Punjab State Industrial Devp Corp Ltd (PSIDC):
Promotes large and medium-scale projects in the state.
Provides escort services, especially for industrial ventures, and has beeninstrumental in facilitating the projects of Godrej-GE (white goods), CenturyTextiles (pulp and paper), Gujarat Ambuja (cement), ICI (paints) and HPCL-SaudiAramco (mega project for gas).
Acts as an infrastructure developer and financial facilitator.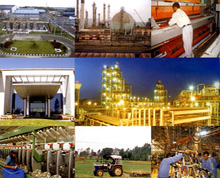 PSIDC
Cost of doing business
Industrial land (per sq. metre): Mohali:$35.42, Ludhiana: $17.71, Amritsar: $11.10
Office space rent (per sq. ft per month): 17 cents to 32 cents
Power cost (per kWh): Industrial: 9.8 cents to 10.6 cents
Labour cost (minimum wages per day): Agriculture: $3.1; Non-agriculture (unskilled): $3.0; Non-agriculture (semi-skilled): $3.1–3.2; Non-agriculture (skilled): $3.3–3.5; Highly skilled: $3.8–3.9
Water commercial and industrial: 14 cents per 1,000 litres
Major policies and Acts
Industrial Promotion Policy, 2013: Enhance the contribution of secondary and tertiary sectors in the state's growth;
Ensure overall development of the state by providing incentives to less developed zones.
Agriculture Policy for Punjab, 2013: Aims to address various interlinked concerns of sustainability of the current cropping pattern and stagnating farm incomes;
Emphasis on improvement in production technology and infrastructure, pushing up capital formation, restructuring the incentives and streamlining the institutions.
New and Renewable Sources of Energy (NRSE) Policy, 2012: To maximise and improve the share of new and renewable sources of energy to 10% of the total installed power capacity in the state by 2022.
Agro-Industrial Policy, 2009: To make Punjab the destination of choice for investors and processors, globally as well as domestically.
IT/Knowledge Industrial Policy, 2009: To create an enabling environment for IT and knowledge-based industries by focusing on creating the necessary infrastructure and human capital.
Special Economic Zone (SEZ) Act, 2009: To promote SEZs in the state by providing unique incentives to infrastructure developers: To promote and set up self-contained large industrial townships.
Land Allotment Policy, 2008: To accelerate the pace of growth of industry in the state and make the process of land acquisition quicker for entrepreneurs.