Employment Level in Uttarakhand
Providing employment to the educated youth in Uttarakhand is the toughest challenge to the Congress government led by its chief minister Harish Rawat.
But what is more alarming is the failure to fill the vacant government posts despite the acute shortage of staff in various departments.
Sending of government employees on deputation was the main reason behind the staff crunch in various departments. Uttarakhand Unemployed Association has criticised the Congress-led government for not filling the vacant posts.
The association has urged the state government to notify the filling of vacant posts without further delay. Youth unemployment in Uttarakhand has been a growing menace, a ticking social time-bomb, as it leads to mass migration from rural areas to cities.
Unemployment levels are staggering, especially in rural areas at 11% (third highest in the country) with women lagging behind by almost double. Abetted by a generational shift away from land-based work and a policy failure to create more opportunities, young men are "all dressed up with nowhere to go".
Disenchanted with the undelivered promise of education leading to employment, young men in the state have been eternal subjects of discipline and of ridicule by the state and the family.
Young men in Uttarakhand do not come from rich agricultural backgrounds and cannot fall back upon the (diminishing) prospects of farming in the region. The hill region was once addicted to alcoholism which led to brief spell of Prohibition in this area between 1965 and 1971.
Educated young men raised slogans of 'nasha nahin, rozgaar do' (give us employment, not alcohol) which echoed in the social movement against alcohol in 1984. The creation of Uttarakhand itself was justified so that hill people could get jobs easily for wealth generation in this region.
When the Uttar Pradesh government announced reservation in jobs for OBCs (other backward classes) in 1990s, the people in Uttarakhand did not get any benefit out of such a quota allocation.
Most PSU units like Hindustan Machine Tools in Ranibagh, spinning mills in Kashipur and Jaspur, magnesite factories in Almora and Pitthoragarh, have failed due to poor infrastructure, bad management and disrupted linkage betweenproduction and the market.
The recent setting up of the State Infrastructure and Industrial Development Corporation of Uttarakhand Ltd (SIDCUL) in Rudrapur creates a demand for only low-skilled labour within the state.
But the young educated and skilled workforce is consistently being denied job opportunities within the state. Hence it is not uncommon to see thousands of youth fleeing Uttarakhand to other states which are creating demand for skilled workforce to meet their industrial requirements.
Need to expand industries
A number of fiscal incentives and tax concessions are being given to investors with an objective to expand the industrial base in Uttarakhand. An exclusive framework for MSME sector and an industrial policy have been unveiled which are expected to lay the ground work for mushroom growth of manufacturing units in Uttarakhand.
In a pro-active mode, the government has drafted a number of policy initiatives toharness the industrial resources and put them to productive use. All efforts have been taken to boost investments in industry and infrastructure, create employment opportunities and increase the per capita income of the state.
The state government has announced plans to establish a mega food park in Udham Singh Nagar which is expected to be operational by 2018. Uttarakhand already has one food mega park based in Haridwar.
These two mega food parks are expected to contribute $995.35 million to the GSDP of the state. Besides, the two food parks are projected to generate about 30,000 direct and 2,90,000 indirect job opportunities in the state by 2018.
Easy loans to buy shops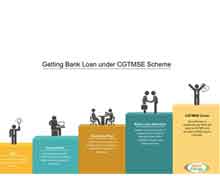 Uttarakhand government has launched a self-employment scheme for the unemployed youths by building 3,5000 shops and giving them to the beneficiaries on interest-free loans repayable in ten years.
The shops were built in clusters of 10 units each on a piece of land identified by the district magistrate concerned. Each of the shops was made available at a cost of Rs 2 lakh. Eligible beneficiaries were selected from different sections of society through a random draw of lots.
The allottees were sanctioned an interest-free loan of Rs 2 lakh each repayable within ten years. This is the second major scheme launched by the state government for youths registered as unemployed. The state government is already giving a special employment-cum-skill development allowance to the unemployed youths in Uttarakhand.
Focus on self-employment
The unemployed youth were told by government officials time and again to overcome the mindset of government jobs and think on the lines of self-employment. The state government is building 100 markets on the 'Char Dham' pilgrim route to promote job opportunities to educated rural youth.
It is pointed out the number of people from hill areas migrating to neighbouring states has increased manifold in the last three years. In a move to check migration of people from hills to cities, the state government has decided to set up industrial training institutes (ITI) in 10 hill districts.
The ITIs will guide and encourage jobless youths to pick up new skills which will help them to generate avenues of self-employment. Moreover, it was announced that those interested in setting up their own business on the basis of training received at these ITIs would be given a bank loan of up to Rs 5 lakh each.
The interest for the loans for which will be paid by the state government. The state officials were directed to ascertain the exact number of existing ITIs in each block of Garhwal and Kumaon divisions in hill districts.
Based on the reports filed by the officials, a decision would be taken to set up more such institutes in these backward regions. Currently, there are 3-4 ITIs in each district, putting the total number at around 40 in all 10 hill districts of the state.
The move to increase the number of ITIs was aimed at training unemployed youth in the skills of their choice. ITIs will help the trained youth to set up their own ventures in different professions like carpentry, welding, electrician, cookery, hotel management and catering.
It is expected this skill training to rural youth will check the unabated migration of families from rural areas to cities in Uttarakhand. Making the training more attractive for those seeking employment, loans of up to Rs 5 lakh would be provided via district cooperative banks to budding entrepreneurs. After the skill training from the ITIs, the youth would have to decide on what sort of business they would like to set up on their own.
The state government would pay the interest on the loans given to such wannabe entrepreneurs in Uttarakhand. State government has plans to boost farming and horticulture sectors which have tremendous scope for expansion in Uttarakhand.