Temples in Bihar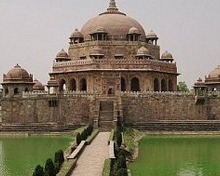 A kaleidoscope of religious temples, monuments, stupas, gurudwaras, mausoleums and churches reflect the harmony that exists between followers of Hinduism, Buddishm, Jainism, Islam, Sikhism and Christianity in this state of ancient heritage.
Often, people of different faiths visits places of worship cutting across religious and community barriers as these places also serve as tourist attractions throughout the year. While road and rail connectivity are in plenty to visit these temples, the government has also extended facilities like boarding, lodging and other support systems for the pilgrims who throng these areas from other parts of the country.
Maha Bodhi Temple Bodhgaya Bihar
The UNESCO certified World Heritage Site, Mahabodhi Temple is located at Bodhgaya in Gaya district. Built entirely in brick, it is 170 feet high and was constructed either in 5 or 6 Century A.D. This is the place where Lord Buddha attained enlightenment. The temple is adjacent to the offspring of the original Bodhi tree under which Buddha sat in meditation for enlightenment.
This Buddhist shrine is an ornate structure with a pyramid (50 metre high) on the top. A red sandstone slab named Vajrasan can be seen beneath the tree. It is believed to be the spot where Buddha sat for meditation.
In order to extend their contribution to this holiest Buddhist site, countries like China, Japan, Thailand and Bhutan have erected their monasteries (or pagoda shrines) at Bodhgaya near Mahabodhi temple.
Ancient Temples in Bodhgaya Bihar
Dungeshwari Cave temples
More popular as Mahakala caves, 12 km northeast of Bodhgaya, the site has three distinct caves containing ancient relics and artefacts and is supposed to be areas where Lord Buddha had meditated.
Pataliputra Theerth
Located in Patna, this Jain temple is dedicated to God Bhagvan Vimalnath Swami and is managed by a trust called Shri Patna Jain Shwetambar Mandir Trust. The whitish beautiful idol of Lord Vimalnath (60 cm high) is in the Padmasan posture.
Many Jains who formed a prosperous class in Patna city have an ancestry tracing back to the times of Mahavira (2,600 years ago) in ancient Bihar.
Bari Patan Devi temple
This grand temple in Patna enshrines the black stone idols of Goddesses Kali, Lakshmi, Saraswati and Bhairav – all in a standing posture. A shrine called Choti Patan Devi temple is located nearby. Patna got its name from Bari Patan and Choti Patan Devi temples.
Choti Patan Devi temple
The temple at Patna Chowk enshrines the black stone idols of deities Kali, Lakshmi and Saraswati. The famous Harmandir gurudwara – the birth place of Guru Govind Singh – was located northwest of Choti Patan temple.
Harmandir Gurudwara
Guru Gobind Singh, the 10th guru of Sikhs, was born here in 1665 in Patna and this gurudwara is one of the holiest of 5 Takhts as thousands of Sikhs visit this abode throughout the year.
Besides, the holy relics of 10th Sikh guru including a Pangura (cradle) in which the guru slept during childhood were kept for public display. A pair of sandals, four iron arrows and a sacred sword are some of the rare collections.
Mahaveer Mandir in Patna is dedicated to Lord Hanuman and it attracts thousands of Hindu devotees.
Gaya is in transit city for pilgrims to nearby Bodhgaya. The jagged, steep hills with a number of temples surround this city that has ancient sanctity. Maratha princess Ahliyabai in the 18th Century had built these shrines on the temples.
Prapitaamaheshwara temple
Situated in Gaya district, this is a Lord Shiva temple and is famous for giving pindas (offerings) to dead relatives. Dating back to 11th Century, the temple is next to two sacred hills – Bhramayoni and Vasmakuta. Having a massive hall with five domes in front of it, the temple has a pyramidal shrine with lotus-like edifice on its top with a broken trident.
Mangalagowri temple
Goddess Shakti, mother of Mangala Gowri, is the presiding deity here and the site has a history dating back to 1459. Located on a hill in Gaya, Goddess Mangalagowri is known for her benevolence and is represented through a breast symbol (for nourishment).
Vishnupaada temple
The Lord Vishnu temple in Gaya has a foot impression (of the God) on a rock called Dharmasila as its main site of worship.
This shrine is known for the sacrificial rites to the deceased and built with large granite blocks jointed with iron clamps. The pyramidal tower is 100 feet high and has sloping sides with plain and indented sections in alternate series.
Having a multi-pillared hall with carved figurines, the temple has the sacred elements of lotus and urn forming its crest.
Lakshmi Narayan Temple
Lord Vishnu and his Consort Lakshmi as a couple give darshan at Rajgir in Nalanda district. A group of hot springs called Saptadhara, Vishwa Shanti stupa, Ajatashatru fort and Venuvana forest are other places of interest.
Maniyar Math
A cylindrical brick shrine in Rajgir of Nalanda dating from the 1st century AD and is dedicated to the presiding deity of Rajagriha, that is, Mani Nag.
Durga Mandir
Located at Bettiah in West Champaran, Durga puja is celebrated with grandeur each year by hundreds of devotees from across Bihar.
Muzaffarpur Temples Bihar
Called the litchi capital of India, the town has a number of historical sites, monuments, temples and other tourist spots. Nepal is accessed through Birgunj. Muzaffarpur is known for world class litchis.
Baba Garibnath temple
A Shiva temple at the centre of Muzaffarpur and has a huge banyan tree on the premises.
Chaturbhuj temple
Known for its spirituality, the temple in Muzaffarpur has many devout followers in this town. Lord Chaturbhuj is being worshipped and the idol has a history going back to 1303 A.D.
Shri Ram temple
Situated at Sahu Pokhar in Muzaffarpur, it is given the status of Navratna temples. The Sahu family order is taking care of the temple. The Mahadev shrine here has a lingam, this is third largest in the country.
Kali Mata temple
In 1932 Darbhanga Maharaj Kamlesh Singh built this temple on the south coast of Gandak river. Devoted to Goddess Kali, the followers and devotees visit through the year to offer prayers for wish fulfilment.
Ramna's Tripur Sundari Temple
Umashankar Prasad built this aesthetic temple on 28 June 1941 and gets steady patronage from thousands of devout who also call it Devi temple.
Devi Mandir
A wealthy man Baccha Babu who is a pujari of Mata Durga constructed the temple and gifted to Muzaffarpur. During Navratri season, pujas and festival events are being held.
Shyama Kali temple
Built in 1933, the temple is on the premises of Lalit Narayan Mithila University in Darbhanga. One of the beautiful temples, this structure is built on the graveyard of the Darbhanga royal family.
Bawan Pokhar temple
Located on the northern banks of Bawan Pokhar tank in Vaishali district. It is believed to have been built during the Pallava period. A range of black images of deities of Gupta and Pallava era are found here. A Jain temple known for its image of Tirthankar is behind Bawan Pokhar temple.
Harikatora temple
This shrine in Vaishali is built during the Gupta period. In a ruined condition now, the shrine has an idol of Lord Muruga sitting on a peacock.
Stupa Sita temple
A rectangular structure in Nalanda with lofty sanctum that is approached by climbing steps with sidewalls decorated with images of lion. It has four stupa-like corner towers adorned with Buddhist images.
Sun temple
5-feet idol of Goddess Parvati is the main attraction in the shrine near Nalanda University. The temple also has other Hindu and Buddhist deities.
Jain Samosharan
It is believed that Lord Mahavir, the last and 24th Tirthankar of Jainism, had delivered a sermon at this place called Samosharan at Pawapuri in Nalanda district. Thousands of Jains visit this place to offer prayers.
Jalmandir Temple
A white marble temple located in the middle of a lotus tank at Pawapuri in Nalanda is dedicated to Lord Mahavir, the 24th Tirthankar of Jainism. One has to use a long bridge over the tank for access to the temple. A beautiful garden envelops the temple.
According to lend, the tank was formed after the mass digging of sand around the funeral pyre of Lord Mahavir as there is great demand for his divine ashes.
Bihar Assembly Election
|
Bihar Assembly Election Schedule
|
Bihar Assembly Election News
|
Bihar Election Results
Bihar History
|
Bihar Geography
|
Bihar Culture
|
Bihari Wedding Culture
|
Current Scenario of Bihar
|
Bihar Economy
|
Temples in Bihar
|
Bihar Tourism
|
Bihar Education
|
Bihar Business
|
Bihar Employment
|
Bihar Industrial Scenario
|
Bihar Infrastructure
|
Bihar Lifestyle
|
Bihar Traffic
|
NGO in Bihar
|
Tourist Places in Patna
|
Assembly Results in Bihar
|
Bihar Flood Pictures
|
Bihar Map
Bodh Gaya