NGO in Bihar
Ensuring the credibility of Bihar NGOs
Non-governmental organisations (NGOs) began to take roots in Bihar in the late 1970s with the help of social and political activists who were able to mobilise a large sections of youth volunteers for community work and social change.
During the nascent stages, there were no outside funding and resources were gathered from within the community who had extending their full support through participation and target planning.
Initially, a few hundreds of NGOs were set up in major towns like Patna and Ranchi (now capital of Jharkhand) as it was easy to lobby with government departments and donors.
Social activists from the Emergency days who were part of Jay Prakash movement and political heavy weights took charge of the entire activities of these NGOs in 1970s and 1980s during which hundreds of youths left their jobs and education to jump into this vast social network aimed to uplift the living standards of Biharis.
Socialist ideologies
During the post-emergency period (1977-1980s), the socialist ideologies of Jay Prakash Narayan and Ram Manohar Lohia played a critical role in shaping the foundation of NGOs in Bihar.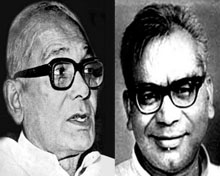 It is to be noted that some of the early NGOs did pioneering work and mobilised the community people as volunteers who did a range of service to create an impact on the society in the fields of education, healthcare and sanitation.
Moreover, without any outside support, the social groups have to rely only on community for funding their projects and making them successful. During this period, many ashrams were set up in Bihar as part of NGOs for social development.
Over the last few decades, NGOs have increased in number, size, and scope and at present they have reached key positions wielding considerable influence in power corridors thus capable of ushering in big social and economy changes in Bihar.
A growth catalyst
In this context, it is interesting to understand the dynamics, work and economy of NGOs and to evaluate their social roles.
Often their social position is considered as the bridges between those in the government and the civil society. An NGO consists of a loose collection of members from different walks of life and professions based on the voluntary principle and they all share a common goal and work towards it with a neatly drawn out time-table for action, projects.
Following rules of conduct on democratic principles and going by the consensus for making decisions, the combined power of NGOs in Bihar has become a power engine of growth in terms of economy, generating jobs and ushering in a social value-system that preserves heritage and cherishes the age-old cultural ethos of this state.
Apart from community projects, NGOs engage people on a much broader plane in the realms of labour welfare in the industrial sector, taking up issues affecting parents and children's welfare in schools and coming up in strong defence of poor and marginalised class over issues like landlord-tenant relationship, caste discrimination and social taboos.
Funds, sponsorship and donors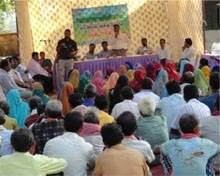 While there remains constant pressure on voluntary groups to mobilise funds to run social projects, many NGOs are forced to expand their source of funding from the traditional one based on membership fees.
Most NGOs have specialised funding agencies to take care of a slew of welfare projects.
Some of the main sources of NGO funding are direct personal contribution, religious institutions, private foundations, government, corporate and international donors.
The leadership of the NGOs have a critical role to play in convincing the funding agencies on the nature of their work and the positive impact they have brought in the society after completion of their projects.
Challenges, constraints in Bihar
Some problems being encountered by NGOs in Bihar are insubordination from the staff, sticking to the deadline for projects, manpower attrition and the issue of funding uncertainty.
Quite often, leaders of voluntary organisations have to be strict with their employees for successful and timely completion of projects, though the field staff can be given liberty within a limit by the top leadership.
Time bound completion of social projects often leads to employees being stressed out due to work pressure, leading to high attrition rate in the NGOs.
As resources are limited, most often than not employees are paid mediocre salary without any other perks.
This results in the manpower shortage even as skilled people switch to jobs in the social sector that pay them well.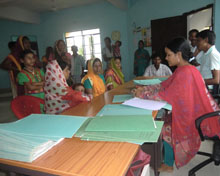 It has been found that high attrition rate of employees is the primary challenge for NGOs working in Bihar.
In a backward state like Bihar, foreign donors are reluctant to loosen their purse strings without first being convinced of the nature of funding project and the efficacy of the NGO in question.
Hence, arranging and managing funds is an uphill task for NGOs. These organisations rely mainly on donations for financial assistance which should flow continuously for smooth functioning of various NGO projects.
Usually, the donors, be it individuals, private agencies or government, are hesitant to release funds and they need a lot of cajoling and convincing by the NGO activists who have to expatiate on the success of their key projects at the broader level.
It has been observed that limited career growth and low salary create discontentment among the staff who rarely stick to one job for a long period.
Fake NGOs rampant in Bihar
A path breaking study by the International Council on Management of Population Programmes (ICOMP), Malaysia, has found that while a number of NGOs working in a district may vary from a few hundreds to thousands, their credibility is always in question.
There are only 20 "real" NGOs out of 1,000 such voluntary units in Bihar, the report states.
Further, this seminal report points out that NGOs in Bihar are fragmented and work in isolation due to caste, religious and ideological issues that affect their efficiency.
Most of the voluntary agencies lack technical skills, short of qualified staff and have very little exposure to quality work in their field of action.
Bridging the credibility gap
Despite the cancellation of the registration of hundreds of fake NGOs in Bihar, there is no let up in the clamour to start voluntary organisations by people from different walks of life. What is most worrying is that those from the Naxalite outfits have topped the list of new NGOs that have come up in Bihar.
Interestingly, women activists have also registered in large numbers to float voluntary groups to serve their varied interests across districts in Bihar.
However, transparency and sharing information and knowledge are the best way to build credibility which is very important to strengthen the intellectual base of an NGO and its ability to explain the views of people it has been working for.
Moreover, in the absence of a set guidelines and legal framework, the NGOs in Bihar take advantage of these lacunas and flourish in all possible manner without a market regulator.
While activists, networks and stakeholders have raised the issue of regulating the NGOs with a legal, statutory guidelines, a number of dos and don'ts for good practices including voluntary disclosures are existing in the public domain that can be followed to improve the efficiency of Bihar NGOs.
But NGOs are yet to act on them to usher in a governance system that ensures rights and liberties to people working in the social sector on the one hand and also improve the efficiency quotient of these bodies which are critical for their success.
Bihar Assembly Election
|
Bihar Assembly Election Schedule
|
Bihar Assembly Election News
|
Bihar Election Results
Bihar History
|
Bihar Geography
|
Bihar Culture
|
Bihari Wedding Culture
|
Current Scenario of Bihar
|
Bihar Economy
|
Temples in Bihar
|
Bihar Tourism
|
Bihar Education
|
Bihar Business
|
Bihar Employment
|
Bihar Industrial Scenario
|
Bihar Infrastructure
|
Bihar Lifestyle
|
Bihar Traffic
|
NGO in Bihar
|
Tourist Places in Patna
|
Assembly Results in Bihar
|
Bihar Flood Pictures
|
Bihar Map
Bodh Gaya