Current scenario of Bihar
The ruling Janata Dal (United) led by CM Nitish Kumar has done much for the welfare of the state despite its critics. However, the CM can feel satisfied with the amount of development schemes and works that have been kick-started during his tenure after looking back at the chequered political scenarios the past. Here is a brief throwback to understand the present.
Soon after Independence, two Gandhians Sri Krishna Sinha and Anugrah Narayan Sinha dominated the Bihari political scene till late 1960s. While Sri Krishna was the first chief minister of the state, Anugrah became the number two in the cabinet rank as the deputy CM, besides holding the finance portfolio.
However in early 1970s and 80s, the Congress government in Delhi ruled Bihar with its puppet CMs who neglected the interests of the state and development took a backseat resulting in social and economic backwardness of the people.
Jayaprakash Narayan Student Movement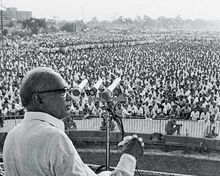 Socialist and freedom fighter Jayaprakash Narayan, more popular as JP, led a student movement in 1974 and gave a call for Total Revolution through peaceful means to overthrow Indira Gandhi government at the Centre that became autocratic in the mid-70s.
Taking into account his growing popularity, Indira Gandhi arrested JP before declaring Emergency on June 26, 1975. JP was sent to Tihar Jail for spreading unrest in India and trying to overthrow the government.
Unable to put up with popular opinion, Indira Gandhi called fresh elections on 23 January 1977, thus ending the Emergency period and all political prisoners were freed.
It was left to JP to coalesce small regional parties into a coalition named Janata Party which took on the Congress at the 1977 general elections. Due to emergency excesses, the Congress was routed at the polls and Janata experiment came to power with Morarji Desai becoming the first non-Congress PM of India.
Back in Bihar, Karpoori Thakur won the contest for CM post after defeating Janata Party chief Satyendra Narayan Sinha in a party election.
However, the Janata Party collapsed due to internal squabbles which led to Morarji to tender his resignation paving way for elections in 1980 in which Congress led by Indira Gandhi rode back to power. JP passed away at a hospital in Mumbai in 1979 due to kidney failure.
Janata Dal Parivar
A new ruler Lalu Prasad Yadav took centre stage of Bihar politics as its chief minister in 1990 after winning the race for legislative party leadership of Janata Dal by a small margin against Ram Sundar Das, a former CM and confidante of Chandrashekhar and S.N. Sinha.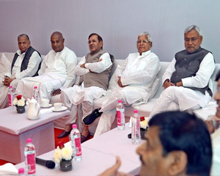 By 1995, Lalu Yadav became the supreme leader of Bihar as he remodelled the ruling Janata Dal as Rashtriya Janata Dal (RJD) after many trusted leaders and socialists left that party.
Lalu Yadav had unleashed a series of populist schemes but social and industrial development took a backseat. He quit the post when serious corruption charges were levelled against him and anointed his wife as the CM which led to further worsening of the administration.
Finally in 2015 - after ruling the state for 15 years, Lalu Prasad Yadav was defeated at the hustings by a coalition led by Nitish Kumar who successfully campaigned against the misdeeds of the RJD chief and the corruption and maladministration that wreaked havoc in the Bihari society.
Doing the rescue act - Nitish Kumar
After decades of bad governance, Nitish Kumar brought back semblance of transparency at the power corridors in Bihar. Despite separation of Jharkhand, a mineral rich region, as a separate state, Nitish was able to lead Bihar out of its morass of economic depravity and underdevelopment.
Right now, there are four major political players in Bihar - JD (U) led by Nitish Kumar as CM, Congress, RJD led by defamed Lalu Prasad Yadav and emerging BJP with strong Narendra Modi leadership at the Centre.
Minor parties like Ram Vilas Paswan's LJP and the Left Front consisting of communist parties have to align with either one of the main parties through seat sharing at the time of elections.
Bihar Assembly Election
|
Bihar Assembly Election Schedule
|
Bihar Assembly Election News
|
Bihar Election Results
Bihar History
|
Bihar Geography
|
Bihar Culture
|
Bihari Wedding Culture
|
Current Scenario of Bihar
|
Bihar Economy
|
Temples in Bihar
|
Bihar Tourism
|
Bihar Education
|
Bihar Business
|
Bihar Employment
|
Bihar Industrial Scenario
|
Bihar Infrastructure
|
Bihar Lifestyle
|
Bihar Traffic
|
NGO in Bihar
|
Tourist Places in Patna
|
Assembly Results in Bihar
|
Bihar Flood Pictures
|
Bihar Map
Bodh Gaya